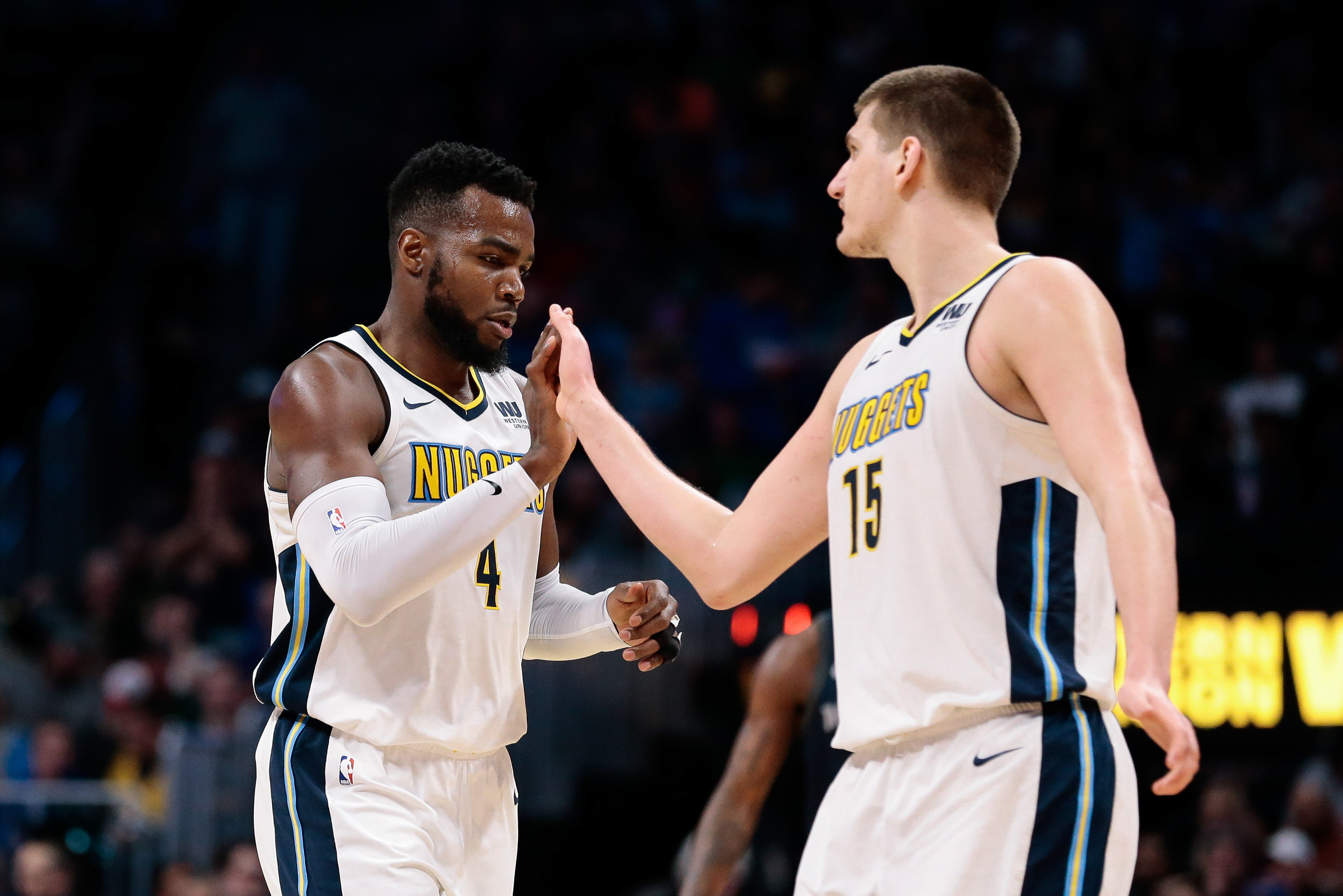 The most important aspect of Paul Millsap and his offensive re-integration has been that fact he is doing everything he can to maximize the Denver Nuggets' best player; Nikola Jokic. Millsap has focused his efforts largely towards getting Jokic in the best possible spots and empowering him to be the catalyst of this formidable Nuggets' roster at every turn — vocally and by example.
"We talk about it," Millsap said when asked about if he and Jokic have had conversations about getting Jokic to be more aggressive. "I think that is my main goal; especially starting games off before tip-off. Just telling him to just be himself and to be aggressive and, when he does that, great things happen."
Millsap is accomplishing the goal of getting Jokic to be more aggressive. In Jokic's last 15 games — all with Millsap starting alongside him — Jokic is averaging a ludicrous 21.7 points, 10.8 rebounds, 5.9 assists, 1.2 steals and 1.1 blocks while shooting 53.7 percent from the field, 46 percent from three on 4.2 attempts per game, and 88.3 percent from the free throw line.
What is even more impressive is that Millsap has been able to also put up solid numbers himself. Even with Jokic working as the engine that makes the Nuggets' offense accelerate, Millsap has found his spots to contribute statistically. While Jokic is putting up All-Star caliber numbers in the last 15 games, Millsap has still been able to average 15.3 points, 6.7 rebounds, 2.7 assists, 1.1 steals and 0.9 blocks per game on 53.5 percent shooting from the field, 41.2 percent from three-point distance, and 70 percent from the charity stripe. That stat-line is nothing to scoff at.
The Nuggets, as a team, also improve when both Millsap and Jokic are on the floor. When it is just Jokic on the floor independent of Millsap, Denver has a net rating of +2.8, but when Jokic and Millsap are both on the floor, Denver's net rating jumps all the way up to +7.4. The same effect happens with Millsap's numbers when sharing the floor with Jokic. The combo of Millsap and Jokic have a net rating 14.9 points better than when it is Millsap without Jokic.
In the same way that blood flows from the heart through the rest of the body, the ball should start with Jokic and move throughout the rest of the Nuggets' five-man group occupying the floor. Millsap understands that the best version of the Nuggets is with Jokic operating as the heart of the offense. That means that he has had to relinquish offensive control, but that has not been something that has bothered him.
Now, Millsap has found his niche in the Nuggets' offense and he is finally getting the easy buckets that he was so excited about during his introductory press conference at the Montebello Recreational Center in Denver, Colorado back in July.
"I envision just standing in the corner and getting out of guys way," Millsap said at shootaround prior to his return for the Nuggets against the Clippers back on February 27th. "What they have been doing offensively has been great. Hopefully, I don't mess it up and the only way I can do that is by holding the ball and standing still which I am not going to do."
Millsap is learning how to use Jokic's gravity to open up more space for himself on the floor. Being that Millsap is one of the most intelligent and aware players in all of the NBA, he is able to use the attention that Jokic receives to create open looks for himself as he does on the back-door cut on the baseline below. Kris Middleton, Giannis Atenetekoumpo, and John Henson all jump out to contest what looks to be a mid-range shot attempt from Jokic. Once the Milwaukee Bucks trio closes out to Jokic, that is when Millsap slowly slides down the baseline towards the rim while making himself as available as possible to receive the pass from Jokic. Millsap then gets rewarded for his off-ball movement with an uncontested dunk.
Millsap's understanding of Jokic's gravity has evolved from just cutting off of the ball to a much more complex and impactful level. Even after missing 44-games while getting his wrist surgically repaired, you can see the chemistry between Jokic and Millsap grow more and more with each and every possession.
The chemistry and understanding that Jokic and Millsap now share has led to a level of frontcourt versatility that is almost unmatched in the NBA. Take the Nuggets' last two games for example. Against the Oklahoma City Thunder — where Denver pulled off a gutsy overtime win in Oklahoma City — Millsap and Jokic combined for 59 points, 25 rebounds, and eight assists on 60 percent shooting. Against the Bucks, they combined for another 61 points, 26 rebounds, and 10 assists on 54.5 percent shooting. Jokic and Millsap are learning how to work together and their production is increasing at a rapid pace.
Now, after a couple weeks to re-associate themselves, Jokic and Millsap are running dribble handoff sets for each other and playing a beautiful brand of basketball. It does not matter who is setting the screen or initiating the action either; as their chemistry continues to grow between them, the quality of looks they can create together continues to become even greater.
"We had a 44-game derailment if you will, and prior to the injury in L.A. — when Paul hurt his wrist — we all remember earlier in the season that they were trying to find a rhythm," Malone explained. "It wasn't smooth to begin the season, but right before Paul got hurt, I think we were 6-2 in our last eight (games) and we had found that rhythm, the spacing, and them playing off of each other."
This set below is unbelievably simple, but it shows how the savvy and incredibly smart frontcourt of Millsap and Jokic are able to manipulate the Bucks defense without much effort. Millsap sets the screen and hands the ball off to Jokic, who is coming overtop of Millsap. Once Millsap passes off to Jokic, the Bucks switch leaving Henson isolated on Millsap. Once Millsap gets the switch, he then resets the offense at the top of the key while Jokic cuts to clear out of Millsap's way. That cut by Jokic pulls Henson a couple steps into the paint giving Millsap just enough room to get off a pull-up three.
That same play can run inversely. Instead of Millsap screening and handing off the ball off to Jokic, it can be Jokic who takes up his normal positioning at the high post or wing and acts as the screener and facilitator.
Look at how Jokic and Millsap run this two-man game in the dribble handoff. Carmelo Anthony of the Thunder decides to drop and make the switch onto Jokic, but that leaves Steven Adams on an island and a step behind. Adams is supposed to tag Jokic, but Anthony switched too early leaving a half-second for Millsap to take one step to his left — one step away from Adams — and hit the three.
Millsap is finding his fit alongside Jokic and is flourishing simultaneously. While the optimal version of the Nuggets absolutely has Millsap featured heavily, what makes the Nuggets so dangerous is that Millsap understands that the ball needs to flow through Jokic — and that can be advantageous for both Jokic and Millsap.
"From my standpoint, the ball has to try to find Nikola's hands almost every possession; not to score, but to let him touch it, let him make plays, and let him facilitate," Malone explained. "When he does that we are a much better team."
Look at the play below. Millsap comes running up from the baseline towards Jokic at the top of the key as if he is going to set the screen or receive the pass and run the offense from the wing. Instead of doing either of those, Millsap baits Jerami Grant to jump a step ahead of him and into the passing lane.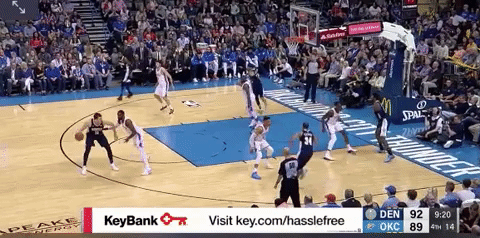 Once Millsap gets Grant with the fake, the Nuggets' savvy and poetic frontcourt does what they do best: out-execute their opponent. Jokic drops a beauty of an entry pass over the inside shoulder to Millsap. The pass essentially falls right into Millsap's shooting pocket, which is important because Russell Westbrook is rotating over from the weak side to meet Millsap at the rim. Because of where Jokic put the pass, Millsap was able to catch the pass and put up a mostly uncontested floater that drops easily. If Jokic's pass isn't perfect, it wouldn't allow Millsap to immediately pull up and hit the shot. Westbrook would have been able to rotate over quick enough to bother Millsap's shot.
Finally, after 167 days, the Nuggets are getting to see how good they can be with a (somewhat) healthy starting frontcourt of Nikola Jokic and Paul Millsap, and the results are in; Denver can compete with nearly any team in the NBA.
While the odds of Denver making the playoffs are still slim, if Denver finds a way to win their final five games of the season, they will undoubtedly make the playoffs. If that happens, it will be in large part due to the growth and progression of Jokic and Millsap.
There is still genuine belief in the Nuggets' locker room that they can make the playoffs and that hope has been founded on the back of the recent ascension of the Nuggets' hyper-versatile frontcourt.
"All that matters is the 15 guys in that locker room; they believe. We, as a coaching staff, believe," Malone said after the Nuggets' overtime victory over the Bucks. "We are going to approach these last five games with the belief that we are a playoff team."