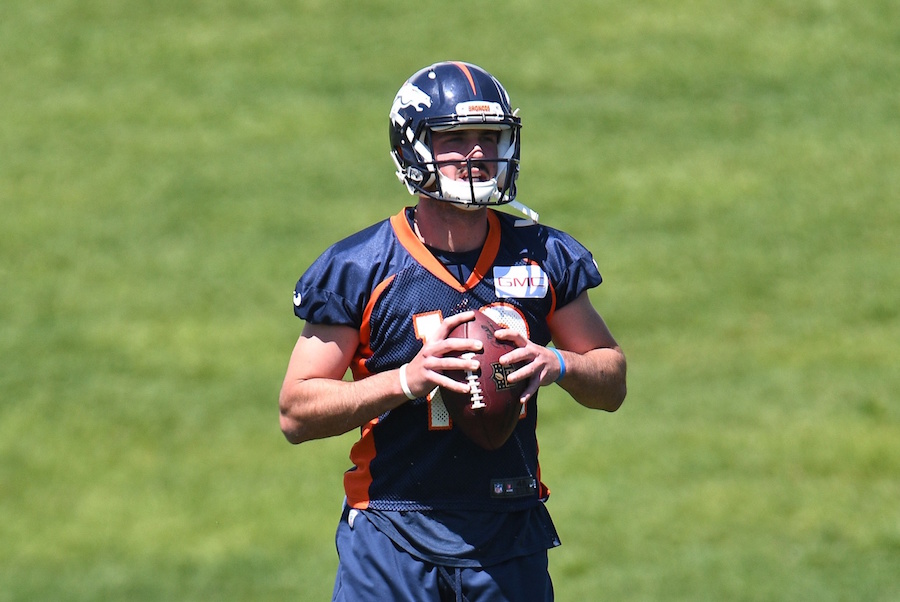 For Paxton Lynch to outright win the Denver Broncos starting quarterback job, he's going to need significant improvement as a pro quarterback heading into 2017.
Lynch was selected in the first round of the 2016 NFL Draft because of his rocket arm and incredible athleticism. Most scouts saw coming out of college, where Lynch primarily operated out of a spread-offense, that it would take time for him to adjust to the speed of an NFL game.
For Lynch, that time is now.
In training camp, Lynch will need to prove that he can make reads across the field and produce accurate throws to his receivers.
One of the noticeable things from Lynch's limited action on the field last year was that he was simply not ready to lead an NFL offense and read the opposing defense as needed.
This was most evident in the Broncos' Week 13 game against the Jacksonville Jaguars, where Lynch managed to complete just 50 percent of his passes for 104 yards.
Against a young, talented Jaguars defense, Lynch struggled to read through his progression of receivers, which often lead to passes being nearly intercepted, or being thrown out of the reach of his intended targets.
When it comes to reading an NFL defense, getting rid of the ball quickly is key to operating an effective offense. In his first NFL start against the eventual NFC champion Atlanta Falcons, Lynch was sacked a whopping six times as the Broncos suffered their first loss of 2016.
Lynch has the athleticism to evade pass rushers and the size to stand tall in the pocket as pressure from opposing pass rushers closes in. The biggest hurdle will be if he can mentally digest the speed of an NFL defense and withstand the pressure of an NFL pass rush.
Players can grow exponentially from their rookie season to their second year in the league. The new Broncos' coaching staff may have only a small sample size of game film to evaluate Lynch's play, but they have been impressed with his performance and mental growth during the team's OTAs.
Head coach Vance Joseph praised Lynch's ability to rebound from mistakes with a great play:
"We're going to make mistakes, not just at the quarterback position, but everybody. There's going to be a play where you get beat, and you've got to respond to it. You saw that yesterday in practice. We threw an interception and then we threw a big play that probably was a touchdown. That's what you want all the players to do. You want them to respond and fight through the adversity."
Lynch is exactly what the Broncos want and need in a quarterback. He's big, has a strong arm and has the ability to extend plays with his legs. But is it enough to beat out incumbent starter Trevor Siemian?
Siemian, at this time, has adjusted to the speed of the game much more smoothly than Lynch has.
While both quarterbacks started on an even playing field in terms of learning the new offense, Siemian's existing chemistry with the offensive playmakers will likely give him an edge in the quarterback competition.
No decision has been made, and there is still a long way to go before the Broncos suit up on Monday Night Football against the Chargers Sept. 11.
Lynch will need a superb training camp, proving he's mastered intricacies of the NFL game, to claim the starting job.