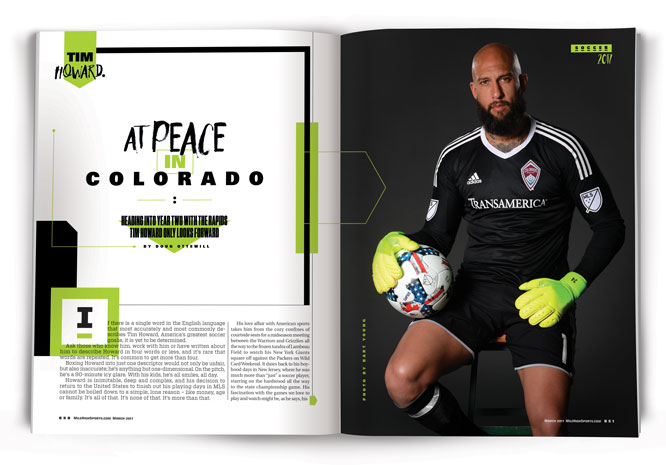 This story originally appeared in Mile High Sports Magazine. Read the full digital edition.
If there is a single word in the English language that most accurately and most commonly describes Tim Howard, America's greatest soccer goalie, it is yet to be determined.
Ask those who know him, work with him or have written about him to describe Howard in four words or less, and it's rare that words are repeated. It's common to get more than four.
Boxing Howard into just one descriptor would not only be unfair, but also inaccurate; he's anything but one-dimensional. On the pitch, he's a 90-minute icy glare. With his kids, he's all smiles, all day.
Howard is inimitable, deep and complex, and his decision to return to the United States to finish out his playing days in MLS cannot be boiled down to a simple, lone reason – like money, age or family. It's all of that. It's none of that. It's more than that.
His love affair with American sports takes him from the cozy confines of courtside seats for a midseason meeting between the Warriors and Grizzlies all the way to the frozen tundra of Lambeau Field to watch his New York Giants square off against the Packers on Wild Card Weekend. It dates back to his boyhood days in New Jersey, where he was much more than "just" a soccer player, starring on the hardwood all the way to the state championship game. His fascination with the games we love to play and watch might be, as he says, his "most American trait" – and it's as real as a Fantasy Football playing couch potato.
But Howard is anything but your locker-next-door jock. He is cultured, well-traveled, hardened, sharpened. Despite the fact he never attended college (he signed a professional contract with the USL's New Jersey Imperials while still in high school), he's highly intelligent, refined and well-spoken.
For his opportunity to play in Colorado, a decision that might have been viewed as a step down by the global soccer community, Howard is genuinely and sincerely appreciative.
Members of the Colorado Rapids staff, folks who see and work with Howard daily, use these words to describe the team's biggest star: Intense. Relentless. Passionate. Eccentric.
John Henderson, a retired Denver Post writer who covered Howard's last game for Everton, writes: Cultured. Determined. Grounded. Big.
Pablo Mastroeni, the Rapids' always thoughtful, sometimes philosophical, head coach chooses strong words: Teammate. Leader. Professional. Ambassador.
Chris Sharpe, Howard's goaltending coach with the Rapids, says: Professional. Hard-working. Leader. Athlete.
Famed Denver sports columnist Woody Paige, who had an exclusive interview with Howard for this very magazine in 2014 – a few months prior to the goalie's legendary, record-breaking World Cup performance against Belgium – summons these adjectives: Driven. Obsessive compulsive (knowing well that Howard was diagnosed with both O.C.D. and Tourette Syndrome as a kid). Obstructive. Hellacious. Mick Jagger-like.
"Tim gets it," says Paige.
Chris Lewis of Elevation Digital Media, a company recently commissioned by Transamerica, a sponsor of both the Rapids and Howard, to produce a short film on Howard, has many: Focused. Professional. Obsessive. Thoughtful. Introspective.
***
There's validation as to why all of those words are used, why all of them are so accurate. Through his own words and actions, Howard hints at them all.
"I'm obsessed with trying to be the greatest, and trying to be the greatest for as long as I can," Howard says, seated in a dimly lit studio and starring deeply into Lewis' lens.
"And that isn't for anyone else. That isn't for the newspapers. That isn't for TV. That's for me.
"Chasing greatness, it's a forever thing. I don't know if you ever achieve it. You just continue to chase it and hope that one day you can get a fistful of it. It rules your life, when you want something so badly it consumes your thoughts, it consumes your daily activities."
Intense? Passionate? Focused? Compulsive?
Unquestionably. One look back into Howard's piercing eyes and the words used to describe the greatest soccer player America has ever produced ring true.
"What goes into a day, what goes into a week, a month, a season, a career – day after day after day, it's a grind," he continues, still fixated on the lens.
"Ultimately, to become the best of best, you have to have an unbreakable will. You have to have the drive, the mental drive, to say, 'I'm going to do this better than the next guy every day. Not just once in a while. Not have a good game. But do it every day.' That mentality, it became my mantra for life. This was something I was going to do every day. I was going to outwork people.
"I wasn't going to take days off."
Depending on your interpretation of America, that might actually be Howard's most American trait – his work ethic. As anyone will confidently tell you, it's second to none.
"Tim Howard is an American icon," said Paul Bravo, the Rapids former vice president of soccer operations and technical director when Howard was signed to Colorado.
Ironically, the abilities that ultimately made him that American icon, Howard says, were forged in Europe.
"I think a European trait that I adopted – well it's what I learned really, because it's where I learned my footballing background – was just about the intensity that each day brings," he explains. "There are really no days off, and in order to get better, and in order to succeed as a group, you've got to have intensity every day.
"That's a hard thing for some people to cope with."
Prior to his final game with Everton, one of the most storied franchises in the English Premier League, Howard offered this to Henderson.
"It sharpens you," Howard told the scribe. "When you do this every single day for a decade and a half, your level of excellence goes up and up. Your ability to compete at this level, you talk about playing against the best players in the world every day in training and then every weekend. That's not a fantasy. That's real life. You can only get better.
"If you don't get better, you're gone. You're an afterthought."
For every word Howard speaks, there is truth. His words are carefully chosen, and if one pokes around long enough, evidence to back them always seems to surface.
During the filming of the Transamerica piece, Lewis was afforded the opportunity to study Howard up close and personal for two practices, three games and a candid interview.
"I think more than anything I was struck by the focus and seriousness in which Tim commits to everything he does," says Lewis. "Practice isn't funny to him. His walk into the stadium isn't funny to him. Other players not playing up to the level he expects isn't funny to him. And if you are around him long enough, you accept that, and by his leadership actions, you 100 percent respect that.
"In my career I've been around Super Bowl MVPs, NBA All-Stars and MLB Hall of Famers; Tim's attention to detail and unwillingness to settle is like something I have never seen in any other athlete."
His look is rare and intentional, too.
His bald head always blends neatly into a manicured beard.
His physique, at 37 years old, is as chiseled as it was when he was 24. "He's got a better six-pack than 90 percent of the outfield players," Stuart Holden, a USMNT midfielder from 2003 to 2013, said in a video introducing Howard as a Rapid.
His suits are crisp, classy and perfectly tailored.
And if you catch a glimpse of Howard's vehicle, it is – like his sheets so often are – clean.
***
A word that now describes Howard in many ways still sounds a little peculiar. It's both an adjective and a noun – either way, it's not one that many would ever offer and doesn't quite roll off the tongue. Not yet.
Coloradan.
It's proper though. At least during the soccer season, Howard calls Colorado home – and the state, its MLS team and its fans could not be happier that this newish label actually fits. Plenty of those who operate and follow the team are still in the "pinch me" phase; seeing Howard on a weekly basis roam the box at Dick's Sporting Goods Park almost doesn't seem real. After all, Bravo's words of just 12 moths ago still hold true – Howard is an American icon.
But it's more than just that. On the pitch, Howard's 2016 results were nothing short of stellar. At the time he was brought to Colorado as a Designated Player, it seemed that Howard believed in the Rapids more than most. As he's apt to point out, he believed in the organization, its vision, its plans – a prophetic stance considering that prior to his arrival, Colorado had just turned in the two worst finishes in franchise history.
It would be inaccurate to say that Howard, by himself, reversed the fortunes of the Rapids last season – the team was already playing well behind then 24-year-old goalkeeper Zac McMath leading up to Howard's July 4 debut. But once he arrived, Howard's play was just as everyone had hoped.
In 17 regular season appearances, Howard compiled a handy record of 6-3-8. He handed the Rapids seven clean sheets, including the shutout he pitched for the home crowd on Independence Day. Howard had only four fewer clean sheets than the MLS leader, New York's Luis Robles, who started twice as many games.
In the playoffs, Howard started two games and turned in yet another shutout. He made two saves in the penalty shootout of the Western Conference Semifinal second leg, handing the Rapids a win over the Galaxy and the opportunity to advance to the conference championship.
But then, his return to MLS came to an abrupt stop. On Nov. 11, between rounds and while playing for the USMNT, Howard was injured in the first half of a game against Mexico during the FIFA 2018 World Cup Qualifier. He ultimately underwent surgery to repair a fracture of the right adductor longus, located in the upper groin. The Rapids went on to lose to Seattle in the MLS Western Conference Championship, 3-1 on aggregate.
Approaching March, Howard said his rehabilitation was "going well." He said he was "stronger and healthy" and that "the plan is going accordingly." He's slated to return to action in mid-March.
But for a perfectionist like Howard, there must be an element of unfinished business. Nearing his final days with Everton, Howard told Henderson, "Denver likes a winner. I saw the Super Bowl. I know the Avalanche have lifted the Cup. You win games, you turn heads. You also fill seats. If you can win enough and win often, you change the perception. That's an exciting challenge."
That challenge is currently in the process of being met; it is not yet completed.
Heads did turn. Seats were filled; the Rapids set a new single season attendance record. And the team did win a lot of games, enough to get them one round away from potentially lifting the franchise's second MLS Cup.
"It's always down to winning; it's not about individual play," says Howard. "Sure they're fun to see, but individual players aren't fun to see if the team is losing.
"I think the proof was in the process last year. We won and our supporters came out in record numbers. Again, this process, we hope, is not just a one-year thing. We're working hard to ensure that we can do it year in and year out."
There is no question, as anyone will tell you, that Howard's competitive fire still burns white hot. As some incorrectly speculated, MLS was no soft landing for a once-great athlete easing into retirement. No, with plenty of gas left in the tank, Howard had – and still has – something to prove.
And that begs the question: Was he positive – absolutely positive – given his outstanding play with the Rapids, that he made the right decision? He could, conceivably, still be a starting netminder in the greatest football league on earth.
"I was very happy with my decision," he says. "I was really at peace with the time that I spent at Everton. All good things come to an end; there is never an easy time to leave a club that you love so dearly, like I love Everton. I was ready, and I felt at peace with my decision.
"Of course coming into a very good team and continuing on that really good run, I think on the outside it kind of justifies things, but I was already very confident with the decision I made. It wasn't a one-year thing or a one-game thing.
"I am committed to this club for the long term."
Howard says he'd like to play in the 2018 FIFA World Cup. With that goal in mind, and with a contract that carries him past the age of 40, there's still plenty of time to hoist an MLS Cup, perhaps more than one.
As luck would have it, he would be doing so as a Coloradan.