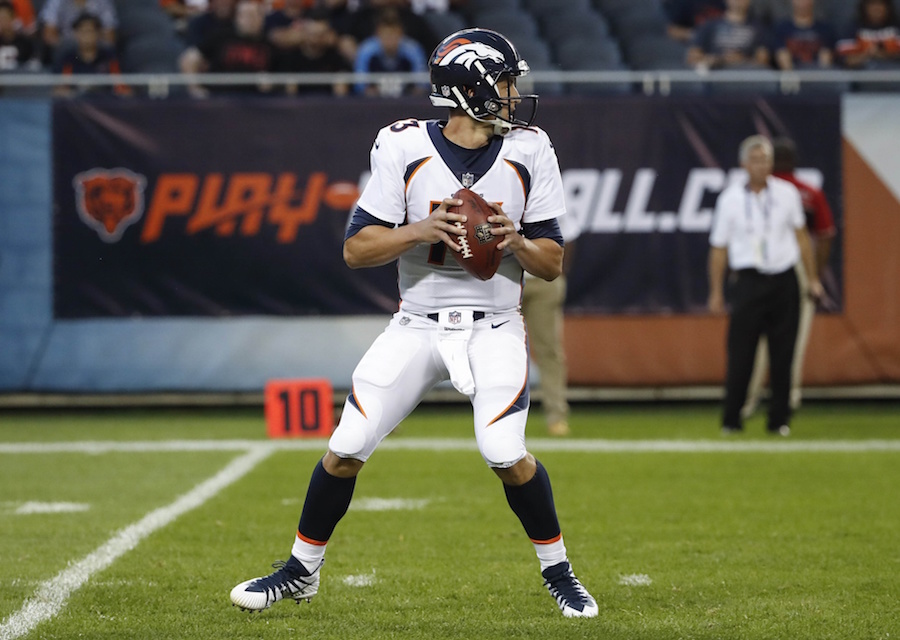 Head coach Vance Joseph gave Trevor Siemian three series in the preseason opener to show that he can effectively put up points for the Denver Broncos – something he failed to do with consistency as the season wore on last year. Despite leaving the game with a 10-0 lead over the Chicago Bears, it was difficult to say whether or not Siemian is looking more capable in new offensive coordinator Mike McCoy's offense.
In two series with the first-team offense, Siemian put up a total of three points and earned one first down that did not come via penalty.
The scoring drive was aided in part by a pair of 15-yard penalties against the Bears. Denver and Chicago each had a 5-yard penalty during the drive, and there was an other instance of offsetting penalties.
His second drive was a three-and-out for eight yards when Jordan Taylor failed to get to the first-down marker on a short pass over the middle.
In his third and final drive, with the second-team offense, Siemian connected with Cody Latimer for a first down on a 12-yard pass. (That play also featured offsetting penalties). He connected with Latimer again on a 14-yard pass, but the drive fizzled from there. The offensive line struggled in pass protection on the drive and then let Stevan Ridley get blown up behind the line of scrimmage on third-and-one to end it.
All in all, it was an uninspiring night for the Siemian-led offense. However, penalties on both sides and inconsistent pass protection made it difficult to truly gauge his effectiveness. His three series were sloppy on both sides of the ball (through no fault of his own), and there was very little rhythm to the game.
The fact that the Bears' first-down chains broke at one point and had to be replaced was indicative of how things went with Siemian on the field.
Perhaps the best thing the third-year quarterback did on the night was to rebound nicely from a sack on the Broncos' very first offensive snap of the game.
Chicago's Leonard Floyd made a turnstile of Menelik Watson and Siemian was walloped for a loss of seven. An 11-yard pass to Demaryius Thomas on second down and a pair of C.J. Anderson runs helped salve Siemian's pain. Brandon McManus would make it somewhat worthwhile on the drive's 10th play.
Unfortunately, there was no massive separation between Lynch and Siemian on Thursday night, although Siemian did look to be more poised and in control of the offense than his counterpart. However, Lynch was playing with the second- and third-string offenses, who had problems of their own.
Siemian's final line on the night was 6-for-7 for 51 yards (7.3 avg), no touchdowns and no interceptions.
Here's what folks were saying on social media about Siemian during the game… good, bad and neutral.
Trevor Siemian… The Good
Better protection that time and Siemian completes it to DT for a first down on third down. Making up for early mistake and moving ball

— Jon Heath (@JonHeathNFL) August 11, 2017
However the night ends, I think TS is the best for the #Broncos He has talent, intelligence and seems to get the best out of the rest.

— Sean Walsh (@seanwalshsports) August 11, 2017
Four defenders around Latimer — Siemian threading the needle.

— Andrew Mason (@MaseDenver) August 11, 2017
#Broncos Siemian with play action pass to Latimer in traffic for first down. Line is Stephenson, Turner, Day, Barbre, Sambrailo.

— Troy Renck (@TroyRenck) August 11, 2017
If you want to say #Broncos Siemian is average, won't disagree w/your opinion… But he's a better than Lynch… and that's a fact.

— Eric Goodman (@EricGoodman) August 11, 2017
Trevor Siemian… The Bad
Critical third down and Siemian throws short of the sticks. I have no comment.

— Jake Marsing (@JakeDMarsing) August 11, 2017
Trevor Siemian throws a three-yard pass on third-and-four. Don't know if Jordan Taylor should have run route deeper, but it's fourth down.

— Jon Heath (@JonHeathNFL) August 11, 2017
Summary of Trevor's three drives from apologists tomorrow…

1) He moved the ball!
2) Taylor ran a bad route!
3) Second team offense!

— Will Petersen (@PetersenWill) August 11, 2017
Siemian efficient… but just a field goal to show for it. That seems to sum it up when it comes to Trevor. #9Sports

— Aaron Matas (@AaronMatas) August 11, 2017
Trevor Siemian… The Neutral
Broncos first offensive series: 10 plays, 60 yards, 5:29. Six total penalties for Bears and Broncos.

— Nicki Jhabvala (@NickiJhabvala) August 11, 2017
Trevor ends his day 6-7 for 51 yards. He was sacked once. #4Broncos

— Michael Spencer (@MichaelCBS4) August 11, 2017