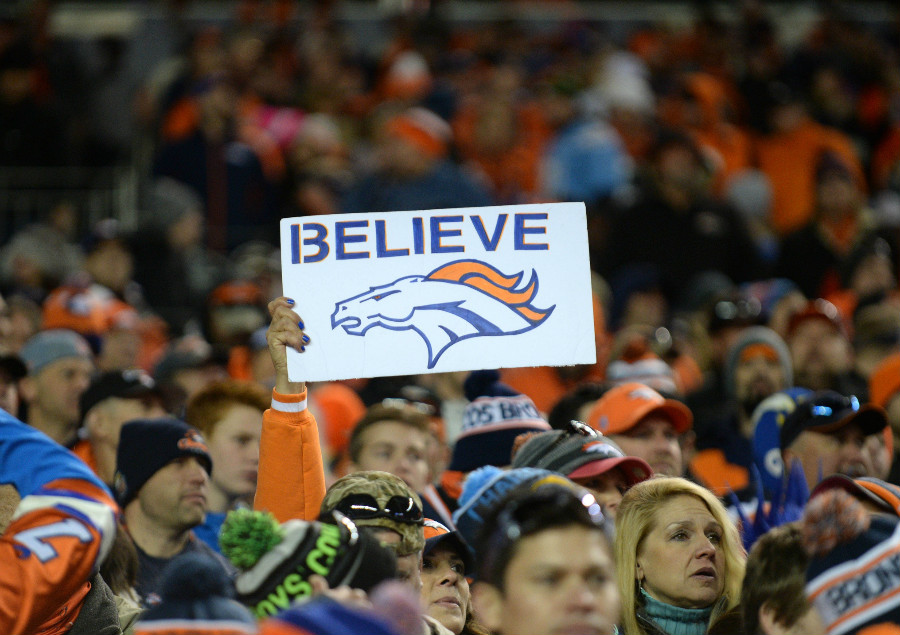 Even as we get older, everyone still has a Christmas wish list.
Whether someone's willing to admit it or not, there is a gift out there that would make their day.
It doesn't have to be material – in fact a lot of times it isn't – but we all desire certain things in life to make a holiday season a memorable one.
This is true in real life, and in the sports world as well.
Right now Denver sports could use a loft of presents to cheer things up.
The Avalanche have the fewest amount of points in the NHL. The Broncos are on the verge of a stunning collapse that could cause them to miss the playoffs. The Nuggets are staring down their fourth straight under .500 season. The Rockies haven't made the playoffs since 2009.
But all hope is not lost – especially if each of these teams can get a big time gift under the tree soon.
While a lot of little presents can be nice, there's just something about receiving one great one that puts a smile on your face. Admit it, when you were a kid and got that trampoline or Nintendo, it was a helluva lot better than receiving 10 pairs of socks.
With that in mind, let's explore the perfect Christmas present for the Avalanche, Broncos, Nuggets and Rockies this year.
Colorado Avalanche 
The perfect present: A 10-game winning streak
Right now Colorado is in the cellar of the Western Conference and looking up at six teams they'd need to jump in order to secure a precious wild card spot and their first playoff berth in three years. The bad news is the start of the season has not gone well – at all. The good news: This team is just 14 points out of a playoff spot. That may seem like a lot, but if they get their gift, it won't be too much.
Say the Avs reel of 10 in a row and collect a cool 20 points. If the top team in front of them goes 5-5 during that stretch, Colorado will be just four points out of the playoffs with about half the season still to go. A streak like that is, of course, difficult, but Philadelphia did it earlier this year after a brutal start. All it takes is a hot goalie and a little bit of confidence. It's not too late to save the season; now we just need Santa to be feeling generous.
Denver Broncos
The perfect present: A spot in the NFL playoffs
Look, if this Broncos team gets in the dance, absolutely anything can happen. We've seen No. 6 seeds win it all before and you'd be nuts to put it past this Denver defense to pull that feat off again. They're just brash enough, just confident enough and frankly, just crazy enough to carry Denver to another Super Bowl title in early February.
Of course, the path to a championship would be brutal. It'd most likely involve a trip to Pittsburgh, followed by a showdown in Foxborough, with a trip to Arrowhead up next, culminating with Dallas, Seattle or Green Bay in Super Bowl LI. That said, if the offense can just find a mini-spark (it doesn't need to be big) and put up 17-20 points a game, this team has a chance. It all starts with getting into the playoffs, which would be the perfect Christmas present to kick things off.
Denver Nuggets
The perfect present: The No. 8 seed in the Western Conference playoffs
Sure, at 12-17, the Nuggets aren't quite where we'd all like them to be, but with the west a little bit down this year, they're still right there for a playoff berth. In fact, Denver is currently just mere percentage points behind Portland for the No. 8 seed. If this team can get to 40 wins – a very realistic possibility – they can absolutely make the tournament.
And imagine how much fun it would be if they get in and earn a showdown with Golden State. The Warriors win that series 999 times out of 1,000 – and I'm not saying Denver has much of a chance – but that playoff experience would be invaluable for rising stars Jamal Murray, Nikola Jokic and the rest of the Nuggets young roster. If Saint Nick can let Denver play on that stage, with those stakes, the growth factor would be nearly impossible to measure.
Colorado Rockies
The perfect present: Mark Trumbo
The big time slugger is still a free agent and the Rockies are rumored to be in the hunt for the power hitting first baseman. They did sign Ian Desmond, which was a great move, but Desmond has never played first base in his baseball career. Shuffling him to the outfield, trading Charlie Blackmon for pitching prospects and playing Trumbo at first makes a ton of sense.
The Rockies lineup was scary last year, but adding Desmond and Trumbo to go along with Nolan Arenado, Carlos Gonzalez and a slew of other insanely good hitters and it'd be the MLB's most feared. Colorado has made a very nice splash so far this offseason, including bringing in Bud Black, and claims they're poised to win now. Securing Mark Trumbo as a stocking stuffer to make it overflow with presents would be the perfect end to the offseason.
***
You've got a Christmas wish list; just admit it.
So do Colorado sports teams.
Is Santa Claus real?
It's time to find out.