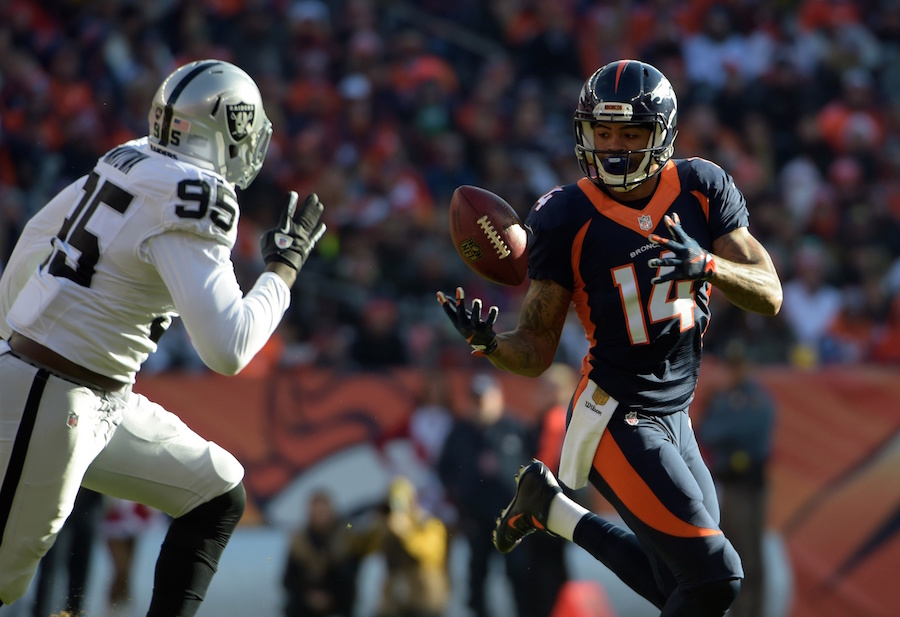 This story originally appeared in Mile High Sports Magazine. Read the full digital edition.
Watching Gary Kubiak's offense this past season made some fans want to claw their eyes out. Not only was his system bland and unimaginative, Kubiak didn't adapt to the talent on his roster. Kubiak and offensive coordinator Rick Dennison deserved a ton of heat, but in all fairness, the front office was the second-biggest culprit. As vice president of football operations, John Elway has overseen six drafts. During that time he's made 21 selections on the offensive side of the ball. Only four of those picks are currently contributing in any significant way. Combine poor offensive draft picks with Kubiak's system and you had the perfect storm to create a bad offense (everyone should have seen this coming). Here's a look at every offensive player drafted by Elway (players in italics are no longer with the team):
2011
Orlando Franklin, OL (2nd Round)
A starter from day one who started every game for four years, but the Broncos felt he was expendable once his rookie contract expired.
Julius Thomas, TE (4th Round)
Very, very productive when healthy.
Virgil Green, TE (7th Round)
Run of the mill blocking tight end that has yet to factor into the passing game in any significant way.
2012
Brock Osweiler, QB (2nd Round)
Showed promising signs when on the field in Denver (not so much in Houston).
Ronnie Hillman, RB (3rd Round)
Good change of pace back but never became the home run threat they imagined.
Philip Blake, OL (4th Round)
Never saw the field for Denver. 
2013
Montee Ball, RB (2nd Round)
Lasted only two years in Denver and was largely a disappointment.
Tavarres King, WR (5th Round)
Never saw the field for Denver.
Vinston Painter, OL (6th Round)
Never saw the field for Denver.
Zac Dysert, QB (7th Round)
Never saw the field for Denver.
2014
Cody Latimer, WR (2nd Round)
Has only 16 career receptions and one touchdown, primarily relegated to special teams duty.
Michael Schofield, OL (3rd Round)
Started 29 games at tackle and right guard. Was rocky in the early going but took over at right guard and showed signs of improvement.
Matt Paradis, OL (6th Round)
Easily the most productive offensive player selected under Elway still on the roster. As the starting center is the rock of the offensive line.
2015
Ty Sambrailo, OL (2nd Round)
A huge disappointment so far. Injuries could be partially to blame for his lack of development but he's looked completely lost when on the field.
Jeff Heuerman, TE (3rd Round)
Missed his entire rookie season with a torn ACL but his development has been extremely slow, so much so the Broncos were forced to trade for A.J. Derby.
Max Garcia, OL (4th Round)
Took some time to grab a starting job, but has been solid since becoming the guy at left guard.
Trevor Siemian, QB (7th Round)
Love him or hate him he's currently the best quarterback on Denver's roster. Had his moments on the field, but he was also the catalyst of an offense that led the league in three-and-outs.
2016
Paxton Lynch, QB (1st Round)
The jury is still out (as it is for the rest of the 2016 draft class). Demonstrated the athleticism that made him a 1st round pick but struggled with accuracy and adjusting to NFL defenses.
Devontae Booker, RB (4th Round)
Shined early in the season coming off the bench, but experienced showed after taking over as starter. Had trouble picking up blitzes, breaking tackles and appeared to hit the proverbial rookie wall.
Connor McGovern, OL (5th Round)
Has yet to make his NFL debut despite Denver's struggles on the offensive line.
Andy Janovich, FB (6th round)
Showed promise as an effective blocking fullback, but was relegated to the sidelines as Denver's running game struggled.