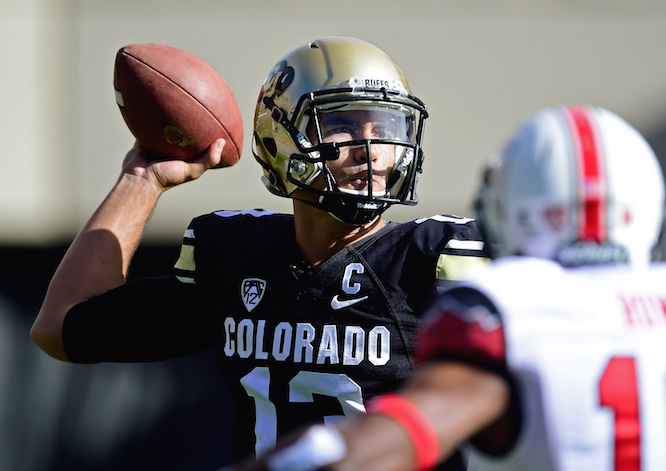 College football officially kicks off this week, and while the Rocky Mountain Showdown is still 19 days away, that doesn't mean it's not on the radar for fans across the Front Range.
Both the Buffs and Rams will have two games to find form before they square off at Sports Authority Field on Sept. 19 in the annual battle for bragging rights in the Centennial State. Colorado faces a tough task in traveling to Hawaii for their opener on Thursday and CSU will have a major test as the Golden Gophers of Minnesota travel to Fort Collins on the 12th.
But its the Showdown that has the attention of Joe Rico and Alex Ramirez on Mile High Sports AM 1340 who were joined by former CU quarterback Bobby Pesavento, who led the Buffs to their last conference championship (2001). Pesavento was recently at a Buffs practice and says he sees a totally different team than what head coach Mike MacIntyre has fielded in his first two years at the helm.
"It looks like they have some grown men out there," Pesavento told Rico and Ramirez. He also likes returning quarterback Sefo Liufau and wide receiver and Biletnikoff Award candidate Nelson Spruce to step forward as leaders on this team. He also believes that with the substantial facilities upgrade that Colorado has completed, the program has the ability to score some major recruits in the coming months. But the team needs to win some more games in order for that to happen.
"Now's the time to get 6 or 7 wins, get to a bowl game, get recruits in and show them this new, amazing facility and get the ball rolling that way," he says.
Ramirez believes that the biggest improvement for Colorado is going to come on the defensive side of the ball with the addition of new defensive coordinator Jim Leavitt. Pesavento says that the energy, fire and excitement Leavitt brings on a daily basis has him feeling confident about the direction the team is headed.
Listen to the full interview with Pesavento, including a look at the Buffs' Pac-12 schedule this year, in the podcast below…
Listen to The Final Word with Joe Rico and Alex Ramirez every Sunday from 10a-noon on Mile High Sports AM 1340 or Listen Live any time online for the best local coverage of what's new and what's next in Colorado sports.