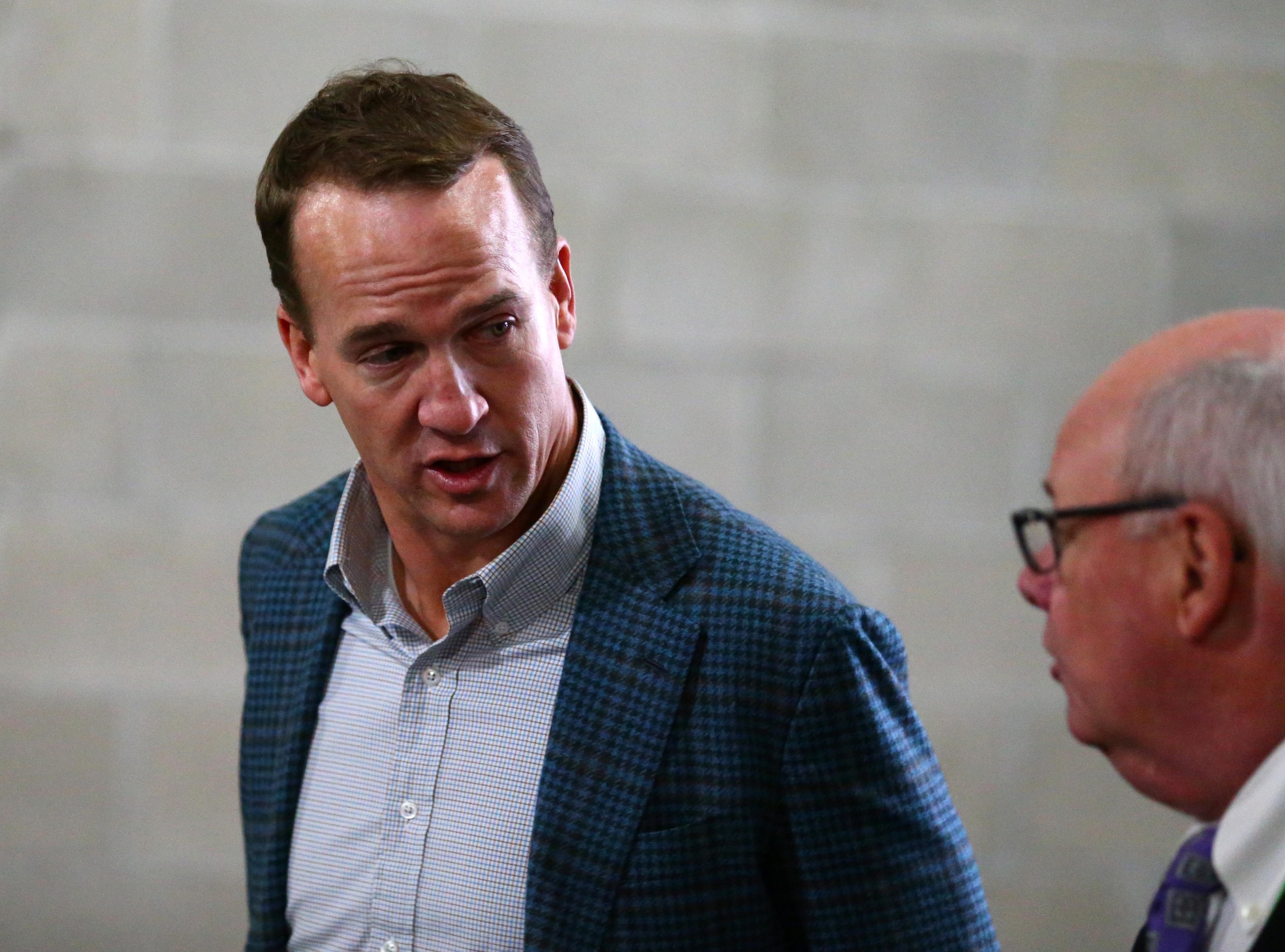 Prior to the start of what should have been the first game of the Chicago Cubs-Colorado Rockies series on Monday, ex-NFL star quarterback and Broncos' favorite Peyton Manning stopped by to chat with managers and players from both teams.
Just as the Cubs' clubhouse was about to close to the media, Manning walked past a pool of reporters waiting to talk to manager Joe Maddon.
"I don't know [what brought him out]," Maddon said Tuesday. "He did discuss the previous night's game [Sunday vs. the New York Yankees]. He watched all 18 innings, he was very much aware of Rizzo's forearm. He really pays attention."
The two legends of their respective games chatted about a wide range of topics, starting with an old friend back in Indianapolis.
"We discussed Coach [Tom] Moore, the old coach with Indianapolis," Maddon said. "Coach Moore and I have become good friends, so as soon as I brought it up, he does a wonderful Coach Moore imitation. Peyton's very talented, obviously.
"So we talked about Coach Moore, talked about living out here because I used to live out here. He loves it, obviously. Just a nice man, very easy to speak with. I invited him out to Cubs camp whenever he wants invited him to come out with us in the spring. I also texted with Coach Moore and Coach Moore said he's the best he's ever worked with."
The one thing they didn't discuss, however, was the one thing that Maddon said he regrets not asking.
"I was talking to Jaye, my wife, last night, and I was saying that I should have asked him about Omaha, institutes the snap count," Maddon said. "I'm really interested in that. I had my opportunity to ask about Omaha and I screwed up."
After Manning stopped by the Cubs' clubhouse, he bounced over to the Rockies side of the park and spoke with them as well.
"Talked to Peyton Manning, he was here yesterday!" manager Bud Black recounted enthusiastically on Tuesday. "He popped in my office, and it was great. I took him to the cage. He said hello to CarGo, said hello to Nolan, met Trevor Story, met Dustin Garneau, met Mike Redmond. He met a lot of guys. It was great."
Black said they asked Manning if he wanted in on the action, but he politely declined.
"He's a Rockies fan," Black said. "He did not hit, but we offered that to him. He asked a lot about the team, talked about the mindset. First time I met him, but really nice guy. He lives here, but he travels a lot, he said. He loves Denver, and hopefully we'll see him out here more often."
Maddon, for his part, said that while Manning didn't stick around for long, the impact of his presence around the young guys on the team can be invaluable.
"He's a contemporary of sorts," Maddon said. "He's not Terry Bradshaw walking through your clubhouse, but just the fact that he's a couple generations removed, one our guys could identify more recently with. It's always, I think, helpful
"You get these guys, they want to see Peyton walk through the clubhouse. I think it's great. I'm really grateful that he did. Believe me, our guys are bright enough to understand what that means and take something away from it."