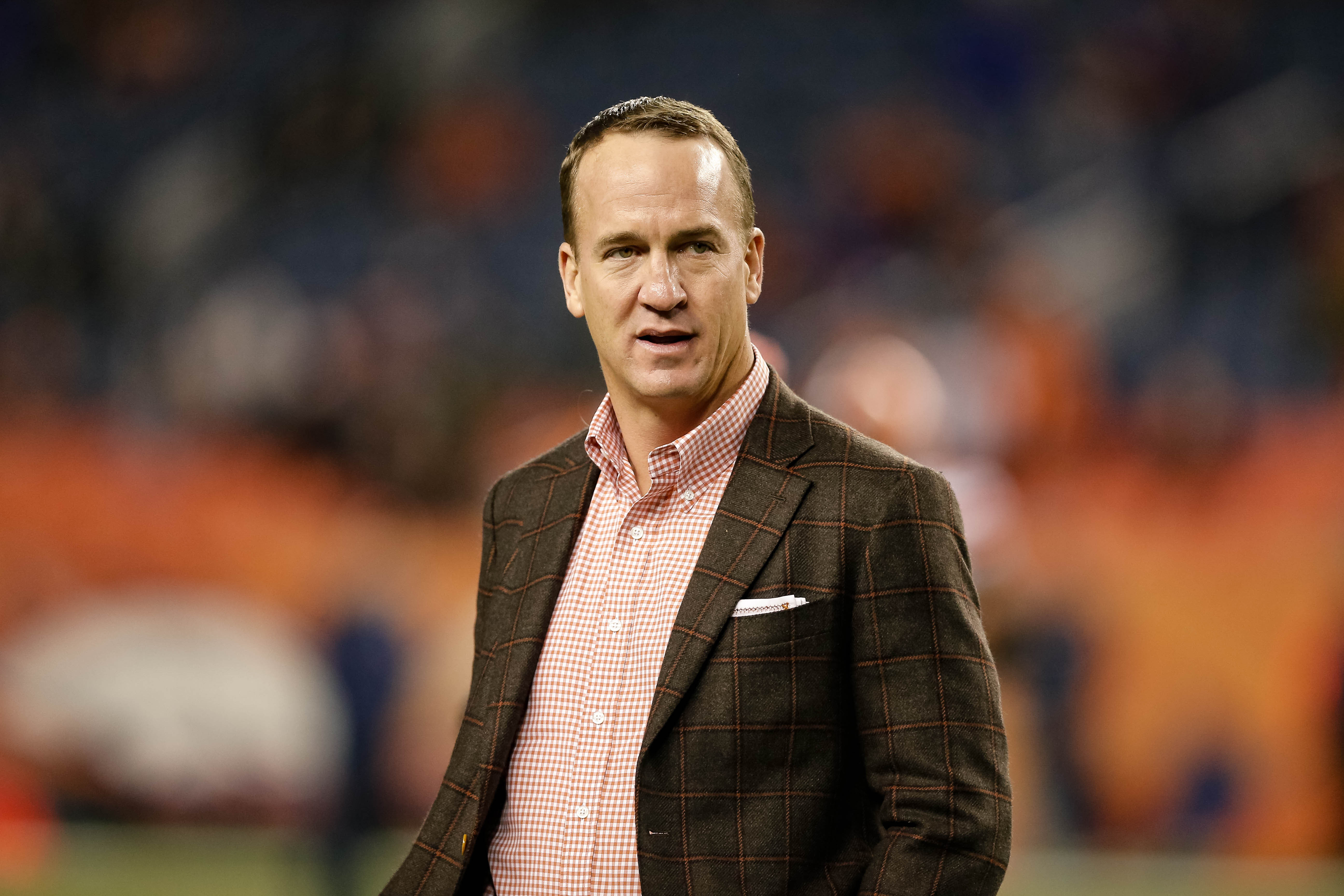 Peyton Manning may have stopped playing football, but he hasn't disappeared from the spotlight.
Whether it be appearances at award shows, golf tournaments, on national commercials or down at Dove Valley, No. 18 is still very visible.
And that's awesome.
While a lot of famous athletes disappear after they retire, wanting nothing do to with the limelight any longer, The Sherriff is in the public eye now more than ever.
He may not have found his next gig yet, but Manning is still visible and universally beloved. Very few guys in sports can say that and it's a credit to how well he built his brand not only during his playing career but after as well.
The majority of his appearances can be chalked up to the fact he's uber-famous. He's PFM. He's a future first ballot Hall of Famer and one of the best quarterbacks ever.
Manning isn't golfing with Tiger Woods because he wants to be a PGA player someday; he's playing with Woods because we'd all jump at an opportunity like that. It's TFW.
The award shows help keep him on the radar of the average American and the commercials do the same, while also making a really big bank account even bigger. You can never have too much cheddar, and it'd be foolish to blame Manning for continuing to cash in while brands are willing to pay top dollar.
Yet there's one place we've seen Manning consistently since he retired: He's a prominent Broncos alum who has been a frequent guest at Dove Valley.
He was at OTAs last week and made another appearance at minicamp on Tuesday. This time with a special guest, his father, Archie Manning.
There are three explanations why Manning treks down I-25 to see the Broncos practice as often as he does:
He just loves football. It's in his blood and he's bored. There's never a bad day to take in the game.
He wants to work for the Broncos someday – and being around the team is a good way to let it be known he might want a job. John Elway won't run the team forever and Manning may want to throw his name in the hat as the future roster architect.
He doesn't just want to work for the Broncos – he has larger aspirations. He wants to someday, with a group, own the Broncos.
Option No. 1 is viable. Manning lives about 15 minutes from the UC Health Training Center and it's a good way to get his football fix. But does anyone else find it curious Manning spends so little time around the Colts (outside of special ceremonies) and so much time with the Broncos?
Manning spent 14 years in Indianapolis and just four in Denver, yet he seems way more attached to the Broncos. It might because there could be more football opportunities here, which leads us to Option No. 2…
If the Broncos Trust of Joe Ellis, Rich Slivka and Mary Kelly decides to pass the franchise along to one of Pat Bowlen's children, presumably Brittany, she will be in the market for folks to run the business side and the football side of the team, while she focuses on day-to-day ownership obligations.
Could that plan involve Ellis and Elway in their current roles? Sure, but both gentleman have done this for a long time (very successfully) and could use the transfer in power as a chance to ride off into the sunset with their Super Bowl rings.
Working for the 29-year old Brittany probably isn't the most appealing for two guys who have held all the power the last five years, so Manning could transition into a role as President of Football Operations / General Manager under Brittany while Ellis and Elway retire.
But maybe, just maybe, Manning has even bigger aspirations than that. Maybe there's a reason he hasn't taken any of the gigs (*cough* Monday Night Football) that have been offered his way. Which leads up to Option No. 3…
Is Manning spending time around the Broncos because he's looking to buy them? No, Manning isn't worth $2.5B, but remember, up to 25 people can own an NFL team. Between himself, his father (potentially his brother, Eli) and a Rolodex fit for a king, Manning coming up with the money wouldn't be all that difficult.
By all accounts, Manning and Ellis have a great relationship, and remember Ellis, Slivka and Kelly can sell the team at any time if they don't deem any of the Bowlen children ready to own it.
Finding a new NFL owner requires the approval of Roger Goodell as well as the blessings of big time owners, including the likes of Jerry Jones, Robert Kraft, Stan Kroenke, etc.
You can bet that group would be jumping for joy to pass the Broncos off to Manning, as his aforementioned beloved personality would not be controversial and would help owners line their pockets even further. Money drives the league and Manning as an owner would do nothing to detract from the bottom line – his presence would actually help add to it.
Manning could just be hanging around the game he loves.
Manning could just be angling for a job someday.
Or Manning could be cautiously campaigning to buy the Denver Broncos, one of the NFL's few teams with an uncertain ownership future.
Peyton Manning may have stopped playing football, but that doesn't mean we're not all wondering what's next.