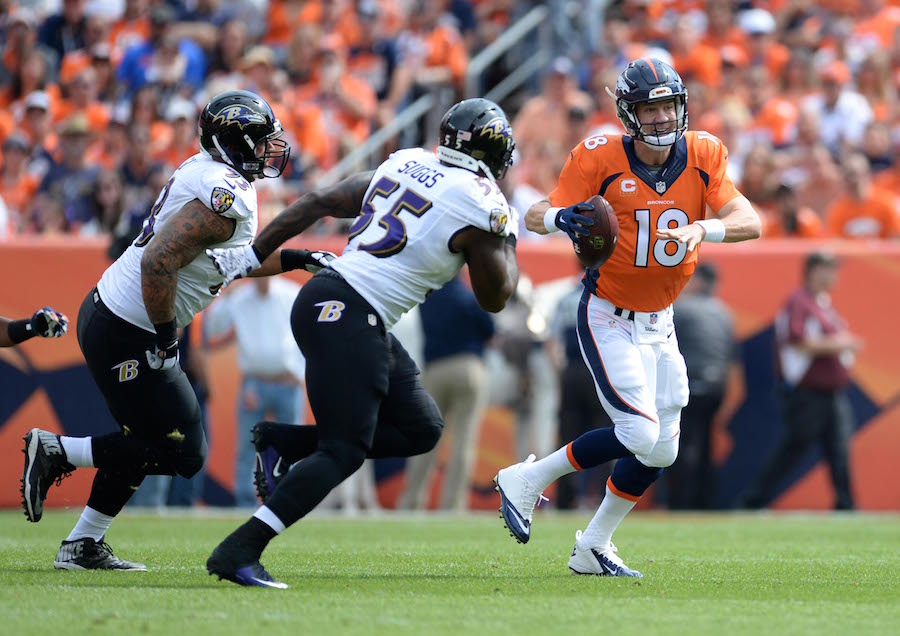 What to do about the Denver Broncos offense, eh?
A few days after our first regular season look at the brand new Gary Kubiak-Peyton Manning offense and Broncos fans are already wringing their collective hands and shaking in fear at what this new attack had to offer.
The revamped offensive line was in shambles, and none looked worse than prized free agent signing Evan Mathis, who wore it bluntly when asked about his performance. The running backs were stifled consistently until All-Pro pass rusher Terrell Suggs exited the game with what turned out to be a torn Achilles tendon.
But nothing – nothing – dismayed fans more than the discouraging play of Peyton Manning.
Roughly nine months after the team's playoff debacle against the Indianapolis Colts, Manning's play was not obviously better than it was in that playoff game, when the 39-year-old quarterback was suffering from an apparent thigh injury that limited him down the stretch and forced Denver into a more run-heavy attack. It didn't look better than it did in the preseason, when we were given to believe that Manning was limited by the lack of game planning done for a preseason contest. It didn't even look significantly better than the quarterback play when the much-maligned Brock Osweiler was under center throughout the preseason. In short, Manning looked pedestrian.
Then, after the game, it was even more painfully obvious that Manning wasn't comfortable. He was surly with reporters during his postgame press conference and even made subtle hints that questions about scheme and plays shouldn't be directed to him. From the narratives offered all preseason to the play right in front of our eyes to the bristling postgame personality, it doesn't take a rocket scientist to figure out what's going on.
For the first time in a very long time, Peyton Manning isn't in complete control. He's not comfortable under center. He's not comfortable moving as much as is needed to execute Kubiak's scheme. He's not comfortable with the fact that he probably doesn't get to call as many plays from the line of scrimmage. He's not comfortable with this offense and he's not totally confident in his ability to execute it the way that the coaches (and he) would like.
All of that probably sounds very dire to Broncos fans. Everyone has a theory, from "an old quarterback too set in his ways to accept another's ideas" to "the poor results are mostly a coincidence."
Here's another: Maybe it's totally normal for a quarterback to struggle in a brand new offense he's never played in before.
Peyton Manning is quite the commodity. He's one of the very best to ever play the game, a first ballot Hall of Famer. He is a field general the likes of which the NFL has never seen and his face is on enough commercials that he actually felt the need to apologize for it during a recent conference call. He's a larger-than-life personality in a league that specializes in extravagance. Perhaps that's why people can seemingly forget that he doesn't just absorb entire playbooks and new skill sets simply by osmosis.
A quarterback in a new offense can often take an entire year to feel fully confident in a system. Heck, how often have we heard the cliché about Jay Cutler (it's always Jay Cutler, isn't it?) "improving in his second year" in so-and-so's system?
Yet somehow Manning has to have it all down, muscle memory and all, just in time for the regular season. But oh, by the way, he needs to take days off so he's fresh at the end of the year. And oh, he needs to not play too much in the preseason to preserve his health behind a work-in-progress offensive line. And oh, he also won't have his top two wide receivers at once for any of it leading up to that opener.
Boy, when you put it like that … how dare Peyton Manning have a less than perfect day!
The real thing that Manning is not comfortable with is that he is not in complete control of the Denver Broncos offense, and that there's not much he can do about it. That's understandable, seeing as he has been afforded near complete control on offense for the vast majority of his career. But Manning would also be a fool to not understand the value of the system being built around him to help sustain the success of the Denver Broncos; and he is no fool.
The Broncos offense is a work in progress, and probably will remain so for at least the first half of the season. But Peyton Manning's struggles are the normal result of a quarterback learning a new offense, not the consequences of the Broncos hitching their wagon to an aging, too-stubborn-for-his-own-good old gunslinger.
If Manning is still having the same problems in Week 10, let me know. Until then, try to enjoy the ride.