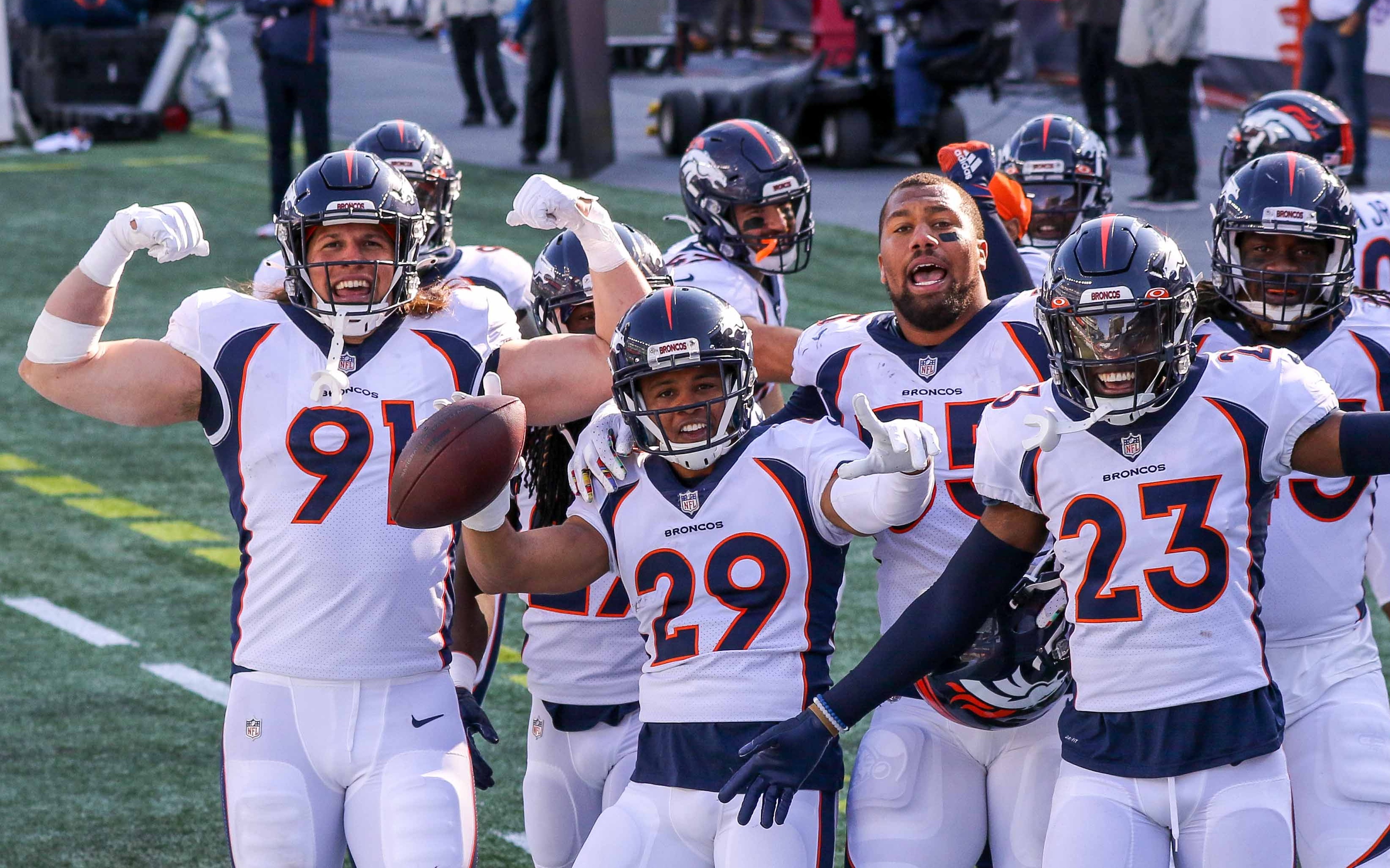 This Denver Broncos defense is loaded with talent and has one of the best defensive coaching staffs on the planet to help them realize their full potential.
Of course the main draw of the defense has been the incredible amount of talent in the secondary, where the Broncos have four high-end cornerbacks starting for them, the best safety duo in football and incredible depth at both spots.
Earlier this offseason, in their series ranking every position group for each team, Pro Football Focus ranked Kyle Fuller, Ronald Darby and Bryce Callahan — the three starting cornerbacks with NFL experience — as three of the very best starting cornerbacks in the league. Darby ranked as the 30th best outside cornerback, with Kyle Fuller coming in at 21st, and Callahan ranked as the second-best slot cornerback in the league.
Denver's safeties are also elite — even with Kareem Jackson getting a little long in the tooth.
Jackson still ranks as the league's 17th-best safety on PFF's list of the 32 best safeties in football.
"A former cornerback, Jackson has transitioned to safety and enjoyed a second career once he moved past the age of 30," PFF analyst Sam Monson wrote. "Jackson has earned three of the best five overall PFF grades of his career since turning 30 and is coming off back-to-back years with a mark north of 80.0 overall."
Meanwhile, Justin Simmons ranks as the very best safety in football — as he should after the last two seasons.
"Maintaining high-level play in the secondary over time is an extremely difficult task, yet Simmons has had back-to-back excellent years for the Broncos," Monson wrote. "Over the last two seasons, Simmons has the No. 1 overall PFF grade at the position and is the only safety who has put up a 90.0-plus grade over that time."
In what almost feels like sheer greed, PFF is equally high on Denver's front seven, which feels surprising considering what appears to be a hole in the defense at inside linebacker. Josey Jewell and Alexander Johnson are fine starters, but they're not really difference makers in a defense chalk-full of them.
Nevertheless, PFF believes they're a top-five linebacking unit in football.
"Denver's linebacker group may lack flashy names, but Alexander Johnson and Josey Jewell represent a remarkably consistent and well-rounded duo in the middle of their defense," Monson wrote. "The pair combined for 100 defensive stops in 2020, and neither player missed double-digit tackles nor surrendered more than two touchdowns in coverage."
The duo also ranked very highly in PFF's individual linebacker rankings, with Jewell ranked 19th and Johnson as the 10th best linebacker in the NFL.
"Alexander Johnson took an unusual route to become an NFL starter, going undrafted but then hitting the ground running when he was given an opportunity in 2019," Monson wrote. "His 2020 season wasn't quite at that same level, but Johnson is a hard-hitting linebacker who had 58 defensive stops this past year, the third-most in the NFL."
Ranking Johnson as one of the 10 best linebackers in the league certainly seems rich, but if he can recapture the level of play he showed in 2019 him reaching that level of play is a real possibility.
The last position group we'll look at is the defensive line, which includes edge rusher for this exercise. Between Von Miller, Bradley Chubb, Shelby Harris, Dre'Mont Jones and Mike Purcell, the Broncos have a terrifying front, yet they only rank as the 10th-best front in the league, according to PFF.
"The Broncos could very well have the best edge duo in the NFL with Bradley Chubb and Miller if Miller does return to 100%. But that's a big ask, as he's 32 years old," Ben Linsey wrote. "In 2019, he earned a sub-90.0 PFF season grade (79.3) for the first time in his career, ending an absurd stretch of dominance. Even with Miller at a level or two below his peak, Denver has a lot of talent up front. Shelby Harris, coming off an 88.3 overall grade in 2020, is one of the more underrated interior defenders in the NFL."
While ranking that loaded Broncos defensive line behind the Jets, Eagles and Saints feels fairly disrespectful, it still shows that Denver's defense is loaded at every level of the defense.
There is not a clear weakness to exploit, and one of the league's defensive masterminds — Vic Fangio — will be calling the shots to help his unit beguile opposing offenses.
The Denver Broncos franchise might be entering its third era of dominant defense. Start brainstorming nicknames folks.