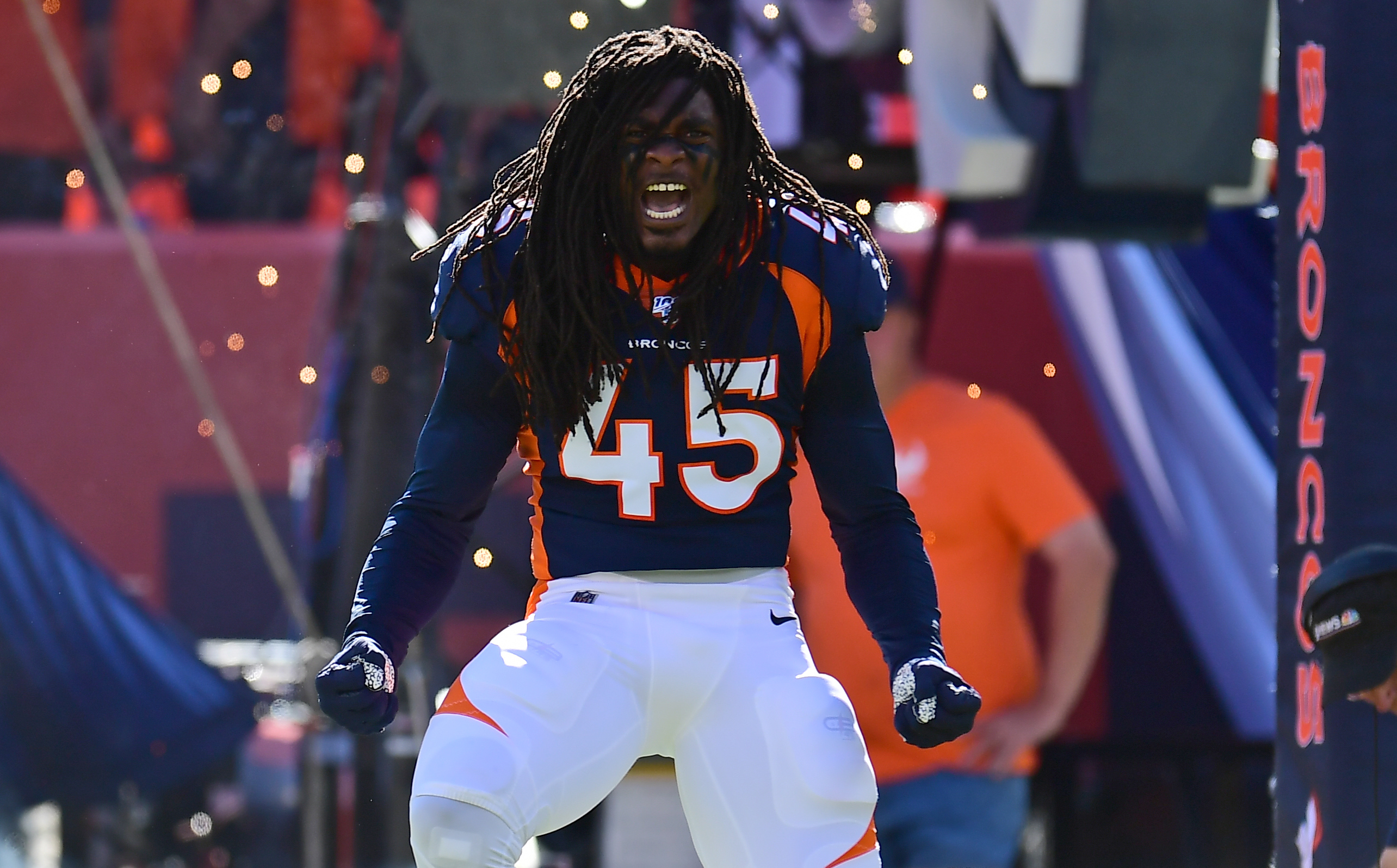 The Broncos season has been flushed down the drain by painful losses and injuries.
Now, sitting at 2-6 with Brandon Allen under center, the season is about one thing, cultivating young talent for the future. Fortunately for the Broncos, it appears they've found some youthful defensive stars on the cheap.
Alexander Johnson and Josey Jewell are the real deal
Two games in, it appeared the Broncos may have something in linebacker Alexander Johnson, but more time was needed to determine if it was for real or not. Two weeks later, it has become clear that Johnson's play is very real.
Logging 222 snaps in four games, just 90 fewer than Shelby Harris has played over eight, Johnson has earned an overall grade of 91.9 from Pro Football Focus. That's good enough for the best grade on the team. If that result holds, he would join an impressive group of Von Miller, Chris Harris Jr. and Shelby Harris, the only other players to earn that honor over the past five seasons.
Alexander Johnson is also the league's highest-graded linebacker per PFF, edging out Minnesota's Eric Kendricks by 0.3 points, Carolina's Luke Kuechly by 6.4 points and New England's Jamie Collins by 7.2 to round out the top four.
That grade is also notably 32 points better than Devin Bush's overall grade, who the Broncos almost selected in the top ten of this year's draft. In fact, all three Broncos linebackers to see significant starting time this season, Johnson, Josey Jewell and Todd Davis, grade out better than the Steelers' rookie linebacker.
Johnson also grades out as the league's best tackler at linebacker (89.9, 27 points better than Bush), best coverage linebacker (91.4, 29.2 points better than Bush), and second-best run defense linebacker (87.1, 26.1 points better than Bush).
Josey Jewell has also been a revelation for the Broncos. Jewell ranks 28th among all linebackers in terms of overall grade, but that's largely because of his poor performance in pass coverage, outside of which, he's been terrific.
This season PFF has graded Jewell among linebackers as the league's third-best run defender, ninth-best tackler and 12th-best pass rusher.
Devin who?
Defensive stars in the making
Josey Jewell and Alexander Johnson aren't the only young, defensive stars on this roster.
Justin Simmons has been one of the best safeties in the league for the Broncos this season. Simmons is the second-highest graded player on the team and the highest-graded safety in the league with an overall grade of 90.8.
He's been the league's eighth-best run defender, fifth-best tackler, and the best coverage man at his position.
Simmons' play is a huge reason as to why the Broncos have the league's third-highest graded coverage defense and highest-graded run defense.
Another player who should be a defensive star is Shelby Harris. Harris was the Broncos' highest-graded player a season ago and has carried that momentum into 2019.
He's currently the fifth-highest graded player on the team and the fourth-highest graded defender. Harris' grade of 81.5 is tenth-highest among interior defensive linemen, but it could be and arguably should be even higher.
Since moving back to defensive end after opening the season at nose tackle, he's been far improved. He's had his two best games of the season over the past four weeks, including a game against Kansas City that saw him earn a pass-rushing grade of 94.1.
With all of these young, blossoming stars, the future isn't too gloomy in Denver after all.