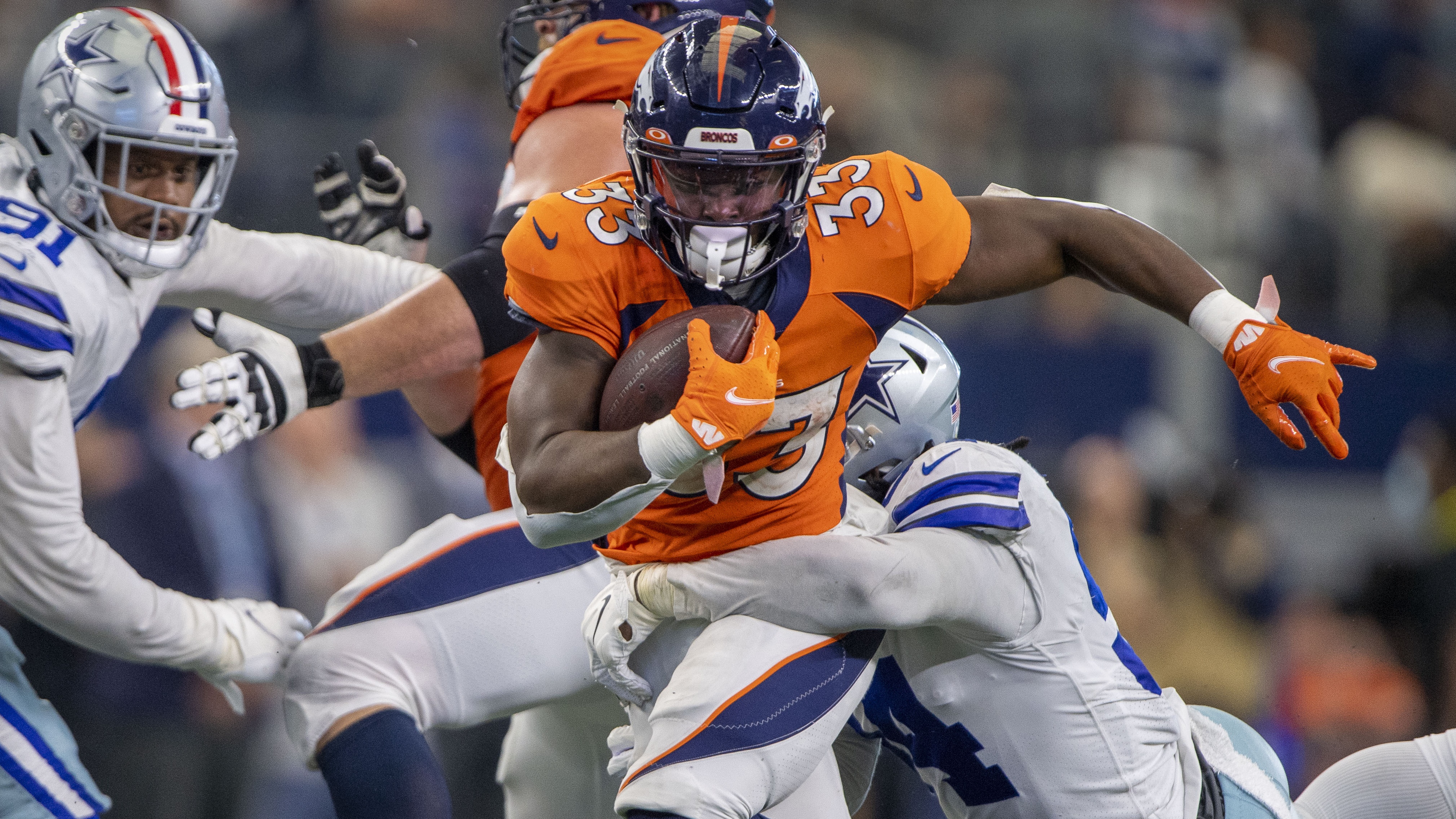 Typically around this point in the offseason, Pro Football Focus goes through and ranks the best players at every single position.
This year, they've kicked off the festivities by analyzing the league's running backs, and Broncos Country is likely to be upset with the results.
Pro Football Focus has ranked Javonte Williams as the league's 12th-best running back, notably behind Josh Jacobs, Najee Harris, and Christian McCaffrey.
"In his final season at North Carolina in 2020, Williams forced 76 missed tackles on the ground in just 157 carries," PFF's Ben Linsey wrote about Williams. "That 0.48 forced missed tackle per attempt rate led all FBS running backs. Fast forward to his rookie season in 2021, and Williams once again led his peers in missed tackles forced per rushing attempt with 63 broken tackles on 203 carries (0.31 per carry)
"Missed tackles forced is just one metric, and it's far from the only measure of running back success over expectation, but it does highlight just how difficult Williams is to tackle."
Not only did Williams lead all his peers in the rate at which he forced a missed tackle, but he led them by a wide margin. No other running back with at least 80 carries on the season is forcing more than 0.27 per carry.
Part of the case PFF makes for Harris, who was outdone by Williams in almost every rate-based stat but outperforms Williams in most usage-based stats, was that Najee Harris forced far more missed tackles when you combine receiving reps (92 in total to Williams' 71), but once again, Williams has the edge when you look at missed tackles forced per touch.
Williams forced 0.29 missed tackles per touch, while Harris forced 0.24, so once again, Williams was more effective, he just had fewer touches than Harris in their rookie years.
However, Harris is a very talented back. The placement of Josh Jacobs ahead of Williams is much more puzzling.
Linsey cites Jacobs' production over the past four years as his main piece of supporting evidence, but that seems like an odd case to build, considering Jacobs' production has steadily declined since his rookie campaign. He's not the same player now that he was then, hence why you have to look at all four years to even attempt to make a case for him as a top-10 running back.
Linsey's other piece of evidence is Jacobs' improved effort in the passing game, evidenced by him setting a new career-high in receptions this year, but even still, Williams outpaces him.
In a split backfield, in Williams' rookie season, he recorded just 15 fewer receptions than Jacobs did in Jacobs's career-best season. Williams also averaged more yards per reception, tallied three receiving touchdowns to Jacobs's zero, and earned a higher receiving grade from PFF than Jacobs.
PFF's grades aren't the best metric, but considering we're using PFF's rankings and PFF's reasoning for those rankings, it feels fair to bring them up.
The last head-scratching placement is Christian McCaffrey.
Now, there is no arguing that McCaffrey has achieved higher highs than Williams is likely to ever achieve, but injuries have made it nearly impossible for McCaffrey to get on the field in recent years.
In one single NFL season, spent a split backfield, Williams has more all-purpose yards (1,219) than McCaffrey has over the last two seasons (1,159), spent in an offense that revolves entirely around him.
Continuing to ride with McCaffrey makes sense considering his immense talent, so it's hard to fault Linsey, but at what point are you ranking 2019's best running backs instead of 2022's?