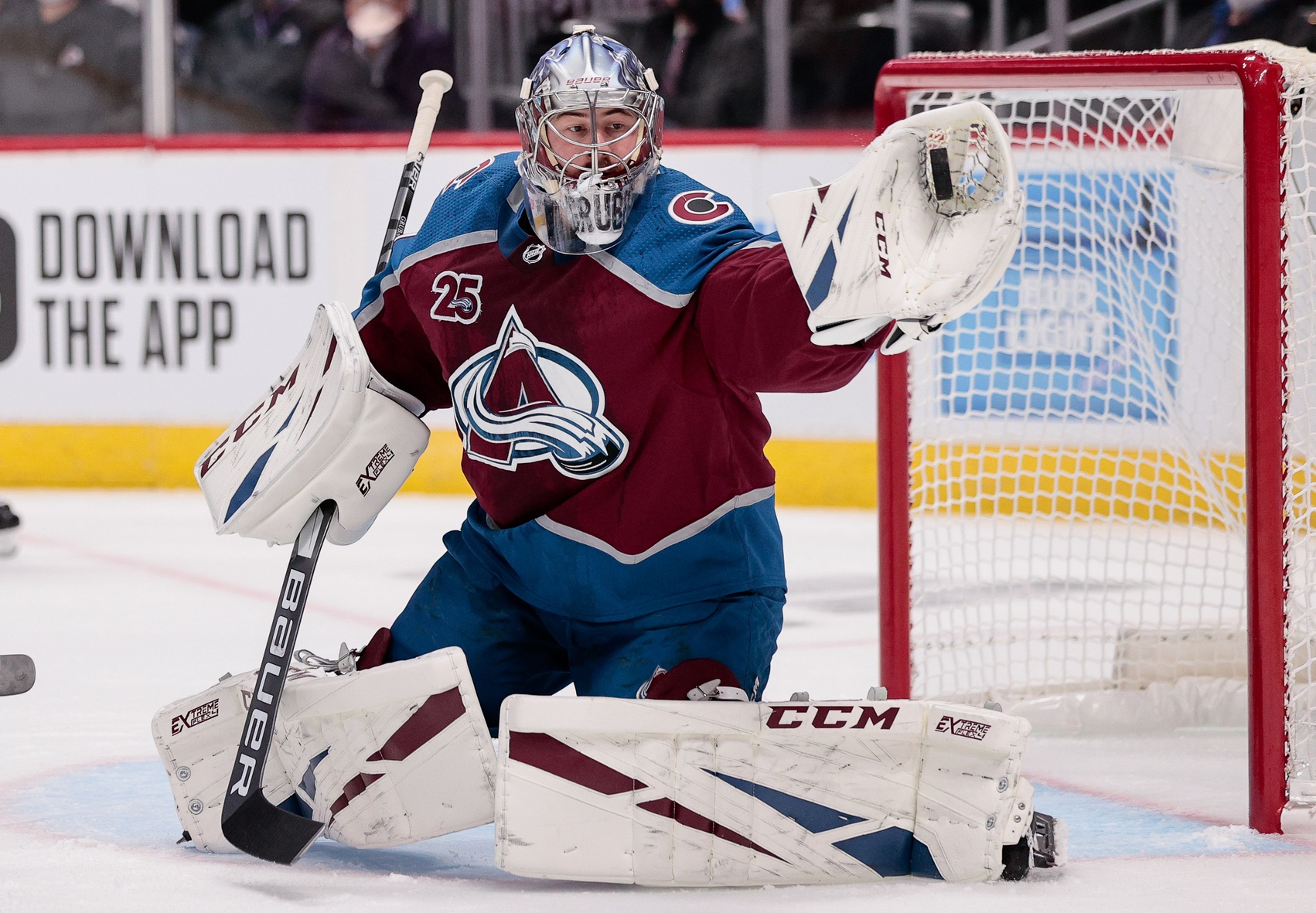 EDITOR'S NOTE: Mile High Sports Magazine contributing writer and author Terry Frei has covered the Avalanche since its 1995 arrival in Denver. He will be writing intermittent commentaries during Colorado's 2021 playoff run for the MHS site.
By Terry Frei
The last time the Colorado Avalanche won the Stanley Cup and Patrick Roy added to his reputation as the best "money' goalie of all time, Philipp Grubauer was 9 years old. If challenged to pick his favorite Colorado player, he might have been torn between Roy or Ray Bourque.
Grubauer was trying to decide whether to be a goalie or a defenseman in his Bavarian hometown of Rosenheim, Germany, about 40 miles southeast of Munich.
"Until I was 14, I always switched back and forth between defenseman and goalie," Grubauer told me earlier in his Avalanche stay. "Not to toot my own horn, but I could skate well and shoot a little bit."
It's safe to assume the Avalanche like the way it turned out.
Grubauer told me he knew if he wanted to be taken in Canadian major junior's "import" draft, he needed to settle on one position.
"I liked goalie a little more because you can be a difference-maker," he said. "I'm not saying goalie is more important than other roles on the team, but I just felt when I was younger I wanted to be a goalie."
It's hard to imagine him having a chance to crack this roster on defense, and now he's the entrenched Avalanche No. 1 as he seeks to help — or even lead — Colorado to its third championship.
Yes, being a part of another Mile High Cup celebration would validate him as deserving to be mentioned in the same sentence or paragraph with Roy in anything about the Avalanche championship goaltending legacy.
The prideful and peerless Roy can't, and certainly wouldn't want to, walk away from that distinction.
What sometimes gets lost is that Grubauer isn't seeking to hoist the Stanley Cup overhead in triumph for the first time in his career.
This time, though, there would be no implicit "backup" asterisk, as there was when he opened the 2018 postseason as the Capitals' No. 1 before Braden Holtby stepped in and helped lead Washington and Alex Ovechkin to their long-awaited first NHL championship.
Here, Grubauer — "Gruuuu!" to the fans, "Gruby" to his teammates — is the man.
He has had his inevitable ups and downs in his three seasons with Colorado, and injuries have been nagging, yet there is a mutual affection involved now. That's the case whether the arena is full pre-pandemic, empty during the worst of it, or now roughly at 40 percent of capacity — as will be the case again for Game 2 of the Blues-Avs first-round series Wednesday night.
Grubauer, with a little help from defenseman Ryan Graves, who made an eye-popping poke save as the sliding puck was about to make it across the goal line, had 22 saves in the Avalanche's 4-1 win over the Blues in Game 1 Monday.
It was not spectacular work. At the other end, the Blues' Jordan Binnington kept it close, making 46 saves. Ultimately, Grubauer wasn't one of the Avs made available in the post-game Zoom proceedings.
So we don't know what he said post-game, other than perhaps, "Way to go boys!"
Nothing Grubauer can do in the next couple of months could overshadow the durable and relentless Roy's accomplishments, most notably when he twice all but carried mediocre and surprising Canadiens teams to titles in 1986 and '93.
Roy took goals personally — even if he didn't always take responsibility for them — and considered team success the ultimate personal validation. Goaltending is one of the positions in sports where an attitude that borders on the selfish fuels a team.
And he will remain the gold standard here.
Craig Anderson, who turns 40 on Friday and still is playing 11 years later with the Capitals, was spectacular in the 2010 playoffs for the Avs — in a way, better than Roy ever needed to be.
Anderson's stinginess kept the Avs in a memorable first-round series against the Sharks in which they were outplayed, outworked and overmatched. Roy didn't have to deal with that much, if at all.
It may seem trivial, but I consider that the best single-series goaltending performance in a losing cause I've ever seen, at least in the same realm as Jean-Sebastien Giguere's work for the Ducks against the Devils in the 2003 Finals.
When Grubauer was injured in Game 2 of the conference quarterfinals against Dallas in the Edmonton bubble a year ago, and then Pavel Francouz also was hurt, absences made hearts grow fonder. This season, Grubauer was 30-9-1 with a 1.92 goals against and a .922 save percentage. When he was on the COVID-19 list and out for nearly three weeks starting in mid-April, especially because he had mild symptoms himself as the team also was going through vaccinations, that was troubling for Avs' faithful. With Francouz out long-term, the Avs also traded for veteran Devan Dubnyk on April 10.
So how did Grubauer get here?
He came to major junior and the Ontario Hockey League at 16, and played four seasons in the league with the Belleville Bulls, Windsor Spitfires and Kingston Frontenacs. Living with billet families, he improved his schoolboy English – picked up in classes from 5th to 10th grade — by watching television and listening, including in the locker room (which can be risky).
It also helped that his Belleville teammate was defenseman Bjorn Krupp, Buffalo-born but the son of German-born former Avalanche defenseman Uwe Krupp, who scored the Stanley Cup-clinching goal in overtime of Game 4 against the Florida Panthers in 1996 — making a three-time champion of the Colorado goalie of the time. Uwe Krupp would be around every once in a while to provide advice and tips to the young German goaltender.
A fourth-round pick of the Capitals in 2010, Grubauer spent most of his first four pro seasons in the ECHL and AHL before cracking the NHL for good with the Capitals in 2014.
And after serving four years mostly as a backup, he came to the Avalanche in a June 2018 trade and signed a new contract with Colorado a few days later. He was brought in to challenge or take over from the injury-plagued Semyon Varlamov. Neither was very good for much of 2018-19, but Grubauer stepped up late in the season and began to raise hopes that he could be the answer.
There's so much more to assembling a Cup winner than finding the right goalie.
But it's almost the most influential position in sports. Yes, more influential than — with all due respect, Mr. Brady — the quarterback. Or the pitcher. Or the dominant shooting guard or big man.
So one of the tests of this postseason will be to determine where — or even whether — Grubauer will deserve to fit in that Colorado goaltending legacy after the Avs' final handshake line this season.
Terry Frei is a seven-time winner of a state's sportswriter of the year award. Amongh his seven books are "Horns, Hogs, and Nixon Coming," "Third Down and a War to Go," "'77: Denver, the Broncos, and a Coming of Age," and "Olympic Affair." Info is available on his web site.