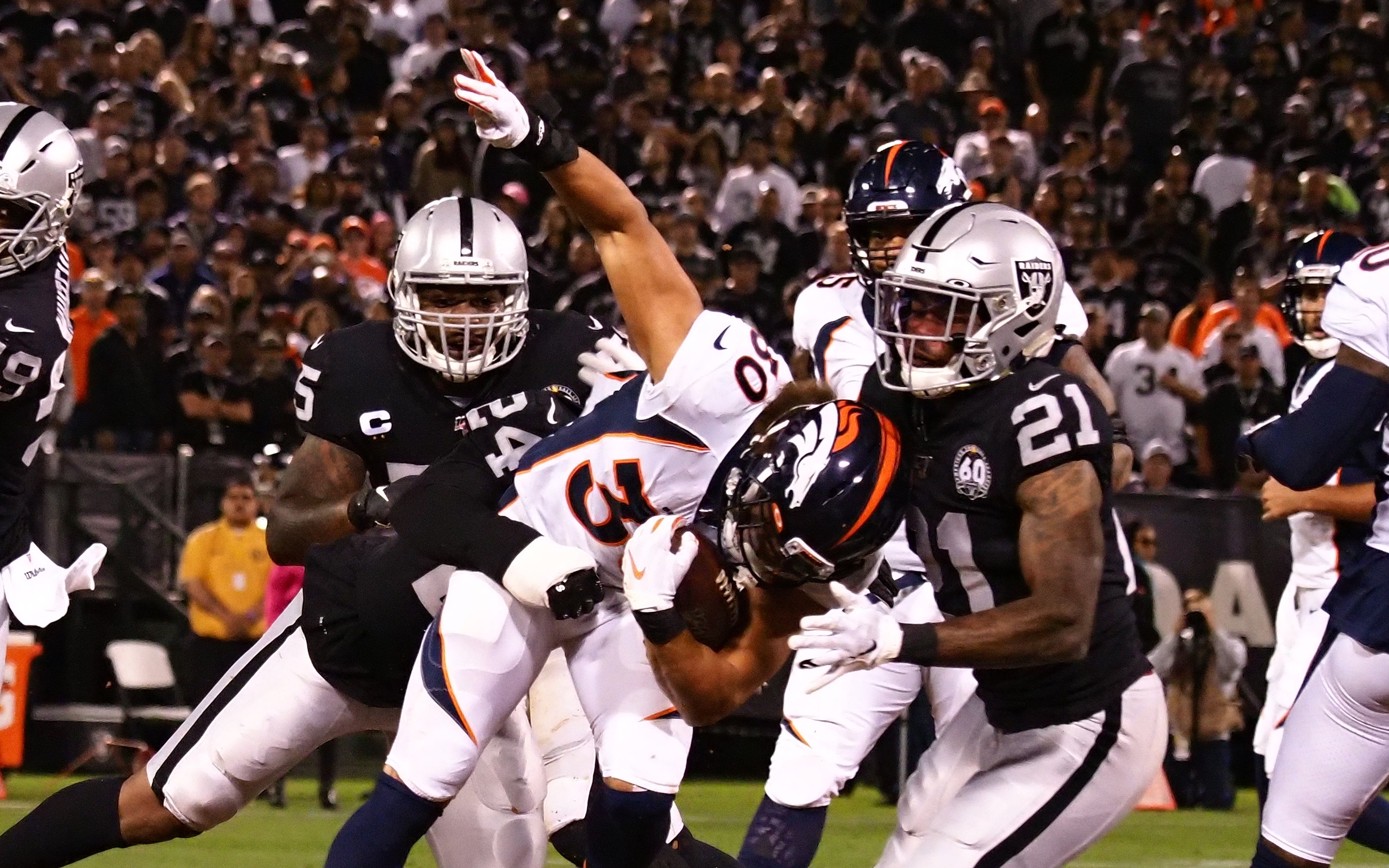 The red zone, the space within the 20s, is where quarterbacks and offenses make their money. For many years, the Broncos' red zone efficiency has left a lot to be desired, and even with new offensive coordinator Rich Scangarello, that continued on Monday night.
Denver went a mere 1-of-4 (25%) in the red zone on Monday, bringing up nightmarish memories of 2017's NFL-worst 39.6% red zone efficiency. Last year, the Broncos bounced back to score 56.8% of the time, but that number must improve to the 60s if Denver wants to make the playoffs in 2019. Which, looks like a long shot.
"We have to do a better job of coaching," Vic Fangio said on Tuesday about his team's lack of scoring in the red zone in Week 1. "We have to do a better job of executing it. We had a chance there. We didn't make the catch there on the one time. We just have to play and coach better down there, and we'll work hard at it."
Fangio is referencing DaeSean Hamilton's dropped touchdown which would've given the Broncos a chance at coming back. Instead, they had to settle for a field goal in their ultimate 24-16 loss at the hands of the terrible Raiders.
It wasn't just Hamilton's drop in the end one, which bounced off his chest, but the rest of the offense's lack of scoring ability, too. On the drive before the one which ended on Hamilton's drop, Denver ran six plays within the 22 yard line of the Raiders, unable to score with a first-and-goal from the six yard line. That frustrated everyone, including Phillip Lindsay.
"Like I said before, it's a mentality," Lindsay explained about the red zone. "It's a mentality, it's who wants it more. When you get to the redzone, it's about one-on-one match ups, from the offensive line to linebackers and the running backs and the receivers and the DBs. It's who's going to want it more and that's what need."
Once Denver got to the six yard line, Royce Freeman's run to the right was stuffed before an incompletion and then a sack of Flacco ended the drive.
"I think we didn't execute well enough in the red zone when we got down there," rookie tight end Noah Fant said. "I think we had three drives where we got down in the red zone and had to kick a field goal. That's very important.
"We're going to have to keep improving on that and it's just one of those things that we have to execute the plays that are called and it's nothing that we can look to put on the coaches or anything like that," Fant continued. "We have to execute the plays that are called so definitely something that we need to improve on."
Fant struggled in his debut, catching only two of his five targets on the night, while Lindsay carried a mere 11 times for just 43 yards. Both of those young men will be incredibly important for Denver's red zone efficiency and success moving forward, one way or another.
Lindsay's a home run threat every time he has the ball in his hands, and despite his smallish size, he's still skilled around the goal line. To wit, six of his 10 touchdowns last season came from the six yard line or closer; the Broncos offensive line must block for him and Scangarello needs to call his number more as well.
For Fant, tight ends are a popular choice of quarterbacks down, near the goal line and while the Broncos are asking a lot of him as a rookie, he must step up to help that lack of scoring.
Last season, Denver averaged 20.6 points per game. Currently, they have 16 points on the season and scoring at a 25% clip just won't win enough games to make that desired postseason.
This week, the Broncos face a tremendous defense in the Chicago Bears with kickoff set for 2:25 p.m. MT in Denver.