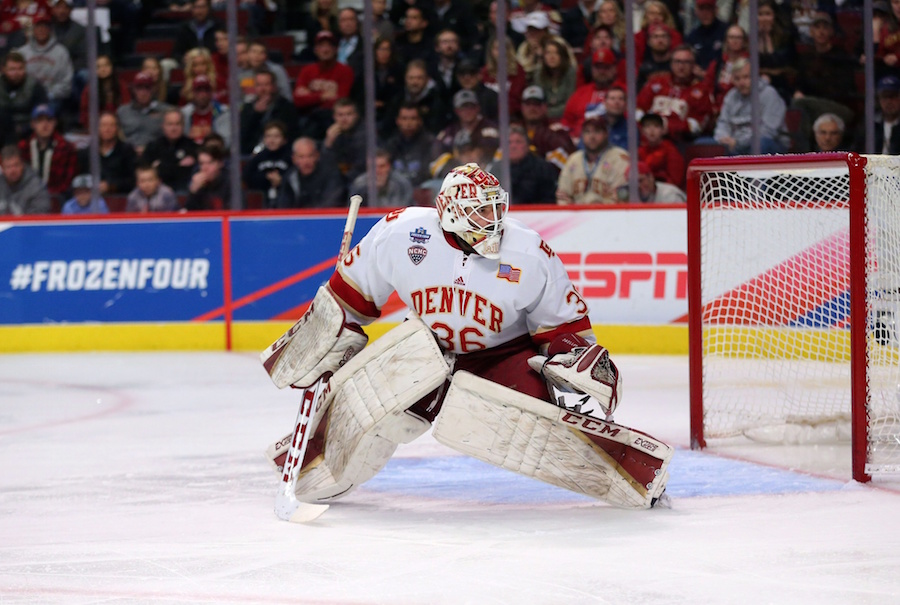 March is college sports' best month, and it only gets hotter from here as the hockey regionals are upon us, determining what teams will make the Frozen Four in St. Paul, Minnesota.
The defending National Champion DU Pioneers find themselves a part of the competitive Midwest regional that features the Ohio State Buckeyes, Penn State Nittany Lions, and the Princeton Tigers.
The appearance to the national tournament marks the 11th straight year for the Denver Pioneers, and a back-to-back appearance for Penn State. "I can't imagine [what Denver's run feels like]. I feel extremely fortunate for our program to be here two in a row. It's tough — and again, I feel very fortunate — so for them to go 11, that's quite an achievement, and I have great respect for that," Nittany Lions coach Guy Gadowsky said.
In this first game of the Pioneers' path towards repeating as national champions, they will have to take Penn State — a team that they defeated 6-3 last season to punch their ticket to the 2017 Frozen Four.
Previewing Penn State
After starting as a club hockey team, the Penn State Nittany Lions men's hockey team has paved their way to playing as a Division-1 NCAA team, in a story that seems to only become impressive every year.
Finishing the regular season with a record of 18-14-5 (9-10-5 in the Big Ten), the Nittany Lions finished fourth overall in the Big Ten conference, and would ultimately lose in a nail-biter against the Notre Dame Fighting Irish in the Big Ten semifinals.
Known as a team who is capable of putting up a lot of shots during games, the Nittany Lions will look to pour it on 2018 Mike Richter award finalist Tanner Jaillet.
"I think we just have to make sure we're blocking out. T.J. [Jaillet]
is going to make a great first save, and we just have to make sure that they're not getting second chances and we're beating their guys to our net," teammate Tariq Hammond said.
Can Denis Smirnov make a large difference?
In these type of playoff games, any team can possibly come up with the victory if a player gets hot and takes control of the game. For a high-scoring team like Penn State, the player that Colorado Avalanche fans will be watching will be Nittany Lions sophomore Denis Smirnov.
While not exactly leading the team in points this season, Smirnov — drafted by the Avalanche in the sixth round in 2017 NHL — has been able to contribute 27 points in 29 games played this season, allowing himself to remain in the middle of the pack of a few high-scoring offensive weapons that the Nittany Lions possess.
Previewing the game
When it comes down to it, this game will be decided on what team will be able to establish their own style of game early on.
If the Pioneers are able to establish themselves defensively, and freely deploy their stacked offensive lines, then the game will more than likely be a low-scoring affair that will go in the favor of the defending national champions.
However, if the Pioneers allow the Nittany Lions to run the show, and jump on rebounds and gather plenty of scoring opportunities — then the Pioneers might be facing an upset.
The game is scheduled for 5pm MT, and fans will be able to catch all of the action on ESPN3, or listen to the game on ESPN Denver 1600. If you would like to take in the full collegiate hockey atmosphere, The Pioneer in Denver will be hosting a watch party for all Pioneer fans.
Since the game will also only be available for internet streaming on ESPN3, The Pioneers will be providing extra outlets for Pioneer hockey fans to enjoy the game!