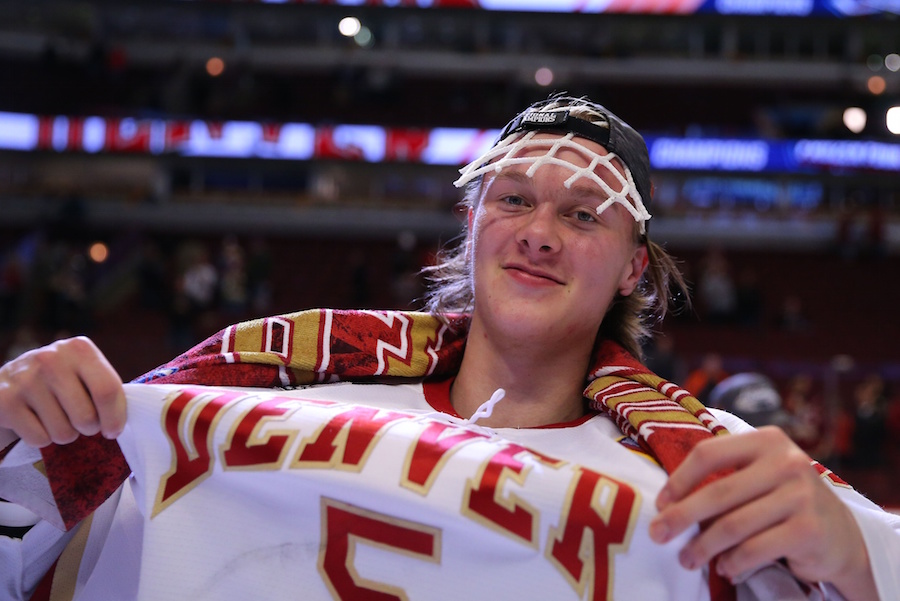 The University of Denver has claimed the Learfield Sports DI-AAA Directors' Cup for the fifth straight year and for the ninth time in the last 10 years, finishing ahead of all non-football schools in the 2016-17 Division I standings.
The Pioneers' 35th-place overall finish (634.25 points) is the program's best national ranking in the Directors' Cup standings in the Division's history. DU's point total is also 115 points better than its previous best output achieved in 2013-14.
Denver's men's programs entered the baseball championships in fourth in the Capital One Cup Standings with 85 points.
"Denver Athletics continued to effectively demonstrate our wide-ranging success across several sports this past year, while also showcasing our scholastic prowess," says Vice Chancellor for Athletics, Recreation & Ritchie Center Operations Peg Bradley-Doppes. "We had many programs make deep NCAA Tournament runs, capture conference championships and earn individual accolades this season. We also graduated an impressive 93% of our student-athletes which shows our commitment to academic excellence in addition to athletic competition."
"Capturing the I-AAA trophy for the ninth time in 10 years is a tremendous achievement for everyone involved in our division, including the best collection of coaches in the country. Our current group of student-athletes has set the bar for years to come. We would like to once again thank our loyal fans, donors and sponsors for their continued support of Denver Athletics as we look forward to another successful campaign in 2017-18."
In the DI-AAA standings, the Pioneers finished 35 spots and 307.25 points ahead of Pepperdine. Denver also finished first in 2016-17 among non-FBS schools, checking in 13 spots and 142.25 points ahead of Princeton, who earned that honor a year ago. This season marks the fourth time that Denver finished as the top non-FBS program in the country, also doing so in 2007-08, 2013-14 and 2014-15.
In addition to its non-FBS ranking, Denver finished second amongst schools from outside power five conferences, four spots behind BYU for the top spot in that category. This year was the third time in its history that Denver finished second among non-power five schools, repeating performances from the 2007-08 and 2013-14 seasons. Of the 65 schools in power five conferences, Denver finished ahead of 32 of them.
The Pioneers' hockey program claimed the University of Denver's 32nd National Championship in 2017, making Denver one of eight departments in the country to take home an NCAA title in each of the last four years (Skiing in 2014 and 2016, men's lacrosse in 2015).
Of the 22 Division I collegiate team championships that are determined by the winner of teams in a bracket, Denver made the Final Four in three of those sports (men's soccer, hockey and men's lacrosse), tied for the fifth-most in the country in 2016-17.
Across all sports, Denver had eight programs (men's soccer, men's and women's swimming, skiing, gymnastics, hockey, women's tennis, men's lacrosse) reach the site of the National Championship in 2016-17, 34th most in the country, and tied for second among non-power five schools (Harvard reached nine).
The Pioneers recorded Directors' Cup points with two of their three fall sports to sit in a tie for 66th after the fall season, thanks in large part to the first College Cup appearance for the men's soccer program to earn Denver 83 points. DU's third-straight volleyball NCAA Tournament berth (25 points) wrapped up Denver's fall scoring.
DU's eighth hockey National Championship (100), a third-place finish for the skiing program (85) and a fourth Nationals trip in the gymnastics program's history (68.25) led the winter sports to a whopping 341.25 points. Denver's men's and women's swimming programs earned 44 points apiece with 30th-place finishes at the NCAA Championships to close out Denver's winter scoring and put the Pioneers in 30th in the country heading into the spring.
Denver's spring sports combined for 185 points this season, led by the fifth Championship Weekend appearance in the last seven years from the men's lacrosse team, earning the Pioneers 83 of those 185 points. A first NCAA Second-Round appearance for the women's tennis team since 2008 (50) and a first-round appearance from the men's tennis team (25) to go along with a 46th-place finish from women's golf (27) rounded out Denver's spring scoring.
The Learfield Sports Directors' Cup was developed as a joint effort between the National Association of Collegiate Directors of Athletics (NACDA) and USA Today. Points are awarded based on each institution's finish in up to 20 sports — 10 women's and 10 men's.
I-AAA Directors' Cup Champions
2017 – Denver (35 – 634.25)
2016 – Denver (52 – 433.00)
2015 – Denver (49 – 508.75)
2014 – Denver (43 – 519.25)
2013 – Denver (55 – 425.50)
2012 – Pepperdine (Denver – 85 – 227.50)
2011 – Denver (54 – 384.50)
2010 – Denver (65 – 306.80)
2009 – Denver (54 – 396.50)
2008 – Denver (47 – 434.25)
Denver's National Rankings Prior to 2008
2007 – 74 – 267.25
2006 – Not in top-100
2005 – 68 – 250.50
2004 – 59 – 333.75
2003 – 75 – 214.75
2002 – 75 – 241.00
2001 – 87 – 180.00
2000 – Not in top-100
1999 – 74 – 110.00