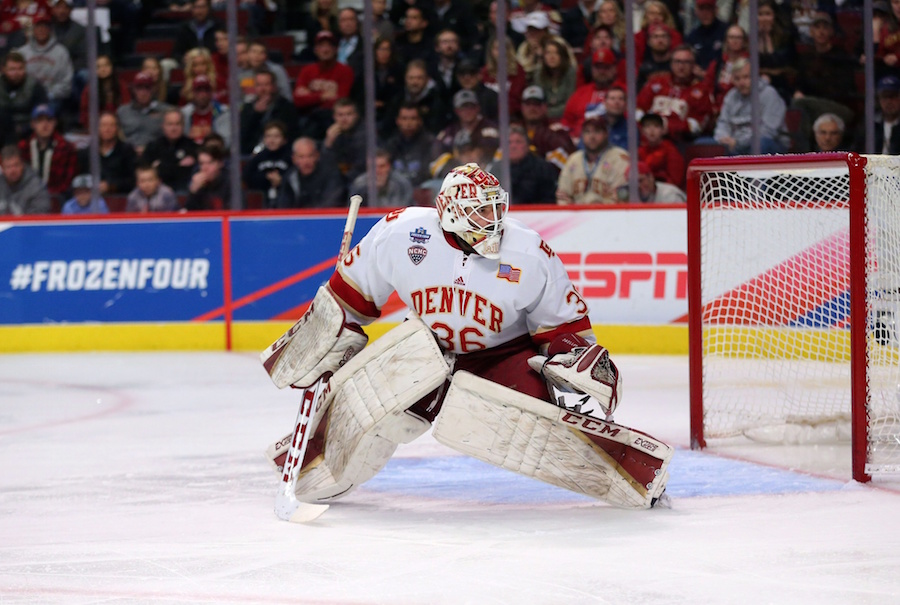 Fresh off of sweeping their weekend series against St. Cloud State University, the Denver Pioneers welcomed their all-time rivals — the  #3 ranked University of North Dakota — for a two-game series at Magness Arena. The Pioneers would drop the first game of the series by a heartbreaking final score of 5-4 to North Dakota.
Friday night's game marked the first regular-season meeting between the Pioneers and North Dakota. The last time the two teams squared off, Denver demolished the Fighting Hawks 6-1 in the 2017 Frozen Four semifinals. The Pioneers would ultimately go on to defeat Minnesota Duluth and claim their eighth national championship.
Naturally, when you develop a storied rivalry, there will always be a fair amount of animosity — that continues to reign true whenever the Pioneers and North Dakota play each other.
These types of games carry a particular feeling and energy to them that will excite hockey fans of all sorts. The rivalry brings out plenty of supporters from both fan bases– as Pioneer fans can still hear the "Let's go Sioux" chants echoing throughout Magness Arena following the Fighting Hawks comeback victory.
"It is always special to play against North Dakota. The games that we have against them are always some of the best, and obviously they have such a large fan base," Denver goaltender Tanner Jaillet said, following the Pioneers 5-4 loss to North Dakota on Friday Night.
Being his last season with the University of Denver, Jaillet has had plenty of experience against the Pioneers rivals, some good and some bad. However, he does have one specific memory that sticks out;
"My favorite memory during my time as a Pioneer playing against North Dakota, was when we swept them a couple of seasons ago in their own building, just was a good feeling, as that building is never an easy place to win in." Jaillet said.
Whether you are a freshman or a senior, the phenomenon of playing against a rival team is an exciting moment. For the likes of Jake Durflinger, this was no different — as the freshman got his first taste of the Pioneers rivalry with North Dakota on Friday night.
"Playing [North Dakota] for the first time was definitely an experience. They are a great school, with plenty of talent. It was definitely interesting to see Magness Arena filled with their fans with how loud they were during the game" Durflinger said.
After playing St. Cloud State last weekend and meeting with North Dakota this week, the Pioneers are in the middle of a critical stretch of games. Tonight will be the final game of the series against North Dakota, and next weekend, the Pioneers will travel to Minnesota to take on Minnesota Duluth for the first time since the Frozen Four championships.