Editor's note: The following story is from the Preps issue of Mile High Sports Magazine. Click here to read the full digital issue. 
Three state championships in four years are no easy task for any high school sports program, but the Holy Family Tigers Softball team has shown no signs of slowing down after their recent run of dominance in Class 4A. With over 90 wins in the last four seasons, the Tigers have developed their softball team into one of the premier programs in the state and have a pipeline of talent that should keep them among the best squads in Colorado for years to come.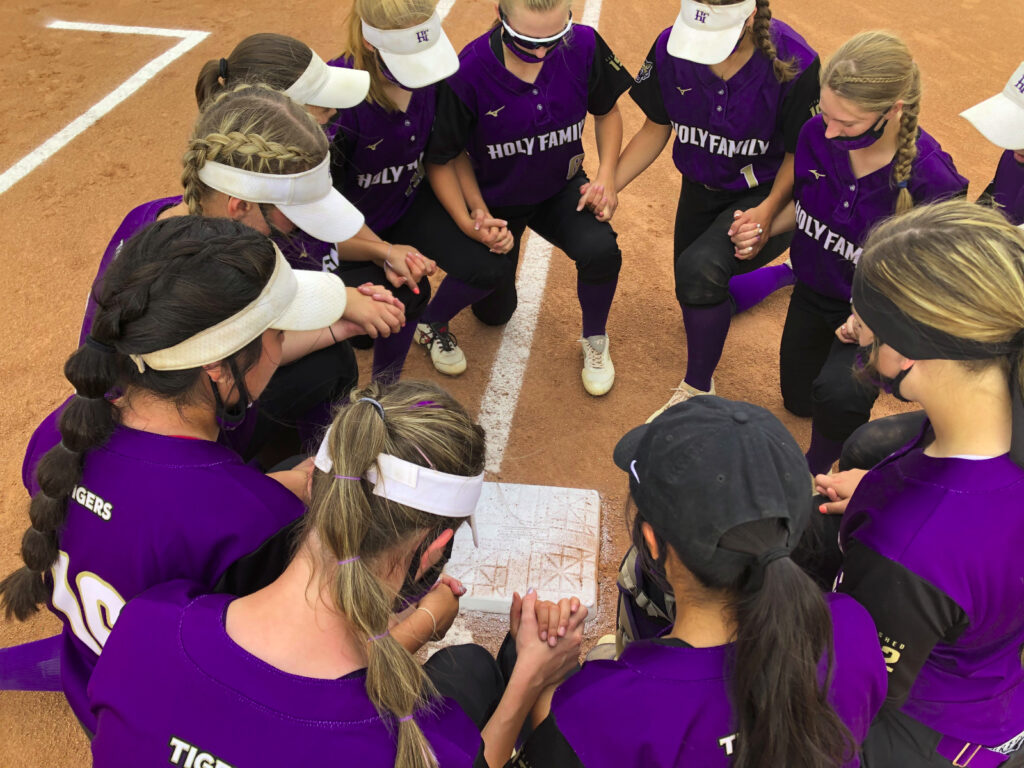 A 10-4 victory against D'Evelyn back in October solidified the Tigers' third state championship in four seasons of play, and while the run of success is fond to reflect on, Holy Family has no plans to slow down. Questions swirled about Holy Family's ability to compete this season after nine seniors from last year's state championship team graduated and moved onto collegiate ranks. 
Nevertheless, veterans Abby Edwards, Ava Kuszak, and Annika Manzanares, all returning seniors, helped steer the program in the right direction to capture another state title in 2021. 
"Our senior leadership was just spectacular this whole year," Head Coach Moriah Nguyen told the school. "For them to step up in the state tournament was just spectacular and for our younger girls too, not only was it a great experience but they all played like seniors as well."
With that, some newcomers played an essential role in the Tigers' success last season, including freshman sensation Izzy Arroyo, who was named The Northern Colorado Athletic Conference Pitcher of the Year for her dominance on the mound. Arroyo finished her freshman season with a flawless 17-0 record to pair with a stellar 1.81 ERA. 
Arroyo was dominant on the mound, and she was one part of the Tigers' dynamic duo with Edwards behind the plate. Edwards was named The Northern Colorado Athletic Conference Player of the Year and managed to finish her high school playing career on a high note after a decorated run of success through the program. 
Despite the roster turnover from last season, coach Nguyen always believed the Tigers had a real chance to win another title due to the program's work ethic and philosophy over the years. 
"When we started trusting one another, we obviously had a lot of holes to fill, but a lot of our girls started buying into the process of all of our coaching styles and the traditions that we have here," Nguyen said. 
Nguyen is an impressive 43-6 in her two seasons running the show for the Tigers. The future is bright for the program, with Arroyo entering her sophomore year and plenty of younger players having experienced what it takes to win a state championship. 
While the team aspires to compete for the state title year in and year out, the Tigers have done a phenomenal job of setting their players up for life after high school both on and off the field. Since 2018, over 30 softball players have been named 1st Team All-Academic, and 14 have gone on to play at the collegiate level. 
Edwards is taking her talents to Boise State, and fellow teammates Kuzak and Manzanares are heading to Wisconsin and Wayne State. They are the latest batch of players to progress through the Holy Family softball program as champions and head out to the collegiate ranks with the athletic and academic prowess needed to thrive at the next level of life. 
"We take our athletics very seriously at Holy Family, but we will always be a faith-based institution and college prep school that focuses on the student first," Jon Yunt told Mile High Sports. "Like our motto goes 'We are committed to educating the whole person Spirit, Mind and Body' and you can't do one without the other. Our kids excel in the classroom first, so they can take it to the athletic arena later."