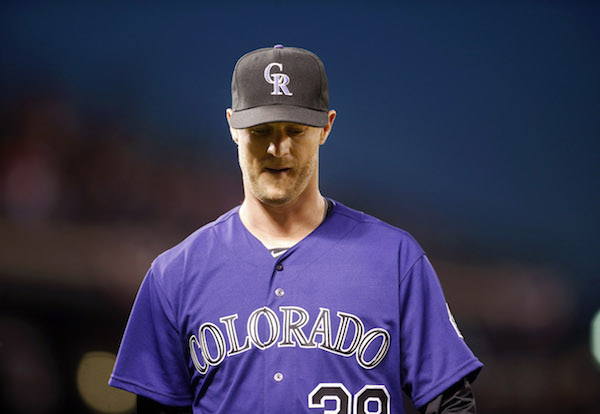 If the 30-39 Rockies hope to resurrect a season that is quickly sliding away, their pitching staff needs to turn things around at Coors Field. Otherwise, the team could be looking at its worst home record in franchise history.
Historically, Coors Field has been a place where the Rockies came to rejuvenate their bats and turn around extended losing streaks. This past weekend's series with Milwaukee hopes to be such a turnaround for Colorado, who had dropped three consecutive series and put together a 1-9 stretch prior to picking up the final two of three against the Brewers. But it can't continue to be a house of horrors for the men on the mound.
The wins still did not bring Colorado close to .500 on the season at Coors Field. The Rockies enter Tuesday's three-game set with Arizona at 15-21 on the season. Only Oakland (.412), Cleveland (.388) and Milwaukee (.314) have lower home winning percentages than Colorado (.416).
The Rockies are scoring runs at Coors Field this year. They rank No. 2 in total runs scored (189) behind only Toronto (213).  They're the best in baseball in terms of team average at home (.300) and their OPS (.816) is third in the big leagues behind Toronto (.844) and the Yankees (.835). They rank fourth, behind the Dodgers (141), Blue Jays (140) and Yankees (125) in extra base hits (121).
Hitting at home is clearly not the problem in 2015.
It's no surprise that the pitching staff is taking the fall, once again, for the Rockies home woes. The plight of a Coors Field pitcher is well-documented. Last year Yahoo Sports called pitching at Coors Field one of the toughest jobs in sports. But this year has been unquestionably bad.
To date, the Rockies have the worst home ERA in baseball at 5.40, nearly a full half-point higher than the next closest team – that same Milwaukee team that has the league's worst home winning percentage. The Brewers, for reference, rank 20th in runs scored to compliment their 4.94 home ERA.
While Rockies hitters are leading the league hitting .300 at home, their pitchers are allowing opponents to virtually match that number at .299, another league-worst. Their OPS allowed is also a league-worst .853. They've walked a league-high 119 batters at Coors Field, as well, contributing to another league-worst, a 1.54 WHIP at home.
Colorado's Opening Day starter, Kyle Kendrick, does not have a home win on the season. Three starters are tied for the team lead in home wins with two apiece, none of whom were on the Opening Day roster. (Two are Jorge De La Rosa and David Hale, who opened the season on the disabled list.) Bullpen anchors Boone Logan, Christian Friedrich and Scott Oberg all have ERAs north of 5.00. LaTroy Hawkins, in what was supposed to be a swan song final season has spent most of the year on the disabled list and currently sports an 11.25 ERA in four innings pitched.
Last year the Rockies scored a league-high 500 runs at home en route to a 45-36 record at Coors Field. This year they've nearly matched their win total on the road (15) from last year (21). Those numbers, coincidentally, are the Rockies' current home win-loss record, 15-21. That's a .416 home winning percentage, on-pace for 33.75 wins, which would be the second-worst in franchise history behind only the strike-shortened 1994 season. (The Rockies were 25-32 that year – a .439 winning percentage.) At this pace, it would be the worst in terms of winning percentage, behind 2012's 35-46 effort.
The offense is doing its part to keep Colorado competitive, especially at home. If the pitching staff can't find a way to turn things around, this could be a season for the record books for all the wrong reasons.