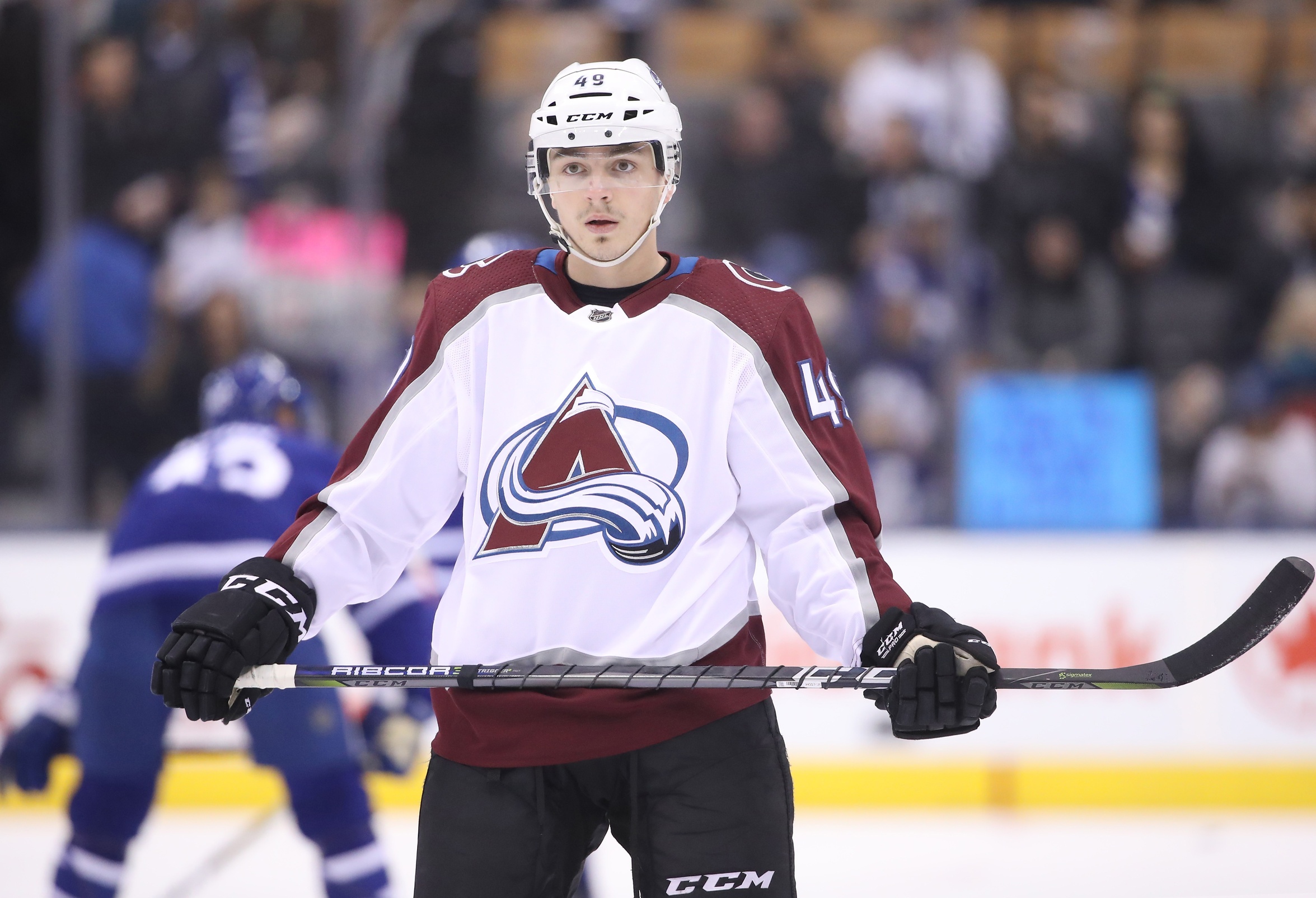 Make no mistake: The November 5 trade that finally sent Matt Duchene out of Colorado would have never been accepted by the Avalanche if not for one name: Samuel Girard. The 19-year-old defenseman, who averaged over an assist per game in the Quebec Major Junior League last season, was the centerpiece of the trade for Colorado, and even at a young age, Girard is currently quarterbacking the top power-play unit for the Avalanche.
The puck-moving ability of Girard is obvious when you watch him. He's elusive with the puck on his stick and is a zone-exit machine. Avalanche fans likely knew they were getting a top flight offensive defenseman, but did they expect the 5'10", 162-pound youngster to be as good defensively as he's shown? We're going to take a look at some video to show what makes him so good defensively, and why he's so effective, despite being undersized.
The Numbers
A lot of people would probably look at Girard, given his diminutive stature for a defender, and figure he would struggle defensively. In actuality, both the eye test and statistical backing show that this is not the case.
Girard currently leads all Avs defenders in Shot Attempts Against per 60 at 56.43. What that means is, that for every 60 minutes Girard is on the ice at five-on-five, the opposing team attempts 56.43 shots. The next best defenseman on the team is Mark Barberio at 57.99.  Girard and Barberio leading the Avs in these categories for defensemen is more evidence that the NHL is moving more towards blueliners that can defend with speed and move the puck forward, limiting the time they spend in their own end. Shot attempts, in general, don't always tell the whole story because you don't know the quality of the attempts being counted, but Girard currently ranks 3rd on the Avs blueline in scoring chances against per 60, sitting only behind Erik Johnson and Nikita Zadorov. Not only is Girard excelling in limiting shot attempts towards his own net, but he's doing a good job in keeping those attempts away from the dangerous scoring areas.
For context, it is important to note that the Avalanche do tend to use Girard in more of an offensive role, as he starts 62 percent of his shifts off a faceoff in the offensive zone. Given his offensive ability, this should come as no surprise, as the Avs are trying to maximize his value in the offensive zone. Even with his somewhat sheltered role on the team defensively, the numbers back up that he is performing well in his own end.
(All numbers are courtesy of http://www.naturalstattrick.com)
Video Breakdown
The video is where you will really see what makes Girard, a heavily undersized defenseman even in the new age NHL, so effective defensively. In the end, what is allowing Girard to excel defensively at such a young age is three key attributes: High hockey IQ, skating ability, and stickwork. Given his size, Girard uses other parts of his game to make himself valuable defensively.  Let's take a look at a few examples where those three attributes are on display.
Girard vs. Mathew Barzal
Recently, Max Pacioretty of the Montreal Canadiens claimed that the best skater in the NHL is New York Islanders forward Mathew Barzal. His speed and elusiveness have caused headaches for seasoned NHL defensemen in just his rookie year. In this clip, Girard uses his skating ability to force Barzal to the outside and away from the danger area. He closes in on Barzal because of his mobility and because he uses his stick to take away any semblance of time and space that Barzal has. Even after losing his stick, Girard manages to stay with Barzal, and pushes him off the puck along the boards, giving the Avs a chance to break the puck out the other way. While neither Girard or Barzal are big men, you can see Girard has a willingness to get his nose dirty and throw a hit if it helps cause a turnover.
One Man Show
Here you see a similar rush against Girard and a similar result. Rangers forward Vinni Lettieri cruises through the neutral zone with speed, but as he gets closer to the blueline, you'll notice that Girard tightens his gap. Not only does he keep Lettieri to the outside, he makes the decision to attack defensively once he realizes he has him right where he wants too. Girard uses his very active stick to take away all of Lettieri's options, and he does it all while continuing to move his feet. His ability to skate with Lettieri leads to Girard cutting him off completely once they get behind the net, and at that time, Girard engages him physically and knocks him off the puck. The best part of the entire play is where Girard immediately picks the puck up himself and rushes it out of the zone. The final stat line on the play: zone entry against that leads to no shots and a controlled zone exit within seconds.
What size advantage?
The previous two plays showed Girard's ability to defend against speed, but how does he stack up defending against the cycle and dealing with bigger forwards?  It's not always going to be perfect, but he's shown an ability to handle bigger players, and he does quite well for himself against NHL All-Star Anze Kopitar in this scenario. Kopitar knows there is a large size difference and tries to knock Girard away a few times.  While Girard gets knocked back initially, his skating ability allows him to get right back into position, and he's not even phased by Kopitar's second attempt to knock him away.  Girard continues to stick with him and uses his skating to make a move and knock the puck off Kopitar's stick, leading to a breakout for the Avalanche.
Heads Up
What we have here is a perfect example of Samuel Girard thinking the game at a quicker pace than a lot of players. The Stars dump the puck in, and the puck begins to wrap around to Girard's size. If Girard was to go for the puck initially, it's highly likely that the forechecking Stars skater, Radek Faksa, who has five inches and 40 pounds on Girard, would knock him off the puck. Recognizing that, Girard actually takes a quick peek over his shoulder and sees Faksa coming. Rather than rush to the puck himself, he gives Faksa the first crack at it. The second that Faksa picks up the puck, Girard uses his stick to lift Faksa's and take the puck away.  It leads to a controlled breakout, and five seconds later, Alexander Kerfoot scored at the other end.  This is a perfect example of Girard recognizing his physical limitations and using his hockey IQ to his advantage in the defensive zone.
With Samuel Girard, the Avalanche have found themselves a top flight young defenseman to help build the left side of their defense, complimenting the towering Nikita Zadorov.  At just 19, Girard is showcasing that he will be a menace for other teams to deal with at both ends of the ice for years to come.