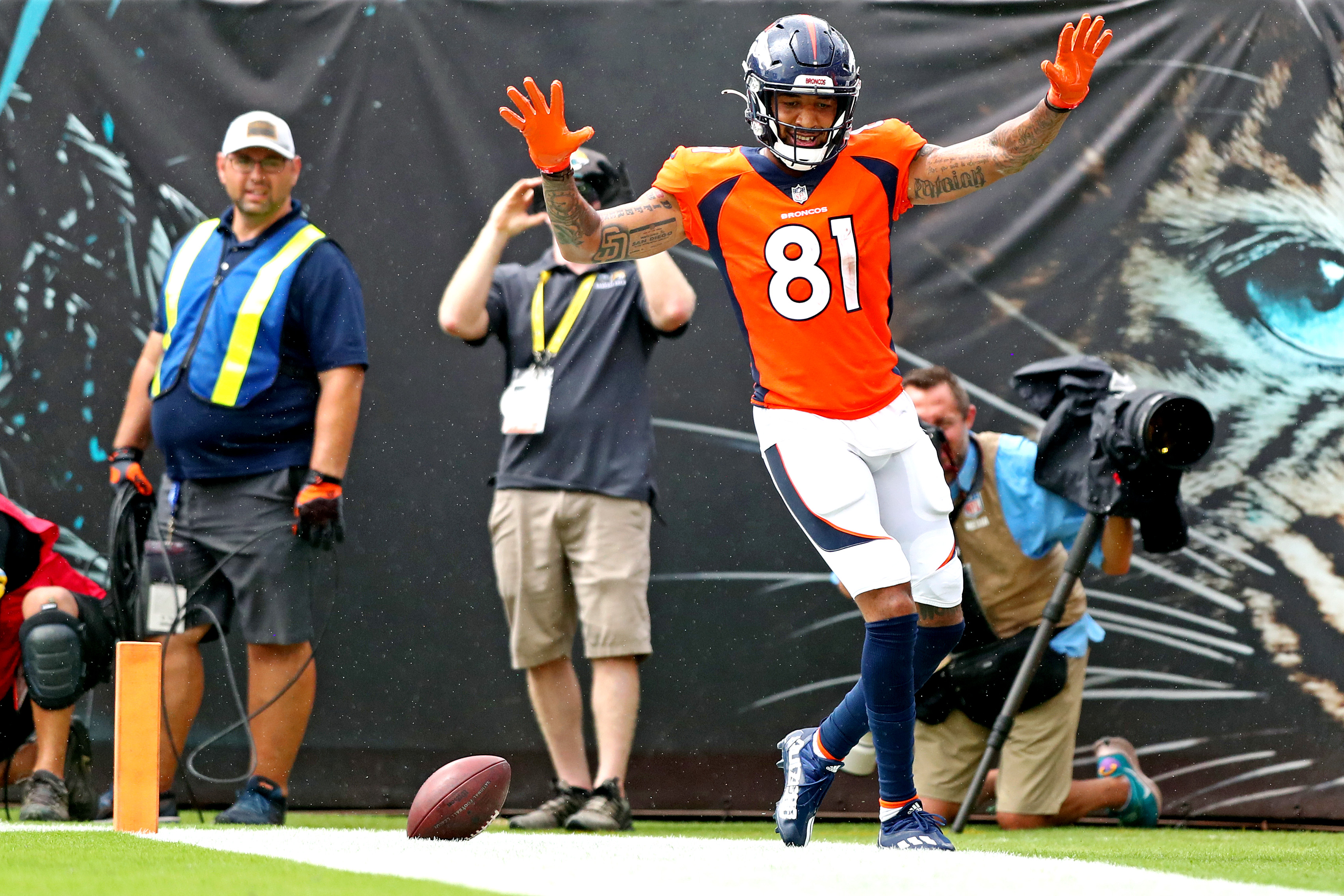 Tim Patrick is the definition of what it means to overcome the odds.
Four years ago, he was an undrafted player desperately hoping to make an NFL roster. Today, he's established himself as a cornerstone player on one of the best wide receiving rosters in the league.
Off to a hot start this season, Patrick already has two touchdowns through two weeks.
Humble Beginnings
Patrick grew up in San Diego, California and played football at University City High School. He was an all-league receiver during his time there.
Despite his spectacular performance, Patrick wasn't highly-recruited and attended Grossmont Community College in El Cajon, California. 
According to Patrick, the ongoing family drama he endured resulted in unstable living arrangements that prevented him from achieving his full potential.
"I had a different upbringing," he said. "I'll just say that…A different lifestyle, I'll say. I had a lot of stuff. It helped make me what I am today. It made me humble. Had to fight for everything I wanted."
His father was incarcerated for 15 years and his mom also spent some time in jail.  
He credits his grandmother for shaping him into the person he is today.
"My whole family played a large part in raising me, but my grandma is definitely my rock," he said.
Patrick played football at Grossmont for one year in 2013. He was selected to the first-team all-PCAC and transferred to the University of Utah in 2014 for his sophomore year.  
He was initially not offered a scholarship, but let his ability on the field demonstrate he was worthy of one.
"I went to Utah, they couldn't give me a scholarship, so I had to walk on," he said. "I earned a scholarship after the first day of practice."
Overcoming Injuries
With dreams of becoming an NFL receiver in reach, Patrick suffered a fracture to his left leg in 2014.  
The injury was so gnarly that he couldn't walk for four months and was sidelined for 18 months.
He could have given up but instead fought to heal back to full strength and find himself on the field again. He was out a year-and-a-half with a medical redshirt before returning in 2016 for his senior year.
He had 20 catches for 385 yards and five touchdowns in the first four games as a senior. Unfortunately, he missed the next three games after suffering a high ankle sprain and couldn't duplicate the elite playing level for the rest of the season.
Patrick graduated with two bachelor's degrees, one in sociology and one in human development and family studies, but was not invited to the 2017 NFL Combine in Indianapolis.  
He entered the NFL Draft but went undrafted.
NFL Dream Come True
As an undrafted free agent, the Baltimore Ravens signed him and after training camp, he landed on the practice squad.
He spent about two months in Baltimore before being waived. The San Francisco 49ers briefly picked him up before he landed on the Broncos' practice squad in October.
Denver waived him but quickly reclaimed him and he finally signed a contract with the team in January 2018.
Patrick made the 53-man roster for the 2018 season as the WR5 behind Demaryius Thomas, Emmanuel Sanders, Courtland Sutton, and DaeSean Hamilton. Despite that, he still managed to finish the season with 315 receiving yards and a touchdown.
Unfortunately, Patrick broke his hand at the start of Week 1 against the Raiders in 2019. He returned to the field in October. Even though Thomas was traded to the Texans, Patrick finished the season with only 16 receptions for 218 yards.
Hoping for a breakout year, the 2020 season would cement his status as a bona fide NFL receiver. After Sutton was lost for the season with a torn ACL, Patrick seized the opportunity. In 15 games, he had a career-high 79 targets, 51 receptions, 742 yards, and six touchdowns. Along with Larry Fitzgerald, Patrick was the only receiver with 70 or more targets who had no drops that season.
My tweet must be coming soon since mine is 0.0% 🥱 https://t.co/OqhW0zICly

— Tim Patrick (@Tpstreets) February 23, 2021
What's Next
With his contract expiring after last season, there were questions about whether Patrick would be back with the Broncos in 2021. Those questions were answered early in the offseason when he was offered a second-round tender, which he signed.
However, that's not enough for Patrick, who keeps himself motivated with an eye on a long-term deal.
"At the end of the day, I have to keep myself motivated in some way," he said. "Now I'm at the point where I'm mad that I didn't get a first-round tender, and I'm mad that I didn't get the extension. Now, I have to go back to the drawing board and work to get that."
With Sutton returning, there was doubt over whether or not Patrick could remain productive in 2021 given the deeply talented receiving core.
However, through the two games this season, Patrick remains the only wide receiver that has scored a touchdown for the Broncos, finding the end zone once each contest.
TIM PATRICK!

Touchdown, Broncos!#BroncosCountry | #IrishNFLShow

📺: NFL Game Pass

— The Irish NFL Show (@IreNFL) September 19, 2021
With Jeudy out for potentially six weeks on IR, Patrick will have plenty of opportunities to prove he is worthy of a long-term deal.
The Broncos will welcome the New York Jets in Denver on Sunday at 2:05 PM MT. 
Previous Player Profiles: