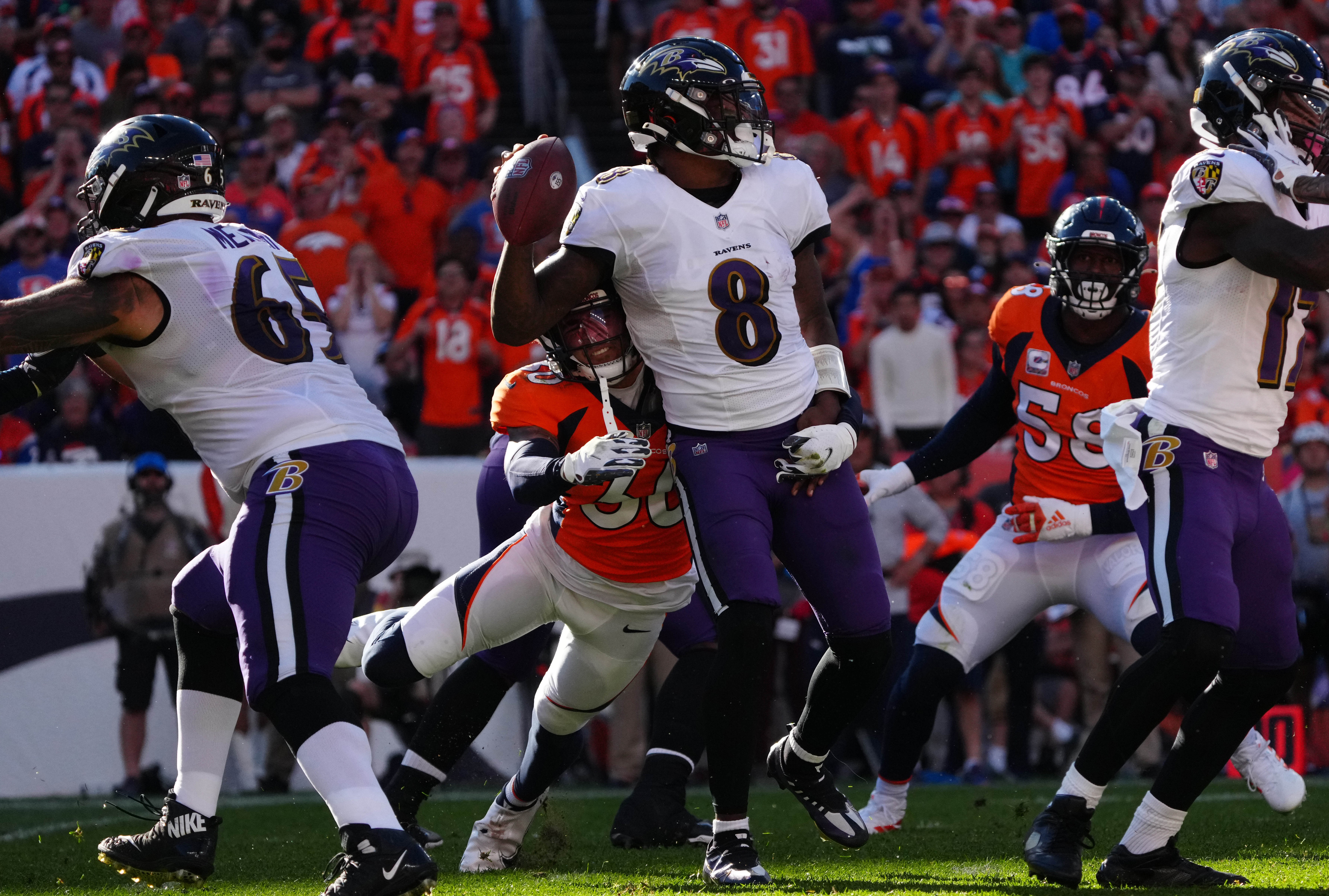 As if losing the home opener wasn't bad enough, Justin Simmons is officially headed to the Injured Reserve. Hello, Caden Sterns.
Sterns is a second-year safety who proved to be one of the biggest steals in his draft class. 
Sterns is excited about the opportunity to start and can't wait to show how much he's improved in Year 2, saying, "I'm ready. I'm as ready as I was last year; it's the same thing this year. It's an opportunity to make plays, so I'm pretty excited for it." 
Growing Up a Football Player
Born and raised in Cibolo, Texas, Sterns grew up in a single-parent home, raised by his mother, Brandi.
To make ends meet, she worked multiple jobs as a clothing store manager during the day and at a treatment center at night.
"We didn't have a lot of money," Sterns said. "But me and my brother [Jordan] were never told that because she busted her ass every day to give us everything we needed." 
He played football at Steele High School. As a sophomore, he played safety, wide receiver and kick returner and scored touchdowns with interceptions, receptions and a punt return.
Sterns helped lead Steele to a State Championship appearance in his junior season. In that season, he totaled three interceptions, 302 receiving yards, and eight all-purpose touchdowns. His impressive all-around performance resulted in a place on the 6A All-State First Team.
Although he flourished at every spot he played, Sterns starred the most as a safety. By the time he graduated, he had totaled 11 interceptions and 235 tackles.
Sterns was a five-star recruit and rated as the No. 1 safety in the country by 247Sports and Rivals. He had offers from nearly every major college football program in the country.
Initially, he was adamant about attending Louisiana State University. In fact, the University of Texas wasn't even in contention.
However, Brandi didn't want to say goodbye to her son. With the University of Texas only 90 minutes away from their home, she convinced him to take a visit to the campus.  
Mama Brandi's pursuit was a success. Sterns announced he was switching his commitment from LSU to UT that weekend.
Setbacks in College
During his freshman season, Sterns lived up to all of his expectations.
He started 13 games and tied UT's freshman record with four interceptions. He also finished with 62 total tackles, 46 solo tackles one sack. 
His season was halted when he suffered a knee injury in the Big 12 championship game loss to Oklahoma.
Following his first season, Sterns was named the Big 12 Defensive Freshman of the Year and selected to the first-team All-Big 12.  
Unfortunately, he was never able to duplicate his spectacular first year.
Injuries torpedoed Stern's sophomore season.
After being forced to miss spring practices while recovering from knee surgery, he suffered a big blow when struck with a high ankle sprain during preseason camp.
Midway through the season, Sterns was hit with another knee injury. He only played in nine games that season and ended with 59 total tackles and zero interceptions. 
His junior season was also cut short, but this time by choice. Sterns played in only seven games before declaring for the 2021 NFL Draft on November 30, 2020. He opted out of the remainder of the season.
Because of the many injuries, Sterns went from an unquestionable first-round draft pick to a projected Day 3 selection in a brief two-year span.
Sterns was drafted in the 5th round, 152nd overall, of the 2021 NFL Draft by the Denver Broncos on May 1, 2021. On May 11, 2021, Sterns officially signed his rookie contract.
The Steal of the Draft
As a rookie with the Broncos, Sterns started two games in the place of an injured Kareem Jackson and spent most of the season as a rotational defensive back. He finished the season with 28 tackles, five pass breakups, two interceptions, and two sacks.
His most impressive week was against the Baltimore Ravens in Week 4. He sacked Lamar Jackson twice, being the first rookie defensive back with a two-sack game since 2016, and also had three tackles.
Jackson was in the last year of his contract with the Broncos, so fans assumed Sterns would be a starter in 2022. However, Jackson re-signed with the team in April.
In Week 1 against the Seattle Seahawks, Sterns playing time was limited, although he did manage two combined tackles.
But now, with Simmons on the IR and expected to be out for at least four weeks, Sterns will start next to Jackson on Sunday. 
Jackson is confident in the young man's ability. 
"Caden's played a ton of ball at a high level in this league in such a short time," Jackson said. "He's a smart player. We've used him in a bunch of different roles, so for him to step in and play safety, he did it a little bit for me last year when I was out. He has a ton of experience. I expect him to step in and play great."
The deal Jackson signed was only for one year. Caden's start will allow him an opportunity to prove why he should be upgraded as his replacement next season.
The Broncos will look to bounce back this week when the Houston Texans visit Denver on Sunday at 2:25 p.m. MT.