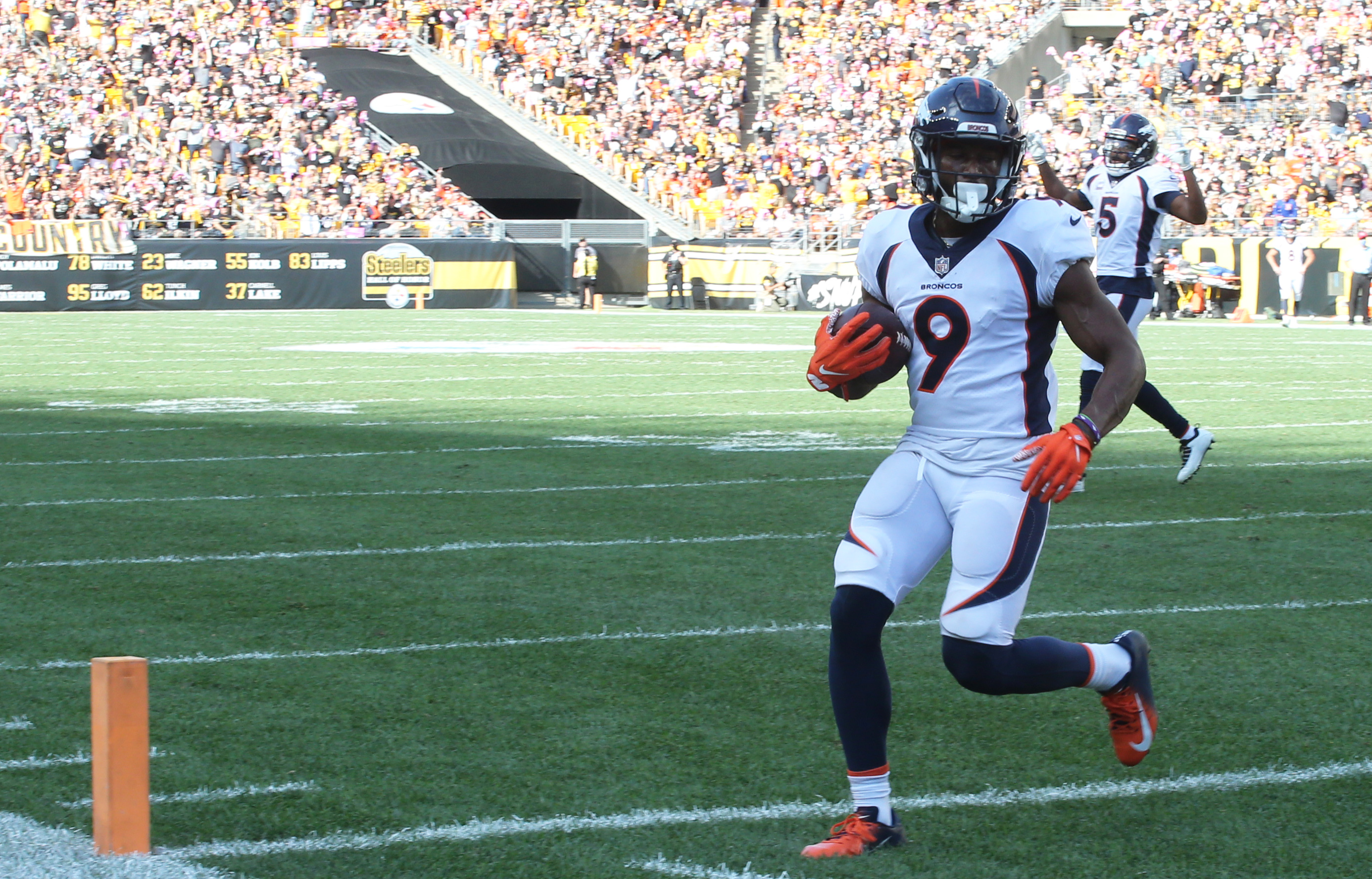 There has never been an NFL player whose career has mirrored Kendall Hinton's.
In only his second year in the league, Hinton has already managed to get himself into the Hall of Fame. No, that isn't a joke.
Hinton made a name for himself when he was the emergency quarterback against the New Orleans Saints after the entire Denver Broncos quarterback room was deemed ineligible to play due to COVID-19 protocols. He was given less than 24 hours' notice. Nothing like that had ever happened before in NFL history.
Fortifying himself as a forever Denver fan favorite, Broncos Country was thrilled to see him thriving in training camp this past summer. After Jerry Jeudy got hurt, Hinton was promoted to the active roster for the first time in his career on September 14, 2021 (as a wide receiver, that is). 
Because of a depleted wide receiving core, Hinton has been thrust into a more prominent role for the team and scored his first NFL touchdown last week.
Just like last week's focus Caden Sterns, Hinton has become one of this season's most pleasant surprises for Denver fans. 
Making the Switch
Hinton grew up in Durham, North Carolina. He attended and played quarterback at Southern Durham High School.
As a junior, Hinton threw for 3,972 yards and 39 touchdowns, rushed for 1183 yards, and led Southern Durham to a 3–AA championship title.  
In his senior year, he passed for 3,258 yards and 30 touchdowns and rushed for 835 yards. 
In both seasons, he was named 3-A Big Eight Conference Player of the Year. 
He committed to play college football close to home at Wake Forest University on June 11, 2014.
In his freshman year at Wake Forest, Hinton started in two games, throwing for 929 yards and four touchdowns and rushing for 390 yards and seven touchdowns.
Because of a sprained ankle, Hinton was forced to miss his sophomore year.
As a redshirt sophomore, Hinton served as the backup quarterback to John Wolford and was poised to take over the following season after Wolford graduated in 2018. 
That plan changed when Hinton received a three-game suspension before the season started for violating the team's rules.  
When he returned from suspension, Hinton was downgraded to being the backup to Sam Hartman. Halfway through the season, he made the switch to the wide receiver position. 
In 2019, Hinton initially entered a motion to transfer but decided to stay at Wake Forest as a full-time slot receiver. He finished the season with 73 catches, 1001 yards, and four touchdowns.
Hinton went undrafted in the 2020 NFL Draft and signed with the Broncos on April 26. He was waived after training camp and brought back to the practice squad on Nov. 4.
Insanity Ensues
Then Denver Broncos third-string quarterback Jeff Driskel tested positive for COVID-19 on Thursday, Nov. 26, 2020. On Saturday, November 28, 2020, the NFL notified the team that because quarterbacks Drew Lock, Brett Rypien, and Blake Bortles had been in close contact with him on Wednesday, they were high-risk COVID-19 close contacts. They were required to self-isolate for five days meaning that none of them would be eligible to play in that Sunday's game.
Despite pleas from John Elway to push the game to Tuesday, they were denied.  
Out of options, the team decided that with his quarterback history, the guy who had recently turned to selling fundraisers as a living and had almost completely dropped his NFL dream was the best option.  
When it was announced that Hinton would be the Broncos starting quarterback, most members of the Broncos organization had never even met him.
Per @JamesPalmerTV, there are people in the #Broncos building who have not even met Kendall Hinton. Now, Denver's starting QB! Let's get nuts.

— Ian Rapoport (@RapSheet) November 29, 2020
Hinton was given just a handful of hours of prep.
The Broncos would go on to get smashed against the New Orleans Saints 31-3. He finished with one completion on nine attempts for 19 yards and was intercepted twice.
After the game, Hinton said, "I can easily say that was the most eventful 24 hours of my life, but there was pure excitement when I got the call."
For his performance players, members of the media, and fans of all kinds were outspoken with praise for the unlikely hero.  
On Dec. 10, the NFL Hall of Fame announced that they had placed Hinton's wristband that he wore in the game on display in the "Pro Football Today Gallery" in its museum. On social media, he poked humor at himself for his quarterback performance.
What a blessing🙏🏾 still unreal.. unfortunately I'll have to explain to my kids what a negative QBR is someday😂🤦🏽‍♂️ https://t.co/9OwtaqRny0

— Kendall Hinton (@Kendall_Hinton2) July 8, 2021
Back To Basics in 2021
Despite a strong performance in training camp, Hinton was waived by the Broncos during the final 53-man roster cuts going into the 2021 season on Aug. 31. He was signed to the practice squad the next day. 
In Week 1, the Broncos lost Jeudy to a high ankle sprain that sent him to the short-term IR. The Broncos activated Hinton to the active roster for the first time in his career (as a wide receiver) to replace him.
His first official start was in Week 2. Although not an explosive game for Hinton, he recorded his first-ever NFL reception for 15 yards.  
Although he went silent in Week 3, that game had a massive impact for Hinton when KJ Hamler tore his ACL, immediately ending his season. Suddenly, Hinton had gone from practice squad player to crucial offensive weapon.
After another quiet performance against in Week 4, Hinton recorded his first NFL touchdown, during a crucial moment, last week in an attempted comeback against the Pittsburgh Steelers.
Because the Broncos were in a race against the clock, Hinton didn't get to celebrate in the moment. After the game, though, Hinton said that he made sure to take enjoy the experience and locate the ball he used to score his first NFL TD.
Now with Courtland Sutton dealing with an ankle sprain, and the Broncos having lost two games in a row, it's likely they'll continue to turn to Hinton to help fill the void left by injuries.  He now has an opportunity to make a name for himself as a true wide receiver.
The Broncos hope to end their losing streak this weekend when they welcome the Las Vegas Raiders in Denver on Sunday at 2:25 PM MT.