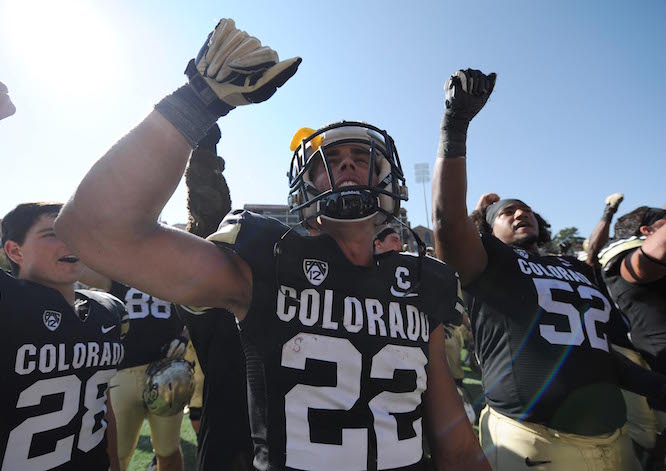 The American Alliance of Football League made its official debut over the weekend, with eight teams playing a four-game schedule.
Just six days removed from the Super Bowl, many questioned whether or not the league would spark up a national interest. According to reports, the AAF's debut posted better TV ratings than the NBA on ABC though.
Despite not having a team in Colorado, there was also a local interest as a variety of players with local ties are participating in the spring league.
Former Broncos players like Rahim Moore (Arizona Hotshots) and Austin Traylor (Salt Lake Stallions) are among the participants. But a lot of the local interest stemmed from former college stars getting a chance to keep their pro football dreams alive.
Colorado Buffaloes legendary wide receiver Nelson Spruce is a member of the San Diego Fleet and his quarterback is a long-time friend and childhood teammate Mike Bercovici (Arizona State). There are also three former Colorado State offensive lineman in the league as well. Here are all the players in the AAF with local ties:
Colorado:
Nelson Spruce (wide receiver, San Diego Fleet)
Ryan Moeller (defensive back, San Diego Fleet)
Kenneth Olugbode (linebacker, San Diego Fleet)
Colorado State:
Jake Bennett (center, Salt Lake Stallions)
Nick Callender (tackle, Salt Lake Stallions)
Trae Moxley (tackle, Atlanta Legends)
Denver Broncos:
Rahim Moore (safety, Arizona Hotshots)
Steven Johnson (linebacker, Arizona Hotshots)
Avery Gennesy (guard, Atlanta Legends)
Robert Myers (guard, Memphis Express)
Quentin Gase (linebacker, Memphis Express)
Jordan Leslie (wide receiver, Salt Lake Stallions)
Kenny Bell (wide receiver, Salt Lake Stallions)
Austin Traylor (tight end, Salt Lake Stallions)
Jeremiah Poutasi (offensive lineman, Salt Lake Stallions)
Leon Johnson (tackle, Salt Lake Stallions)
Taylor Bertolet (kicker, Salt Lake Stallions)
Josh Banderas (linebacker, Salt Lake Stallions)
John Diarse (wide receiver, San Antonio Commanders)
Mekale McKay (wide receiver, San Antonio Commanders)
Orion Stewart (defensive back, San Antonio Commanders)
Shakir Soto (defensive tackle, San Antonio Commanders)