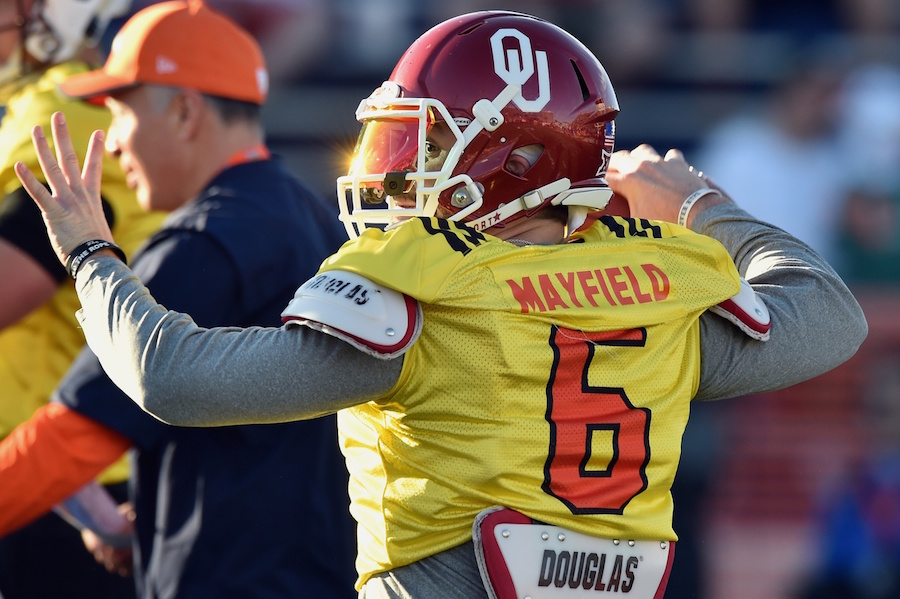 One of the high-profile quarterbacks in the NFL Draft and potential future Bronco is the polarizing Baker Mayfield.
The former Oklahoma quarterback is confident — some say cocky — and brings a lot of talent, swagger and skill to the football field. So much that Benny Bash of Mile High Sports AM 1340 | FM 104.7 believes that Baker Mayfield is the answer to the Bronco's quarterback long term problems.
Bash joins Ronnie K of the Broncos Blitz podcast to discuss Baker Mayfield and believes the Sooner would impact the Broncos immensely.
"Baker Mayfield was incredibly quick off of the run-pass option and off of the play-action, which is something that you need in the NFL. Where you fake that dive, you pop up and you hit that tight end in the seam or you hit that quick slant as the linebacker sucks in on the fake run," Bash said.
"He's got those tools and those capabilities to play from the pocket, he also has a little bit of escapability to him too, which now almost in the NFL, you almost have to have that."
However, Bash puts all of his faith into Mayfield. If the Bronco's don't get Mayfield as their quarterback, they should trade that spot instead.
"I see the glimmer in Gary Kubiak's eye when he looks at him. If Baker's there I think they take him…I think they have two in mind, maybe even three [quarterbacks.] I think John Elway's looking for that guy. If not, I think they move back. I think it's quarterback or move out because now you're starting to fill holes," Bash said.
Click here to listen to the full Broncos Blitz podcast with Ronnie K, including his opinions on Chris Harris Jr.'s comments and if player's comments affect front-office decisions, or listen to the podcast below.
Click here to listen to past episodes of the Broncos Blitz podcast and access the Broncos Blitz archived vault.