We are nine days away from the start of the 2022 NFL Draft, making it the perfect time to drop our second-to-last Broncos mock draft of this year's draft cycle.
Now, before we dive into the fun of imagining hypothetical Broncos rookies, let's acknowledge that hoping for accurate seven-round predictions from a mock draft is a fool's errand. While the goal is to create an accurate prediction and a draft scenario we could see the Broncos in, doing so is nearly impossible.
Instead, this is more a fun thought experiment, designed to give you insight and previews on nine different prospects, across a variety of rounds and positions, all of whom make sense to some degree for the Denver Broncos. It should also be noted that this mock was created using a mock draft simulator, so some of these players are likely to go considerably lower or higher than they're projected to go here.
With all that preamble out of the way, let's take a look at who some of this draft's most intriguing prospects are for Broncos Country.
Round 2, Pick 64: Josh Paschal, EDGE, Kentucky
Bradley Chubb and Randy Gregory have both had stretches of high-end play, but inconsistency and lack of availability have defined both of their careers thus far. Plus, Chubb is set to be a free agent next offseason.
With that in mind, and the next men up being Malik Reed and Jonathon Cooper, the edge rusher position is one of the greatest areas of need for the Broncos as they enter the draft.
If Josh Paschal fell to pick No. 64, he'd be a very easy selection.
He's a large, powerful, lengthy edge rusher with a surprising amount of explosiveness and bend for his build.
Now, Josh Paschal is playing a bit outside. I need to see recognition, quick reaction and the ability to actually close on this WR when he tries to widen. All of it. Excellent angle. TFL. pic.twitter.com/4gq9sM8clR

— Matt Alkire (@mattalkire) April 6, 2022
He fits what George Paton is likely to covet in an edge, as the defense transitions to having larger defensive ends on the edge.
On top of the physical gifts, Paschal has demonstrated intriguing positional versatility along the defensive line, which you can catch a glimpse of here as he works inside to embarrass LSU's center.
Josh Paschal is a bad man 👀 pic.twitter.com/ODIzpqY9d4

— Jacob Tamme (@JacobTamme) October 10, 2021
He also has one of the more impressive motors in this draft, as his remarkable ferocity refuses to trail off as the individual play and the overall game carry on. Another note in his impressive character resume is that he's beaten cancer, which at the very least makes him easier to root for.
He beat cancer.
He's back with @UKFootball.@TimTebow's Freak of the Week: Josh Paschal 💪 pic.twitter.com/TclXMBO2Ry

— SEC Network (@SECNetwork) September 14, 2019
He has a fairly underdeveloped array of pass-rushing moves, but he's very effective with these moves despite his limited bag of tricks. He also struggles to defend the run at times due to his limited lateral range.
Paschal's tools, tape and visably apparent intelligence suggest he can make a solid impact as a rotational player in year one before potentially developing into a long-term starter at the position. It's not often you can find those talents at edge rusher at pick No. 64.
Josh Paschal nearly took this to the house for Kentucky. 👀
pic.twitter.com/1DheJJBgrN

— Cats Coverage (@Cats_Coverage) October 11, 2020
For a more in-depth look at Paschal, make sure to check out Joey Richards' analysis.
Other players considered: Breece Hall, RB, Iowa St.; Trey McBride, TE, Colorado St.; Dylan Parham, C, Memphis; Cam Jurgens, C, Nebraska; Kingsley Enagbare, EDGE, South Carolina; Chad Muma, LB, Wyoming; Darrian Beavers, LB, Cincinnati; Troy Andersen, LB, Montana St.
One could make a compelling best-player-available argument for Breece Hall, Trey McBride, or Chad Muma, but this class is loaded with mid- and late-round linebackers, tight ends and running backs.
Meanwhile, it will be hard to find edge rushers that can make a Day 1 impact, and Kingsley Enagbare and Paschal are options the Broncos could look at around here. However, Paschal appears to be the better fit for Paton's vision of a prototype for the position.
Some might be surprised to see Dylan Parham and Cam Jurgens here, but they shouldn't be. Russell Wilson has never played behind a center as large as Graham Glasgow and Lloyd Cushenberry's fit in Nathaniel Hackett's offense is questionable. The new coaching staff might not see a starting center on the roster, and this draft has some intriguing prospects at the position.
Round 3, Pick 75: Cam Jurgens, C, Nebraska
Speaking of intriguing prospects at the center position, none might be more enticing to the Denver Broncos than the NFL Scouting Combine star — Jurgens.
Cam Jurgens man:

Vertical: 34" (96th PCTL)
Broad: 9'11" (100th PCTL)
40: 4.92s (96th PCTL)
20-yard shuttle: 4.49 (84th PCTL)
3-cone: 7.19 (99th PCTL)

That explosiveness/quickness coupled with his length make him a viable option in the 2nd round. pic.twitter.com/T5z2bwawKS

— Andrew Russell (@Andrew_Russell7) April 14, 2022
Jurgens has been one of the pre-draft process's biggest risers and it's easy to see why when considering his athletic traits, which is usually what the pre-draft process highlights. However, Jurgens is more than just a workout warrior, which he showcased with a rock-solid performance at the Senior Bowl.
Here's @HuskerFBNation center Cam Jurgens escorting an Oklahoma defender 34 yards after the point of engagement—and making it look easy. Have a great Wednesday! pic.twitter.com/v1gsyyHLL0

— Jim Nagy (@JimNagy_SB) April 13, 2022
Jurgens' outstanding movement skills that allow him to attack the defense's second- and third-level with ease, under-the-radar power, and polished footwork make him an appealing solution to Denver's woes at center.
https://twitter.com/billym_91/status/1516426992618508293?s=21&t=LtZn_NP933328c07x25SrQ
His smaller frame and lack of refined hand usage are legitimate concerns, but Denver should be able to protect Jurgens with some of their bigger-bodied guards as he polishes up his strikes and tacks on weight.
Here's @HuskerFBNation center Cam Jurgens escorting an Oklahoma defender 34 yards after the point of engagement—and making it look easy. Have a great Wednesday! pic.twitter.com/v1gsyyHLL0

— Jim Nagy (@JimNagy_SB) April 13, 2022
Other players considered: Breece Hall, RB, Iowa St.; Cole Strange, C, Chattanooga; Darrian Beavers, LB, Cincinnati; Troy Andersen, LB, Montana St.; Channing Tindall, LB, Georgia
It's even more difficult to pass up Breece Hall here, but this running back class is deep and loaded, so it's alright to let him walk. Linebacker is also an option again, but there are still so many talented players at that position left available that it makes sense to hold off and see if one falls to pick No. 96. Cole Strange is a really intriguing center, but would also be the tallest center Wilson has ever played with, so the team might opt for Jurgens instead.
Round 3, Pick 96: Troy Andersen, LB, Montana St.
Here, Paton and Co. are rewarded handsomely for deciding to hold off on linebacker with the 75th overall pick.
On a personal level, it's hard to target Andersen over some of these talented offensive tackles and edge rushers that are likely to be off the board shortly, as Denver's need at linebacker is greatly overstated inside Broncos Country.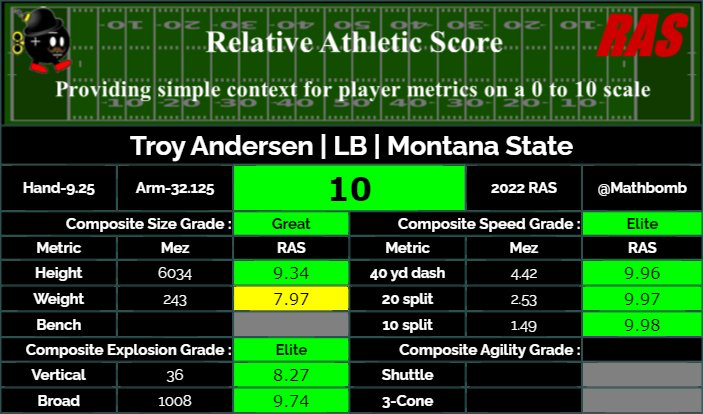 However, Paton has demonstrated he doesn't put too great an emphasis on positional value in the draft while prioritizing athletes and targetting the best player available. At this point in the draft, Andersen is probably the best player in the draft, and he scored a 10.0 Relative Athletic Score (RAS), meaning he's the most athletic linebacker the combine has ever tested.
This four play stretch epitomizes what #MontanaState LB Troy Andersen can bring to an NFL team.

Can explode from stance to finish, quick change of direction.

Closes quickly as flat defender in 2nd.

Plants foot in ground and attack on third play.

Diagnoses screen in 4th play. pic.twitter.com/jZRVF0d2u9

— Devin Jackson (@RealD_Jackson) April 8, 2022
He also has the character traits that lead you to believe he can develop that athletic potential, despite him having a long way to go.
Love the recovery here from #MontanaState LB Troy Andersen.

He's still learning, but this is why you bet on those athletic traits. pic.twitter.com/hQRJWjzg17

— Dane Brugler (@dpbrugler) February 4, 2022
Andersen has been a little overrated as of late, thanks to his remarkable athleticism, but if the Broncos could manage to land him here instead of at pick No. 64 or No. 75, it'd be a slam dunk.
Other players considered: Abraham Lucas, OT, Washington St.; Rasheed Walker, OT, Penn. St.; Phidarian Mathis, IDL, Alabama; Myjai Sanders, EDGE, Cincinnati; Deangelo Malone, EDGE, W. Kentucky; Darrian Beavers, LB, Cincinnati; Channing Tindall, LB, Georgia; Jalyn Armour-Davis, CB, Alabama; Zyon McCollum, CB/S, Sam Houston St.
Abraham Lucas and Rasheed Walker were extremely tempting at this spot, but Andersen felt more like a Paton pick. The Broncos could definitely use some help on the defensive line, but it feels a little early for Phidarian Mathis, Myjai Sanders and Deangelo Malone. The Broncos could also stand to bolster their secondary, and Jalyn Armour-Davis and Zyon McCollum are two of the most intriguing mid-round options, but Andersen is likely the higher-graded player.
Round 4, Pick 115: Jelani Woods, TE, Virginia
As was the case with the Andersen pick, it's quite hard to imagine this player falling to this pick, but it would be an awesome selection if the Broncos were to get this lucky.
Jelani Woods is a rare athlete at the tight end position, with a 6-foot-7, 253 pound frame and a 4.6 40-yard dash. There are very few human beings built like Woods, which he exemplified at this year's scouting combine, as he had the greatest combine performance of any tight end since 1987.
.@UVAFootball tight end Jelani Woods is one of the best in this class.

Consistently ranked in the top-4 among teams. And as high as #1.

Special athlete (10.0 RAS), experienced blocker, and makes plays like this (⬇️). Highest upside of any TE in the class. #NFLDraft pic.twitter.com/WISn86fwWa

— Eric Galko (@EricGalko) April 13, 2022
Those testing numbers translate onto tape to. He has the movement skills and catch radius to be a terrifying, yet unrefined, pass-catcher, capable of stretching the seam and being a constant redzone mismatch. He also has the strength and power to impose his will on opposing defenders and open up holes in the ground game.
Virginia even had a package that used him as a right tackle.
I knew during an initial watch of the Virginia offense that things got interesting but love seeing all different types of variations. Motion the right tackle to the slot and Jelani Woods steps in & holds his own on this block. Brings his pad level down some & displays active feet pic.twitter.com/DdF9fqcgD6

— Russell Brown (@RussNFLDraft) April 18, 2022
He needs to polish his route-running, as he currently struggles to create separation through his breaks, and relies to frequently on his frame creating separation for him. He also needs to improve his hand usage at the point of attack when blocking. He also might not ever be an elite run-after-the-catch target, due to his lack of wiggle, but he still shows quite a bit of playmaking ability nonetheless.
Jelani Woods is a TANK pic.twitter.com/ZrGfCaN9B5

— Justin Penik (@JustinPenik) April 19, 2022
Also, those gaps in his game are forgivable considering he's relatively new to the position and he's literally a once-every-35-years type of player. Paton should swing for the fences here.
Other players considered: Tyler Badie, RB, Missouri; Khalil Shakir, WR, Boise St.; Rasheed Walker, OT, Penn. St.; Cordell Volson, OT, North Dakota St.; Phidarian Mathis, IDL, Alabama; Matt Araiza, P, San Diego St.
Tyler Badie is a fun mid-round running back target that makes a ton of sense in Nathaniel Hackett's zone-scheme-heavy offense, and as a compliment to Javonte Williams, but this class is loaded at running back, so we're happy to wait. Khalil Shakir is a really intriguing pass-catching option at this point in the draft, but so is Woods, and Woods could potentially be the Broncos' long-term No. 1 at the position. Rasheed Walker is a really intriguing mid round tackle option, but Woods feels more like Paton's type. Matt Araiza watch starts here, but 200 words on punting technique is fun for neither the writer nor the reader.
Round 4, Pick 116: Phidarian Mathis, IDL, Alabama
Dre'Mont Jones and D.J. Jones give the Broncos two excellent interior defenders along the defensive line, but Denver must improve the depth behind them, as it's a position group that will rotate players frequently, and everyone outside the Joneses has some serious lingering questions.
Through two seasons McTelvin Agim has been limited to a minor supporting role, that really only saw him on the field for obvious passing situations. His production was promising, but it's also dubious to rely on him too much. Meanwhile, Mike Purcell is coming off his worst season for the Broncos. Lastly, DeShawn Williams has been solid, but is far from exemplarly.
Phidarian Mathis could be a major upgrade that will immediately help the team at a position of need.
https://twitter.com/tc_vidz/status/1516183165379158018?s=21&t=LtZn_NP933328c07x25SrQ
He'll enter the league as a high-end run-defender — something Denver could stand to add — thanks to his remarkable strength, surgical hand usage, football intelligence, and undying motor.
It's not typical to see interior defenders like Mathis routinely chasing ball carriers down from the backside of the play.
This play may get lost in the shuffle but #Alabama DL Phidarian Mathis just saved this play from being a big one by getting flat down the LOS. UGA had numbers on the perimeter and he ran down from the backside. pic.twitter.com/soUbF06xs0

— Devin Jackson (@RealD_Jackson) January 11, 2022
His ability to anchor and maintain his gap is fantastic, but he's also able to use his polished array of moves to create backfield penetration, blowing up a run before it has a chance to develop or pressuring the quarterback.
Finished up #Alabama DT Phidarian Mathis' report up tonight and I'm blown away by the violent hand usage. Swipes the hands uses his lower half power to defeat blocks.

Had a field day against #TAMU. Absolutely a one gap shooter who will thrive on run downs. pic.twitter.com/7n35WzxcKI

— Devin Jackson (@RealD_Jackson) January 15, 2022
He also shows upside to develop into a solid interior pass rusher. His arsenal of pass-rushing moves is already pretty impressive, and his power allows him to create a pretty productive bull rush.
Mathis is an extremely appealing mid-round defensive line prospect for the Broncos that promises both year one impact and developmental upside.
Other players considered: Tyler Badie, RB, Missouri; Khalil Shakir, WR, Boise St.; Rasheed Walker, OT, Penn. St.; Cordell Volson, OT, North Dakota St.; Matt Araiza, P, San Diego St.
Passing on the tackles here is a decision the Broncos could be kicking themselves over for a long time in this hypothetical reality, but there are still some intriguing names at the tackle position, and Denver's newly-opened championship window may motivate them to target players ready to contribute earlier on. With depth concerns along a defensive line that is going to rotate bodies, a win-now philosophy would likely prioritze someone who can instantly contribue there, as opposed to someone who might help out at right tackle sometime down the road.
As this article is already remarkably lengthy, the section going over the players we decided to pass on will arbitrarily end here.
Round 5, Pick 145: Max Mitchell, OT, Louisiana
The Denver Broncos are lucky the depth of talent in this year's tackle class allows them to draft Max Mitchell this late in the process.
Denver is probably set at tackle for 2022, with Garett Bolles, Calvin Anderson, Billy Turner and even Tom Compton. However, they could stand to add some developmental depth for the future, which remains murky at the position.
Enter Max Mitchell.
Max Mitchell (RT) makes sure the first level is secure, then climbs to the 2nd level and takes the LB for a ride pic.twitter.com/FRlPOZlFCW

— Matt Holder (@MHolder95) April 12, 2022
Mitchell is a project at tackle with the ability to one day grow into a starting role in Hackett's offensive scheme. Mitchell has great movement skills that allow him to mirror opposing pass rushers relatively easily and he understands how to utilize his hands well. That said, he needs to add more power to his game and improve his ability to finish the rep.
Nothing too fancy here but I felt like this rep shows some of Max Mitchell's (RT) power with his hands, the pass rusher's feet damn near completely stop when Mitchell gets his hands on him pic.twitter.com/2KGinrkv8C

— Matt Holder (@MHolder95) April 12, 2022
There's plenty of flaws to his game, but the positives outweigh the negatives. The fact Denver is able to add Mitchell here in this simulation highlights one of the draft's strengths.
Joey Richards has already provided a closer, more nuanced look at Mitchell's game, in case you are curious.
Round 6, Pick 206: Hassan Haskins, RB, Michigan
Wednesday afternoon we'll be releasing a more in-depth look at Hassan Haskins and his fit with the Denver Broncos, so we'll stay briefer here, but he could be an excellent running back target for Paton.
Hassan Haskins displaying patience, vision, and finishing!

I love his downhill bruising style! pic.twitter.com/PjUVzKxgK6

— Full-Time Dame 💰 (@DP_NFL) December 25, 2021
Haskins is a physical runner who could help the Broncos form a punishing identity with their backfield tandem. He also possesses the vision, patience and juice to help him thrive in Hackett's offense.
That juice is often underrated in Haskins' game, and he made a habit of showing off his athleticism on a series of hurdles against B1G competition.
Hassan Haskins has been a hurdling MACHINE 😳@UMichFootball looks for their first B1G Championship this weekend👀pic.twitter.com/7DHc2EDH1J

— PFF College (@PFF_College) December 3, 2021
He also should have an easier transition to the NFL than most running backs, as he thrives in pass protection, which is where so many rookies struggle. He clearly loves contact and takes pride in helping to protect the quarterback.
HELLO HASSAN HASKINS pic.twitter.com/EKuloHmPM1

— Cory (@realcorykinnan) March 25, 2022
Haskins does play with poor pad level and lacks high-end burst or speed, but he's still able to make plays at the second and third levels of the defense. He'd be a nice running back target for Denver later on.
Round 7, Pick 232: Damarion Williams, CB/S, Houston
K'Waun Williams was an excellent addition for the Denver Broncos, but they still need to add more slot-corners to the roster.
Damarion Williams is a versatile, highly athletic option that could make a lot of sense for Denver, as a later option to add some depth to the position.
Damarion Williams (#6) was one of my guys out this summer due to his aggressiveness and ability to play close in coverage.

Last night he came up with an INT early to set up an Alton McCaskill touchdown. pic.twitter.com/NZtJXQMuZm

— Nick Price (checkmark) (@PriceCheck3) October 2, 2021
Williams' excellent movement traits and coverage instincts make him a strong performer in both man and zone coverage. He also shows excellent aggression and ball skills when it comes to attacking the ball.
Damarion Williams (#6) from Houston has flashed so far in this game vs. BYU from 2020.

He's played aggressive, albeit a little grabby at times down the field. However, plays like this are reasons to keep an eye on him going forward. #BlueChipSummer pic.twitter.com/TspZfa6vZf

— Nick Price (checkmark) (@PriceCheck3) June 29, 2021
He's more than just a coverage man though. Williams loves contact and never shys away from the opportunity to inflict a big hit on the opponent.
As an added bonus, he has experience playing safety.
https://twitter.com/thebillsguys/status/1516545286922854403?s=21&t=LtZn_NP933328c07x25SrQ
That physicality and coverage versatility make him a very enticing late-round option for Denver.
Round 7, Pick 234: Stanley Berryhill III, Arizona
The Broncos could use an insurance policy for K.J. Hamler and Jerry Jeudy on the roster and Stanley Berryhill III provides some of that insurance and only costs a seventh-round pick.
Arizona WR Stanley Berryhill III 43 yards for the score, and he broke ankles and tackles. pic.twitter.com/qMtby8EEEQ

— Matt Alkire (@mattalkire) February 25, 2022
Berryhill is an effective slot receiver with intriguing long speed and short-area quickness. He has good body control and strong, reliable hands. He's also dangerous after the catch, thanks to his elusivness larger frame.
Arizona WR Stanley Berryhill III has been crisp and quick both days. He is constantly open. pic.twitter.com/rm5w5rhIRk

— Matt Alkire (@mattalkire) January 30, 2022
From his first day at camp he would battle Kendall Hinton for the spot on the depth chart behind Hamler and Jeudy.