With St. Patrick's Day right around the corner, folks are hoping a wee bit of luck comes their way soon. The NCAA Tournament (at least the good part of it) tips off on the 17th this year and sports fans (and folks just looking for a workday distraction) will be filling out brackets with the idea that a pot of gold could be in their future.
But we warned: Fans hoping for that million-dollar payout on a perfect bracket shouldn't hold their breath.
The odds of filling out a perfect bracket are incredibly long. According to a DePaul University mathematics professor they're less than one in 9.2 quintillion (9,223,372,036,854,775,808, to be exact).
Here in Denver, those odds might seem a little longer, as much of the city's good luck was used up (if you believe in that sort of thing) during the football season.
There's no doubt just about every Broncos fan will gladly take a lack of success in their NCAA bracket in exchange for the Super Bowl championship they just celebrated, and there's no denying there was a little luck that helped the Broncos along the way last year.
In this St. Patrick's Day edition of "Power Rankings" we run down the five luckiest plays of the season that helped propel the Broncos to the Super Bowl.
No. 5 – Week 1 vs. Baltimore: A Facemask is the Best Defense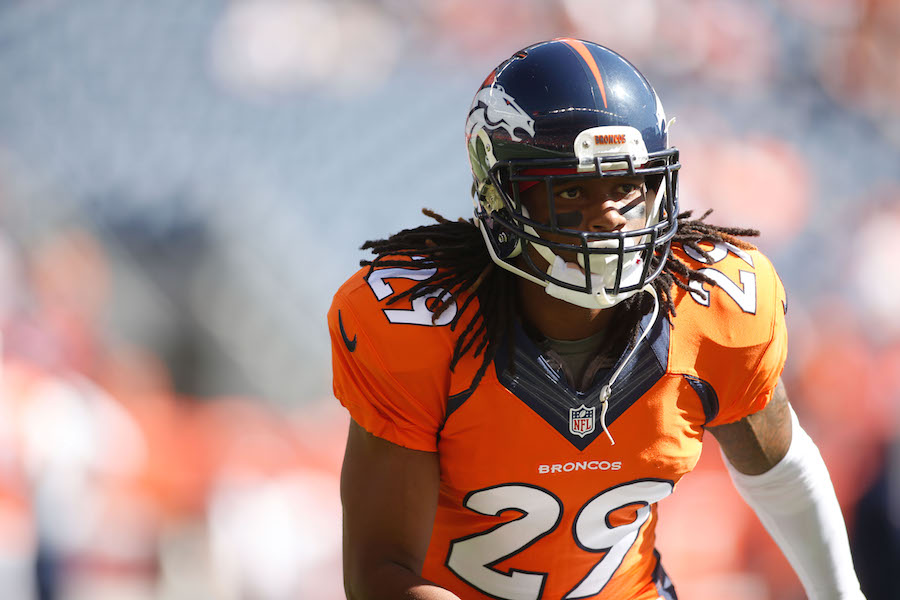 Most Broncos fans remember Darian Stewart's incredible end zone interception of Joe Flacco in the closing seconds to preserve a 16-13 win. What they may not remember is that just one play prior, Steve Smith nearly pulled down a game-tying touchdown.
In the box score, Bradley Roby received credit for defending the pass, but photo and video evidence shows that Smith had a clear shot at the ball and it simply went through his hands and bounced off his facemask.
After the game, Smith took full blame for the loss. "I'm a No. 1 receiver and that's a No. 1 play, and I've got to make that," he told the team website.
No. 4 – Week 12 vs. New England: Patriots Raise the Flags
Without a doubt, Denver's biggest win of the regular season was the Week 12 upset of the previously undefeated Patriots on Sunday Night Football in overtime. Both C.J. Anderson and Brock Osweiler were spectacular in leading the Broncos back from a 21-7 deficit to an unlikely 30-24 win.
But what fans in New England will continue to complain about until their next Lombardi Trophy is the fact that the Pats were flagged for four penalties in the fourth quarter after having been called for just one all game prior. A holding call that negated a 51-yard Tom Brady pass was among the luckiest to fall Denver's way.
Whether New England was finally worn down and actually started breaking the rules, or the referees finally started noticing they were, or the refs were just trying to balance out the number of flags (Denver had five of their own up to that point), the laundry on the field most certainly worked in the Broncos favor.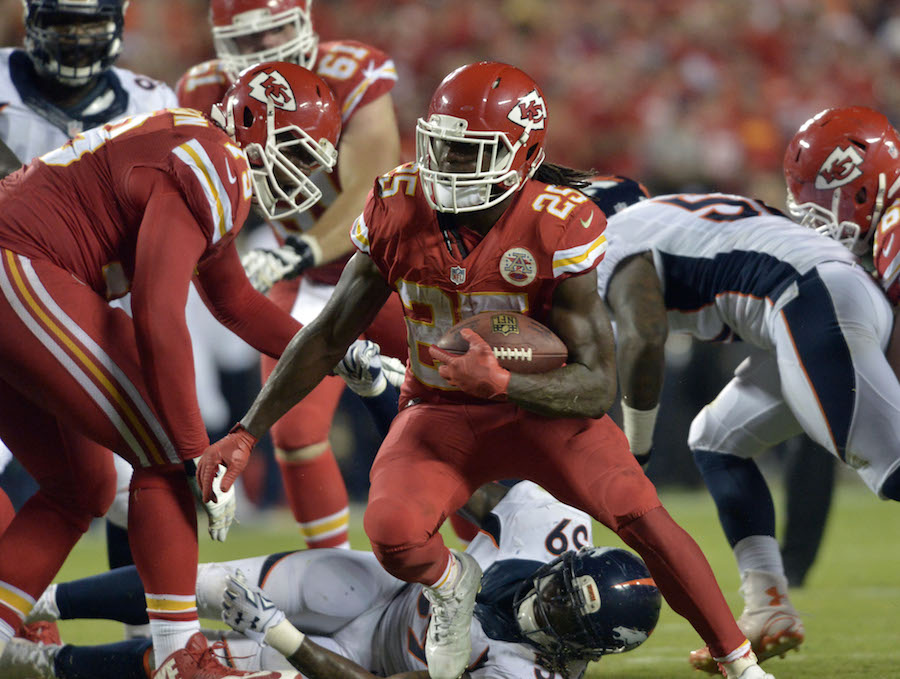 After trading touchdown drives on their previous two possessions, the Broncos and Chiefs were tied at 24 with :35 seconds remaining in regulation. Kansas City had the ball on its own 20-yard line.
No one can really fault Andy Reid for putting the ball in Jamaal Charles' hands at that point. It was the safest play call other than taking a knee and hoping to win the coin toss in overtime. But instead of a coin toss, Reid rolled the dice. Charles fumbled (forced by Brandon Marshall) and Bradley Roby took it in for a go-ahead score.
It was only the second time in his career that Charles had fumbled twice in one game (David Bruton caused him to fumble on KC's opening drive) and proved to be an incredibly fortunate way for Denver to bookend the game.
No. 2 – Week 5 at Oakland: No Fly Zone has some Blue Angels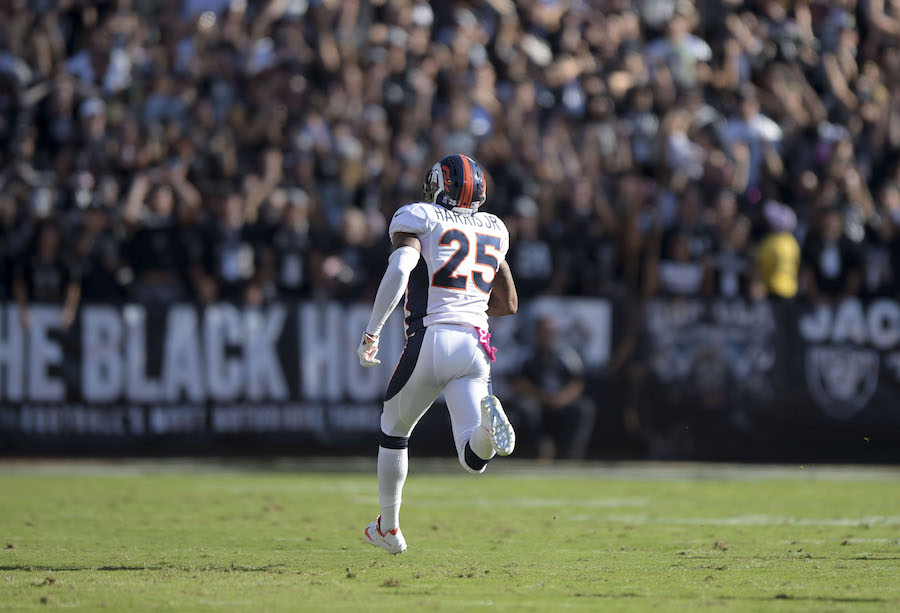 The Denver secondary, self-dubbed "The No Fly Zone," was without a doubt the best in the league in 2015, but in Week 5 they got a little help from a real set of fly boys.
Midway through the fourth quarter and trailing 9-7, the Raiders were into Denver territory and looking to take a lead when Chris Harris Jr. stepped in front of a Derek Carr pass and went 74 yards for an INT-TD. Denver hung on to win 16-10.
The miscommunication, Raiders fans claimed postgame, was a result of a Blue Angels flyover that occurred just seconds before the ill-timed interception. The legendary flight unit had done a pregame flyover, but no one knows exactly why the second one occurred. Carr says it wasn't the cause for the pick-6, but Raiders fans still aren't convinced.
No. 1 – AFC Championship vs. New England: Oh My Gostkowski!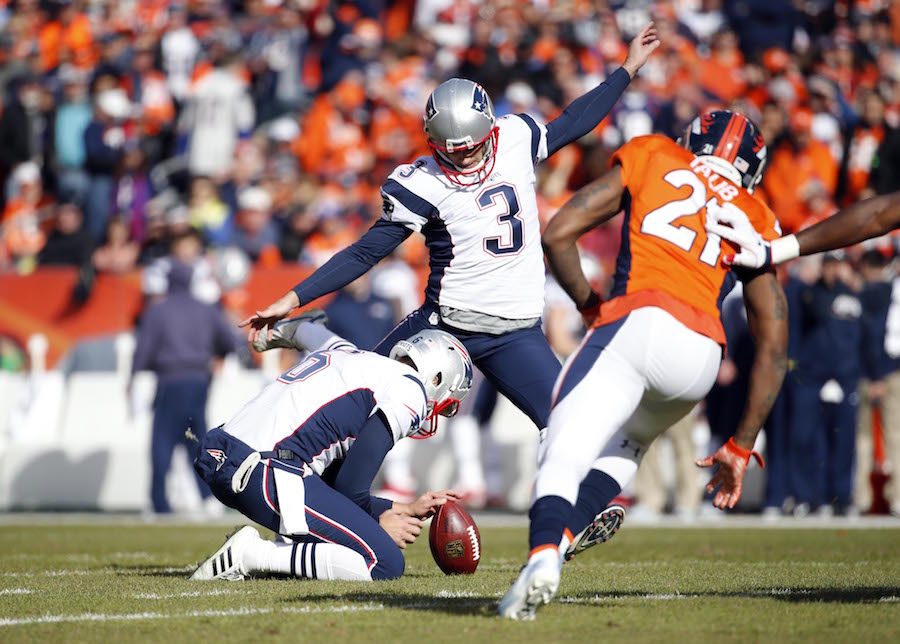 Stephen Gostkowski had not missed a point after touchdown attempt since Week 17 of 2006. He had never missed one in the postseason.
Even in 2015-16, with the NFL's new PAT distance, Gostkowski had been perfect on all 52 regular season tries and his first three attempts in the postseason.
Yet somehow, miraculously, in the AFC Championship Game in Denver, Gostkowski shanked a first-quarter kick that kept Denver in the lead 7-6 and ultimately forced a failed two-point conversion in the game's final seconds, effectively costing his team the game.
Gostkowski now has a 99.6 percent career PAT average and the Broncos are very, very fortunate to be in that 0.4 percent.