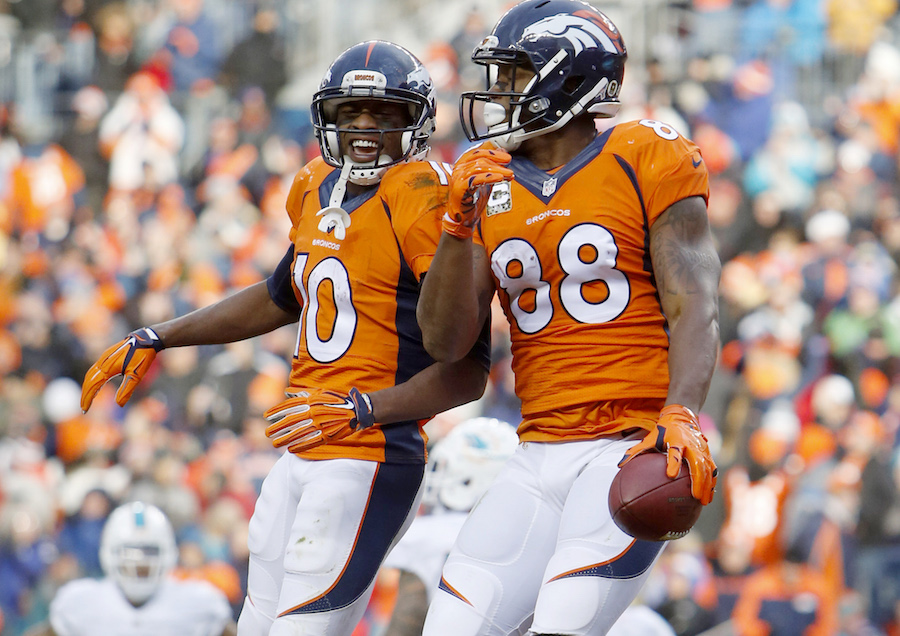 Future Hall of Fame quarterback Peyton Manning closed the book on his NFL career on Monday, bidding farewell to the league (as a player, at least) and the hundreds of players and coaches he's played with and against over an 18-year career.
During his retirement press conference, Manning specifically named the many "little things" he'll miss from his playing days, including several Broncos references.
"I'll miss Demaryius Thomas telling me that he loved me, and thanking me for coming to Denver after every touchdown I threw to him.
"I'll miss putting in a play with Tom Moore and Adam Gase that ends in a touchdown on Sunday…"
Broncos (and NFL) fans will certainly miss those touchdowns, too. In four years in Denver, Manning threw 140 of his NFL-record 539 (regular season) touchdown passes.
In this week's edition of "Power Rankings," we honor Manning and his top touchdown targets while in the Mile High City.
No. 10 – Mitch Unrein
"Cut that Meat, Eaton!"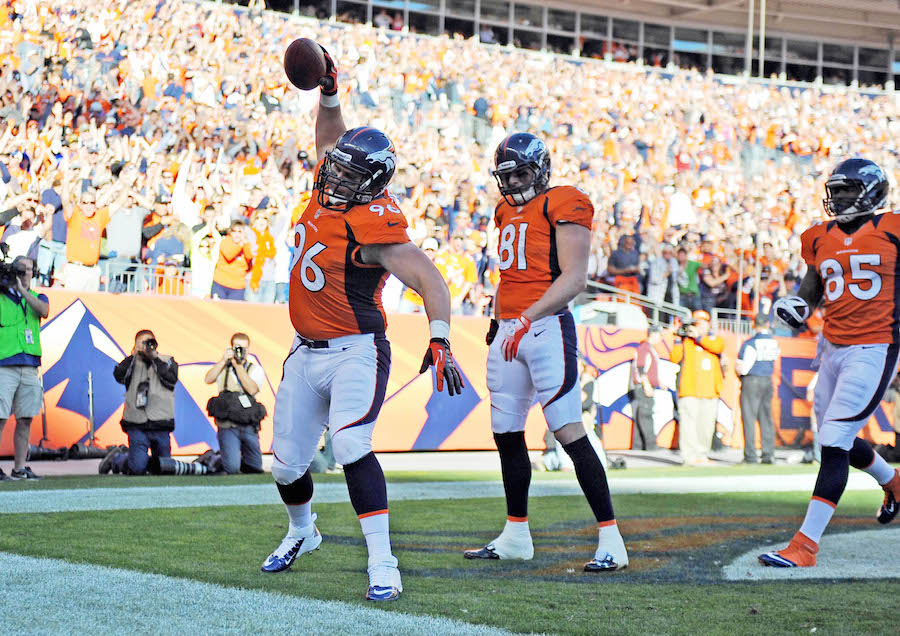 Four members of the Denver Broncos can say that they caught one, and only one touchdown pass from Peyton Manning during their careers. And with all due respect to Lance Ball, Ronnie Hillman and Virgil Green, our nod has to go to Mitch Unrein as our favorite among the "ones." Manning and the defensive end and goal line fullback pulled a fast one on the Tampa Bay Buccaneers defense for a one-yard score and an early 7-0 lead. Broncos Country couldn't have been happier for Eaton's own, Unrein.
It's fitting that Denver's No. 22 is the only player in Broncos history to catch exactly two touchdown passes from Manning. Both came in 2014 during Anderson's Pro Bowl second half that saw him compile over 1,000 combined yards rushing and receiving in the final eight games of the season. In addition to his two touchdown receptions from Manning, he added eight of the rushing variety.
No. 8 – Owen Daniels
Lost but Not Forgotten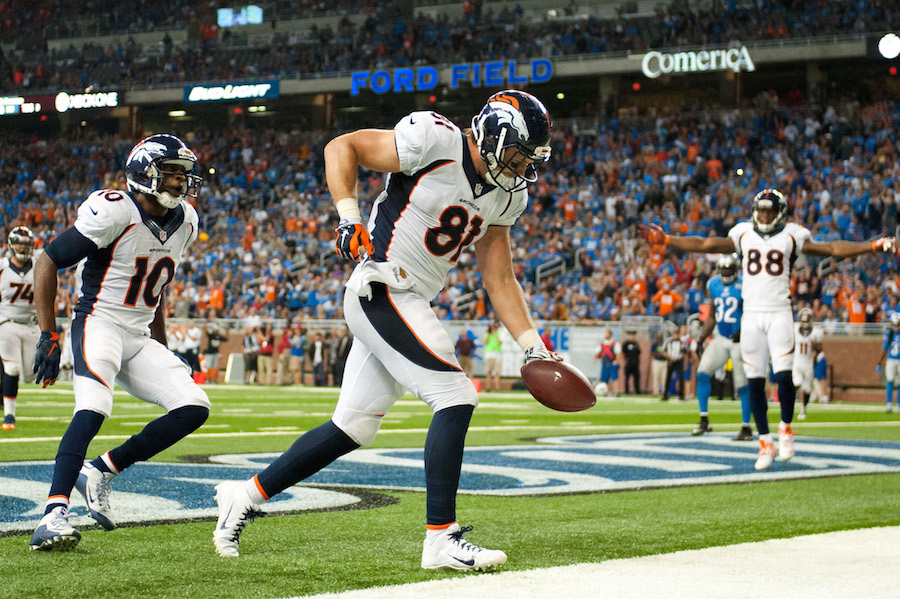 Three players caught three touchdowns from Peyton Manning while in orange and blue: Andre Caldwell, Owen Daniels, Knowshon Moreno. We're giving the nod to Daniels, not because of these three touchdowns, but because of the two he caught in the AFC Championship Game during Denver's Super Bowl run. They don't show up in the 539, but Broncos Country will never forget them.
No. 7 – Joel Dreessen
The Hometown Target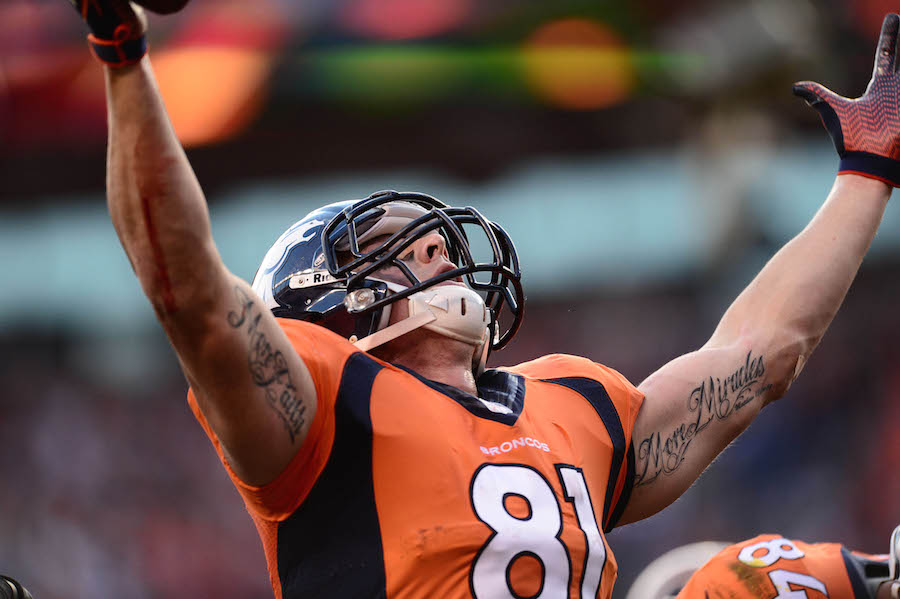 The pride of Fort Morgan High School and Colorado State, Joel Dreessen grabbed six total touchdown passes from Manning, including five in Manning's first year in Denver. The one touchdown he caught during the 2013 campaign will have his name forever marked in the history books as one of the record-setting 55 TDs Manning threw that year.
No. 6 – Jacob Tamme
Like Home Away from Home Technically, only five of Tamme's nine touchdowns from Manning came while in Denver; the other four came as a member of the Indianapolis Colts (he also had one with the immortal Dan Orlovsky while in Indy). But there's no understating the role Tamme played during Manning's first year with Denver. As Manning transitioned to his new Rocky Mountain home after 14 years in the Midwest, Tamme proved to be an invaluable carryover from his old digs. Brandon Stokley will most-likely be remembered in Denver for his "Stokley! Down the sideline!" touchdown run on a batted pass from Kyle Orton (from whom he caught four TDs), but his most important touchdowns in Denver came from Manning. Much like Tamme, Stokley was a familiar face from Indianapolis, where he grabbed 15 touchdowns from Manning. He added five more with Manning in Denver for 20 total with the future Hall of Famer.
No. 4 – Wes Welker
Use Your Powers for Good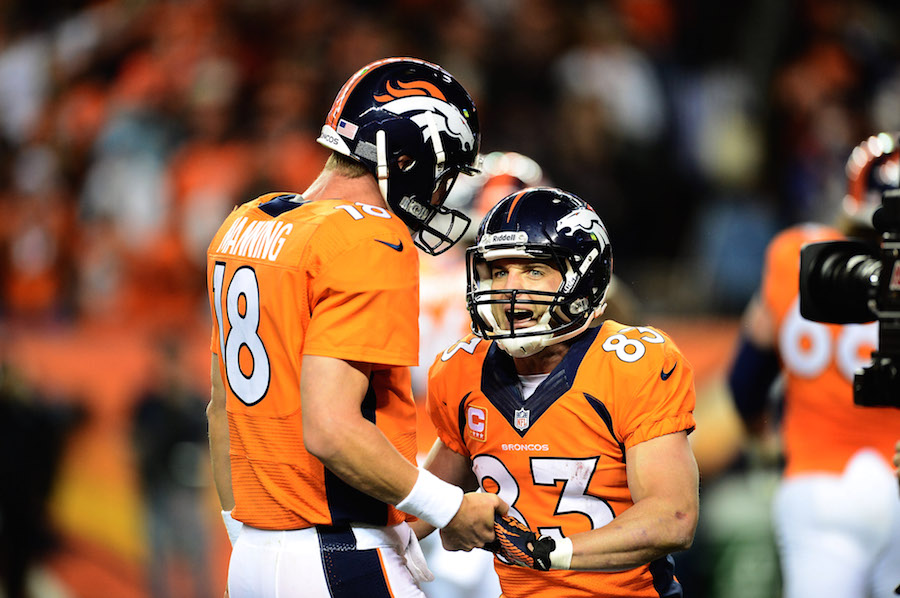 John Elway pried away Wes Welker from New England in free agency in 2013; the four-time Pro Bowl and two-time All-Pro wide receiver was rewarded with 10 touchdown catches and a trip to the Super Bowl. He'd add two more in 2014 before concussions began to catch up with him. He grabbed 12 total with Manning and the 10 he caught in 2013 were 18 percent of those record-setting 55.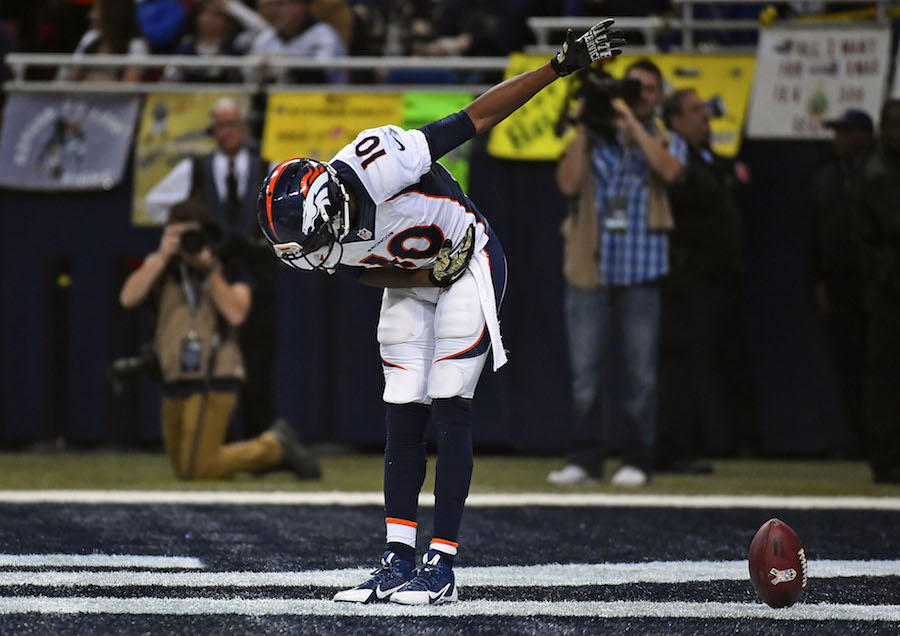 In just two years, Emmanuel Sanders – who called Denver "wide receiver heaven" – found paydirt on a baker's dozen (13) passes from Manning, an impressive number considering the offensive struggles Manning endured during the second half of 2014 and throughout 2015. Sanders was Manning's top TD target in his final year in the league, connecting on six of Manning's nine TDs in 2015.
Eric Decker and Julius Thomas share two distinctions in Denver: Both caught exactly 24 touchdown passes from Peyton Manning, and both left town for greener bank accounts (although not necessarily greener pastures). Decker ultimately gets the nod in our power rankings for the simple reason that at no point during his time in Denver was there a question about the "realness" of an injury. Decker might have had more TDs than Thomas if he hadn't occasionally tripped on the 45-yard line. We'll take that over a mystery injury all day long.
No. 1 – Demaryius Thomas
Many Thanks, Many Touchdowns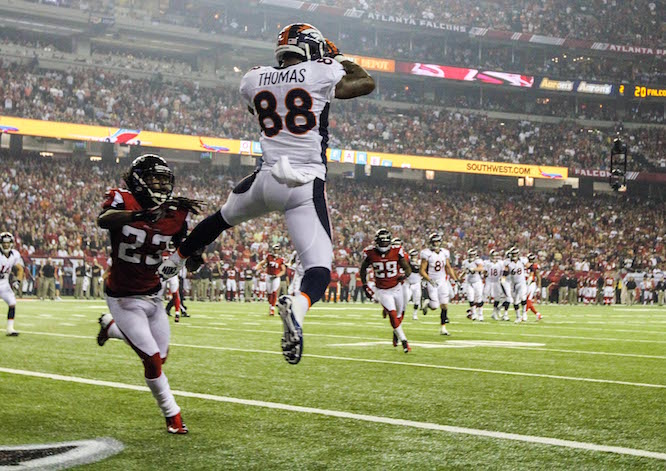 How important is a good quarterback to a wide receiver? Demaryius Thomas had just six touchdowns from Kyle Orton and Tim Tebow during his first two seasons in Denver. When Manning arrived they connected 10 times in his first year alone – including Manning's first in orange and blue – ending with 36 total, the most of any Broncos receiver. And how important is a good receiver to a quarterback? Thomas was one of the few that Manning acknowledged by name during his retirement speech. Now that's a lasting impact.