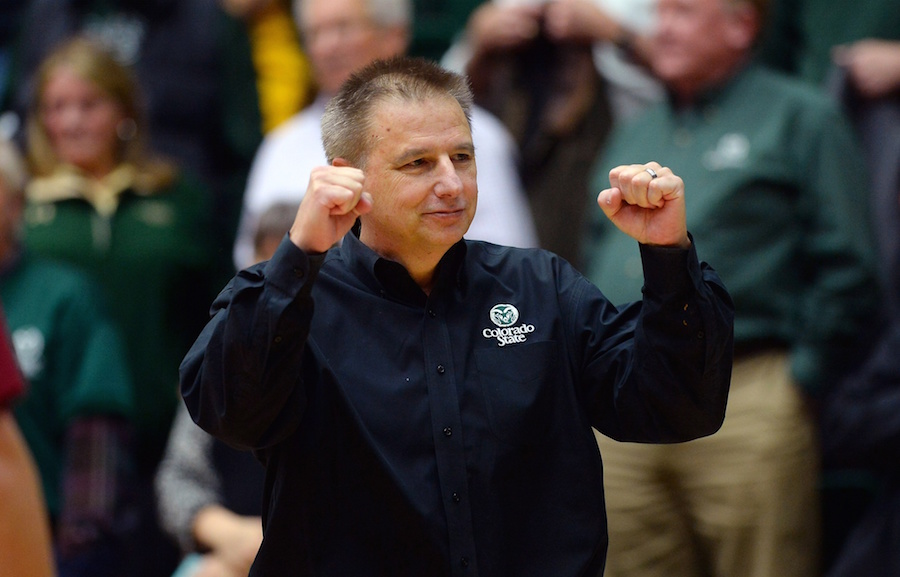 The Colorado State men's basketball team has been on a roll as of late. Winners of five of their last six and two straight, the Rams have put themselves in a good position to compete for the top spot in the Mountain West with six games to play.
The Rams, who field a team of eight, with seven guys seeing consistent minutes, have not only shown that they can compete in the conference, they've shown that they can win.
Colorado State is arguably playing their best basketball of the season. Two convincing wins over UNLV on Saturday and Utah State on Tuesday have shown that the Rams can get it done on offense and defense, but following Tuesday night's win Colorado State head coach admitted that there is one thing his team needs to do more of.
"We just haven't been able to practice," Eustachy said following Tuesday night's 69-52 win over Utah State. "One guy goes down and that's like three. If you've got seven, you're down to six. I've never really heard of that."
Losing Kimani Jackson, Che Bob and Devocio Butler to academic ineligibility on Jan. 17 presented Eustachy and the Rams with a difficult set of circumstances.
Eustachy has had to do everything in his power to keep his player's healthy while preparing to win basketball games at the same time. That's not an easy task.
Along with keeping his players healthy and ready for game action, he's faced with the difficult task of keeping them out of foul trouble as well.
"We have to be very much aware of fouls," injuries, et cetera," Eustachy said.
Despite all of the would-be barriers that have gotten in the Rams' way, they've got their sights set on first place with six games to go.
"We've got a chance to win it," senior guard Gian Clavell said. "We're good enough."
According to Clavell, he never doubted whether or not Colorado State could make a run at the top spot in the Mountain West even after losing Bob, Butler and Jackson.
"We've got seven great players that we can get the job done," Clavell said. "We're in good shape. That's not the issue, so we just have to get it done."
The Rams have a real shot to get it done, but Eustachy knows that if they don't prepare, that shot could vanish.
"To get better you have to practice," Eustachy said. "You can't just draw rebounding and talk about it, you have to practice it. You always run the risk of stepping on somebody's foot."
The seven Rams have put it all on the table in the second half of the season, and that type of effort doesn't go unnoticed. That's why Eustachy doesn't want the opportunity in front of them to slip away.
"We need to practice," Eustachy said. "That's the bottom line. Otherwise these kids will be cheated and they shouldn't be."