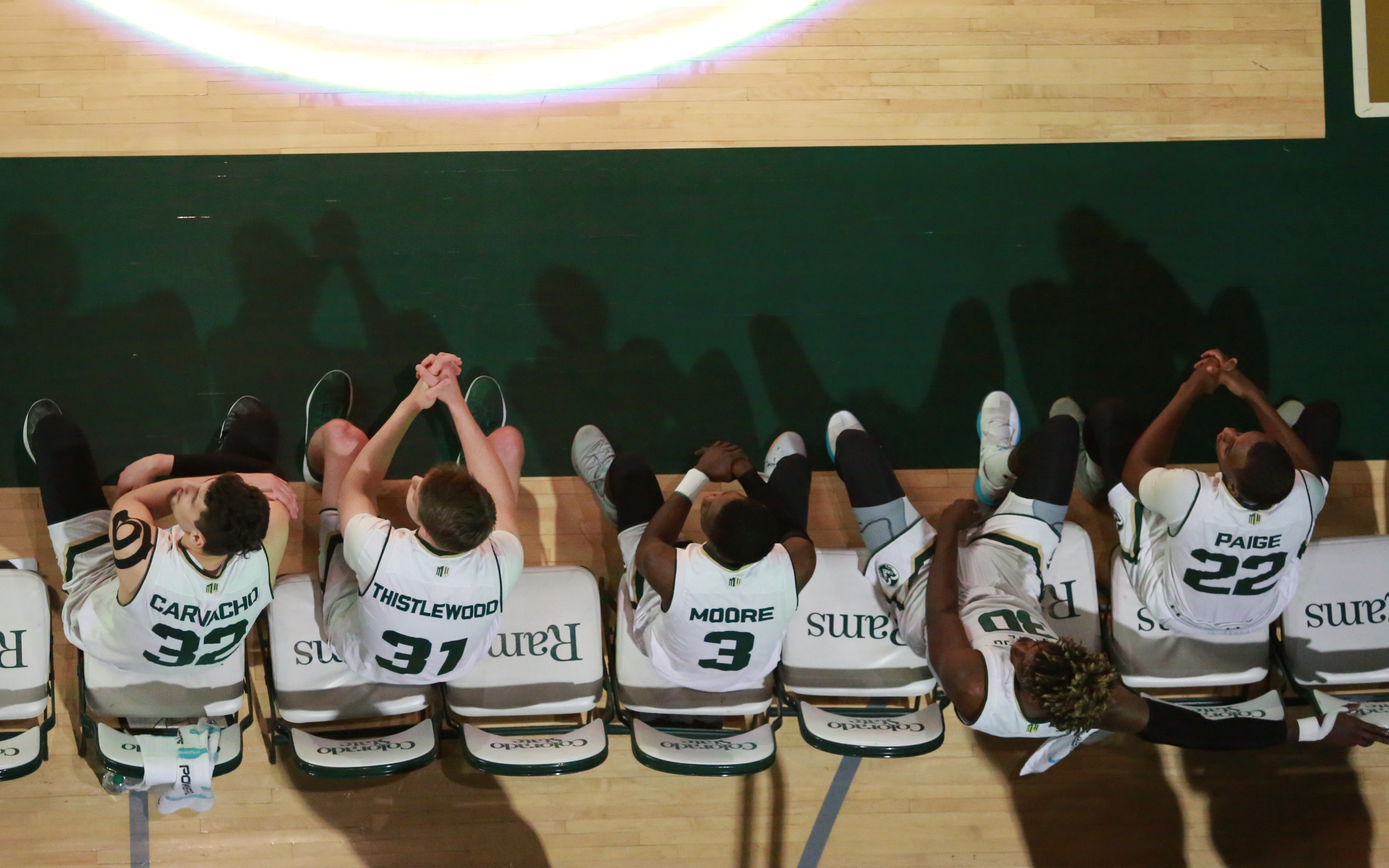 The Colorado State Rams have slowly begun to right the ship as conference play progresses.
Their 9-13 overall record isn't pretty, but a 4-5 mark through half of the Rams' Mountain West contests exhibits competitiveness from Niko Medved's group.
Based off my first conference prediction, CSU essentially performed in the manner it was expected to over the last month. However, the green and gold surprised by not only defeating Fresno State at home but dominating the entire 40 minutes.
Having won two of their last three games convincingly, the Rams appear to be improving entirely. Nico Carvacho is playing better each game, Jeremiah Paige is assembling his most productive season and Hyron Edwards has provided a solid spark since joining the team 12 games ago.
After correctly predicting seven out of CSU's first nine conference games this season, Rams fans can be happy to hear we're banking on the Rams playing better basketball over the final stretch of the season.
Because a lot of the anticipated success has to do with CSU's schedule, let's get into the predictions.
02/06/2019: vs. Nevada 21-1 (8-1)
NET: 15
Key Victories: Utah State (37), Arizona State (60), Fresno State (79), Tulsa (99)
Well, we're expecting better play from the Rams before the Mountain West Tournament, but, we're not expecting that to begin during this game.
Granted, CSU hung with the Wolfpack for a half before getting run out of Reno, so it wouldn't be a surprise if the Rams find a way to string together decent basketball for 20 minutes at Moby Arena.
Regardless, it is challenging to envision CSU pulling off one of the biggest upsets in program history on Wednesday. Jordan Caroline and the Martin twins are just too good to let another "New Mexico game" occur.
The Rams simply aren't experienced enough to come from behind or respond to a big Nevada run.
Prediction: Loss.
02/09/2019: @ Wyoming 5-16 (1-7)
NET: 315
Key Victories: South Carolina (104)
Records and recent performances always seem to mean less in rivalry games. Though the Rams have beaten the Cowboys three out of the last four times, Border Wars tend to go down to the wire.
Considering Wyoming is on its way to the worst season since 2010, the whole rivalry theory doesn't really apply here.
The Rams have started to understand how to take what is given to them over the last couple weeks. Though the game is in Laramie, CSU is being handed a "W" on a silver platter.
The green and gold won't squander the opportunity. After all, San Jose State is the only Mountain West opponent the Cowboys have defeated. And it is hard to consider SJSU a Mountain West program at this point.
Prediction: Win.
02/12/2019: vs. San Diego State 13-9 (5-4)
NET: 150
Key Victories: Xavier (92), BYU (101), Illinois State (168)
The home matchup with the Aztecs is the biggest toss-up by far. SDSU looks like a much better team than CSU on paper. But when you read between the lines, the Aztecs are an extremely inconsistent squad.
There is no way of telling which SDSU team the Rams will get. The quality victories listed above are all pretty impressive and give the Aztecs significantly more to boast about than CSU thus far.
In those games, a balanced SDSU squad came to play, featuring unwavering low-post play from Jalen McDaniels and efficient shooting by Devin Watson. Although, the odds of that team coming to play is a coin flip.
SDSU often becomes victimized by discombobulated and overall sloppy play. The Aztecs lost by 21 to Brown at home, by 24 in Boise State, and by 14 in Air Force.
A home game increases CSU's odds. If the Rams can get SDSU out of its element early, they can beat the Aztecs.
Something says that won't happen, though. SDSU has won three out of four games and has finally started to develop more consistency. More importantly, we're envisioning CSU winning its next two games after this one.
So, picking the Rams here would be predicting four consecutive victories, which is something this young CSU team will have difficulty achieving this season.
Prediction: Loss.
02/20/2019: @ San Jose State 3-18 (0-9)
NET: 333
Key Victories: None
There isn't much to explain here. Even when the Spartans come away with a win, very few people see it happening beforehand.
Two of SJSU's three victories this season came against programs with a NET of 282 or worse. The other win was a decently competitive game against NAIA Life Pacific.
It is too bad CSU doesn't get to play the Spartans four or five times this year. The Rams will have fun with this one.
Prediction: Win.
02/23/2019: vs. Wyoming 5-16 (1-7)
NET: 315
Key Victories: South Carolina (104)
After beating the Cowboys in a game which will be a little too close for comfort in Laramie, CSU will coast to a victory at Moby and earn the season-sweep over its rival.
Already explained was how poor Wyoming has performed this season. The program is in shambles at the moment and its weaknesses will be exploited away from home. The victory will give CSU its second sweep of the Cowboys in the last three seasons.
Prediction: Win.
02/27/2019: @ Boise State 10-12 (5-4)
NET: 146
Key Victories: San Diego State (150), Pacific (185)
It feels like the majority of CSU's heartbreaking defeats over the past few seasons have been at the hands of the blue and orange. Just last week, the Rams lost to the Broncos at home after Carvacho's potential game-tying tip-in at the buzzer fell short.
CSU lost by a combined four points in two defeats against Boise State during the 2016-17 season. A year prior, the Broncos snuck away with an 84-80 victory over the Rams.
Overall, BSU has won the last six meetings between the two teams. CSU was due to beat the Broncos before the previous matchup, and the one before that. This time, the Rams finally will.
Boise has played significantly better since struggling to a 5-8 non-conference record. However, CSU matches up well with the Broncos and are capable of controlling the glass, as was the case in the last meeting.
Justinian Jessup, who scored 20 points on 8-13 shooting at Moby, will need to be kept in check this time around. If CSU can somewhat limit him, the game should turn out favorably for Medved's group.
Prediction: Win.
03/02/2019: @ New Mexico 10-12 (4-6)
NET: 183
Key Victories: Nevada (15)
The Rams begin March basketball by heading to arguably the most difficult place to play in the Mountain West. Nevada learned about getting swallowed up in "The Pit" the hard way.
The Lobos are by no means as daunting of an opponent as they usually are. But it is still tough to bet against them at home, especially when UNM will be seeking revenge against CSU.
It is worth noting that the Rams dominated the Lobos at home. The 91-76 victory represents one of CSU's best all-around performances this season.
UNM will use its crowd to build confidence and sneak away with the victory, similar to how the Rams did in the previous matchup.
Prediction: Loss.
03/05/2019: vs. Utah State 18-5 (8-2)
NET: 37
Key Victories: Saint Mary's (47), Fresno State (79), UC Irvine (143)
The Aggies have played well enough to force themselves into the at-large bid conversation. Followers of the Mountain West were aware of USU's potential before the season began, now the nation is finally starting to pay attention.
Projections only mean so much. It is still worth mentioning that Joe Lunardi listed USU at the top of his "Next Four Out" category in his latest bracketology breakdown. Sam Merrill and company have won eight consecutive games and are entirely on the bubble.
With realistic NCAA Tournament aspirations, the Aggies are going to take every game seriously from here on out. USU continued to boost its resume by picking up a key victory in Fresno State last night. Momentum is increasing each day in Logan, Utah. The Aggies won't miss out on beating CSU again.
Prediction: Loss.
03/09/2019: vs. UNLV 11-10 (5-4)
NET: 158
Key Victories: BYU (101), Hawaii (175)
The Rams came oh so close to defeating the Rebels on the road and starting off conference play on a positive note. Exceptional offensive rebounding and above average scoring leads one to believe UNLV would be competitive in the Mountain West, which has been the case.
Still, the Rebels lack consistency and are have a lot of trouble winning away from home. CSU will be extra motivated to earn redemption in the final game of the regular season. As a result, the Rams will conclude its 31-game slate with a victory before heading to Las Vegas for the Mountain West Tournament.
Ideally for CSU, doing so will improve the Rams' seed for that tourney. Considering how jam-packed the middle of the conference is, there is a good chance that will be the case.
Prediction: Win.
Colorado State hosts No. 6 Nevada Wednesday night at Moby Arena with an 8 p.m. MT tip.
Overall second half of Mountain West play prediction: 5-4. Resulting in a 14-17 overall record before the Mountain West Tournament. (Eddie went 7-2 in his previous set of predictions).