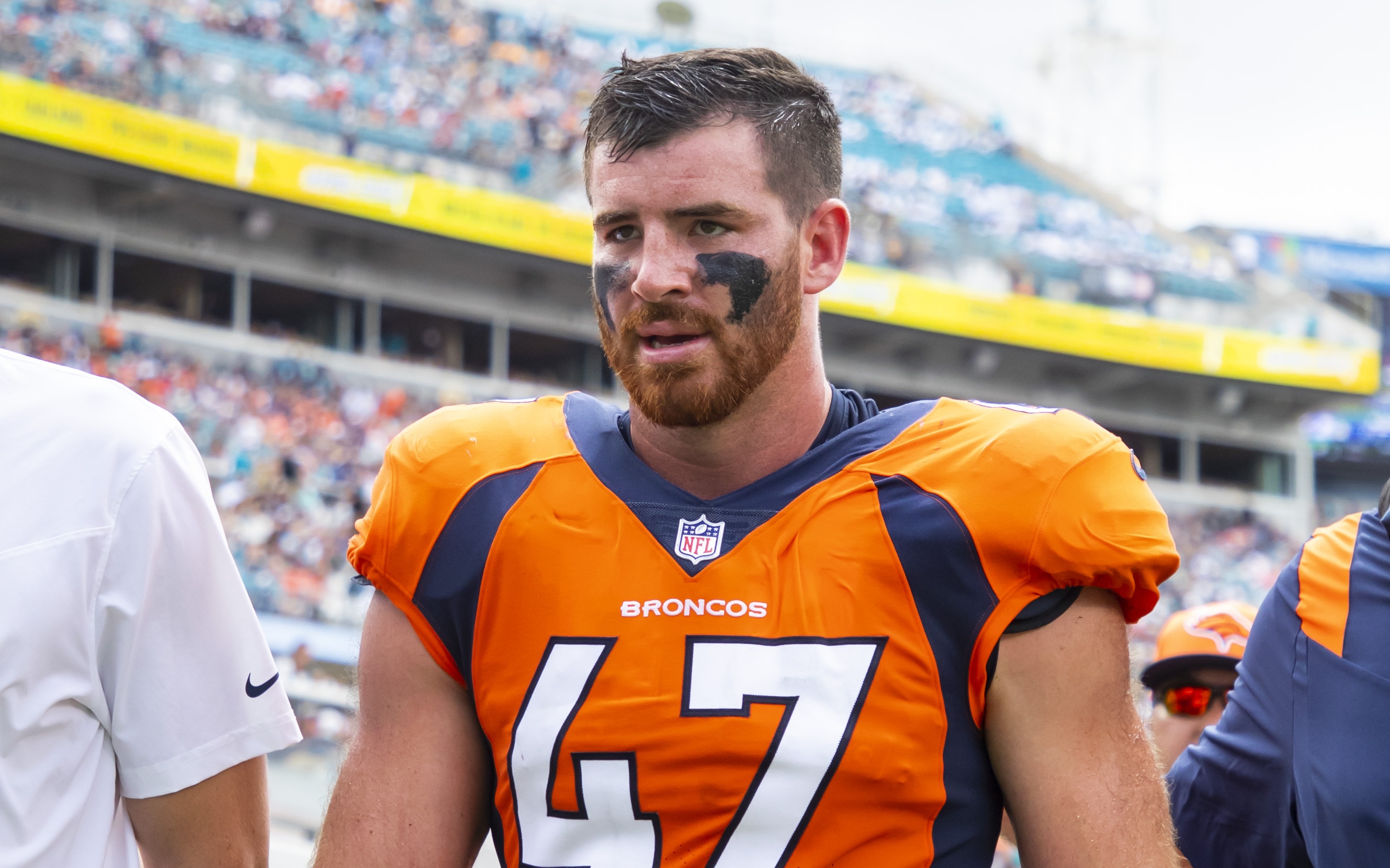 While the team made some huge upgrades this offseason, the inside linebacker position remains the Denver Broncos' weakest link.
The team currently holds some veterans, a practice squad returnee, and two undrafted free agents. Having such dim-looking depth at the position means there is plenty of potential for some shocking final roster results.
Josey Jewell
Jewell started in 12 games in his first two seasons before having a breakout year in 2020. He finished the season with 113 tackles, including a Week 4 performance with ten total and two sacks. 
Jewell had a fantastic Week 1 performance last season but unfortunately suffered a season-ending torn pec injury in the second half of Week 2. 
His 2022 status with the Broncos remained up in the air until he signed a two-year, $11 million contract with $6 million guaranteed in March. 
With Alexander Johnson not returning to the team, Jewell is the clear veteran leader of this bunch and the clear No. 1 ILB on the team. There are high hopes for Jewell to have the best year of his career.
Jonas Griffith
Griffith was a surprise 2021 starter who fell into the position after several injuries plagued the team. 
He was traded to the Broncos right before the season started. He spent some time on the Injured Reserve list before being reactivated at the end of October. Griffith originally played as a special teamer through the first 12 games. However, Jonas moved to defense after Jewell and Johnson suffered season-ending injuries early on, and Kenny Young got injured in Week 14.
As a starter for the final four games, he recorded two QB hits, four tackles for a loss, 22 solo tackles, and one fumble recovery. Griffith and Jewell are the frontrunners for a starting spot this season.
Alex Singleton
The Broncos signed Singleton to a one-year deal in March to add much-needed depth.
Singleton spent three seasons in the CFL before making the leap to the NFL in 2019.
Last season, he led the Philadelphia Eagles in linebacker snap count percentage at 63.9% and finished with 137 tackles. Singleton also spent time on special teams.
At 29, the expectations for Singleton aren't to have a massive year, but he comes to the team with plenty of upside and looks pretty likely to make the final roster. He may even battle Griffith for a starting spot.
Justin Strnad
Like Griffith, Strnad was catapulted into a starting position due to injuries. Unfortunately, he didn't shine the way Griffith did. 
The former 2020 fifth-round pick missed his entire rookie season due to season-ending wrist surgery. Last season, he was so underwhelming that he was benched in Week 9 for rookie Baron Browning and Kenny Young, who'd only been on the team for about a week.
Strnad is behind Singleton because Singleton's upside skews much higher. His disappointing performance so far puts him on the bubble going into the season. If one of the three below can put on a strong showing, it wouldn't be a shock if Strnad doesn't end up on the final roster. 
Barrington Wade
Wade is a 2021 Broncos practice squad member who will probably find himself there again in 2022.
Wade played linebacker at the University of Iowa. After college, he was signed as an undrafted free agent to the Baltimore Ravens before being waived and signed to the Broncos.
It's not impossible for Wade to make the final roster, given the team's weakness, but the odds aren't in his favor. His best bet would be as a member of special teams.
Kana'i Mauga and Kadofi Wright
Both Mauga and Wright were signed as undrafted free agents in May. 
It'd be a surprise to see either of them make the final roster. However, other than Jewell or Griffith, there aren't any other "locks" at the position. If either guy can overachieve at training camp, there's a world where either guy can end up as a practice squad member or even on the 53-man roster.
Denver's been led by their defense for many years, but this season, it looks like the offense will lead the way. As for inside linebacker, even with the additions in the offseason, it's still probably the weakest position group on the roster. It will certainly be one to keep an eye on, especially down the stretch when the Broncos face a ton of playoff-worthy opponents in a row.