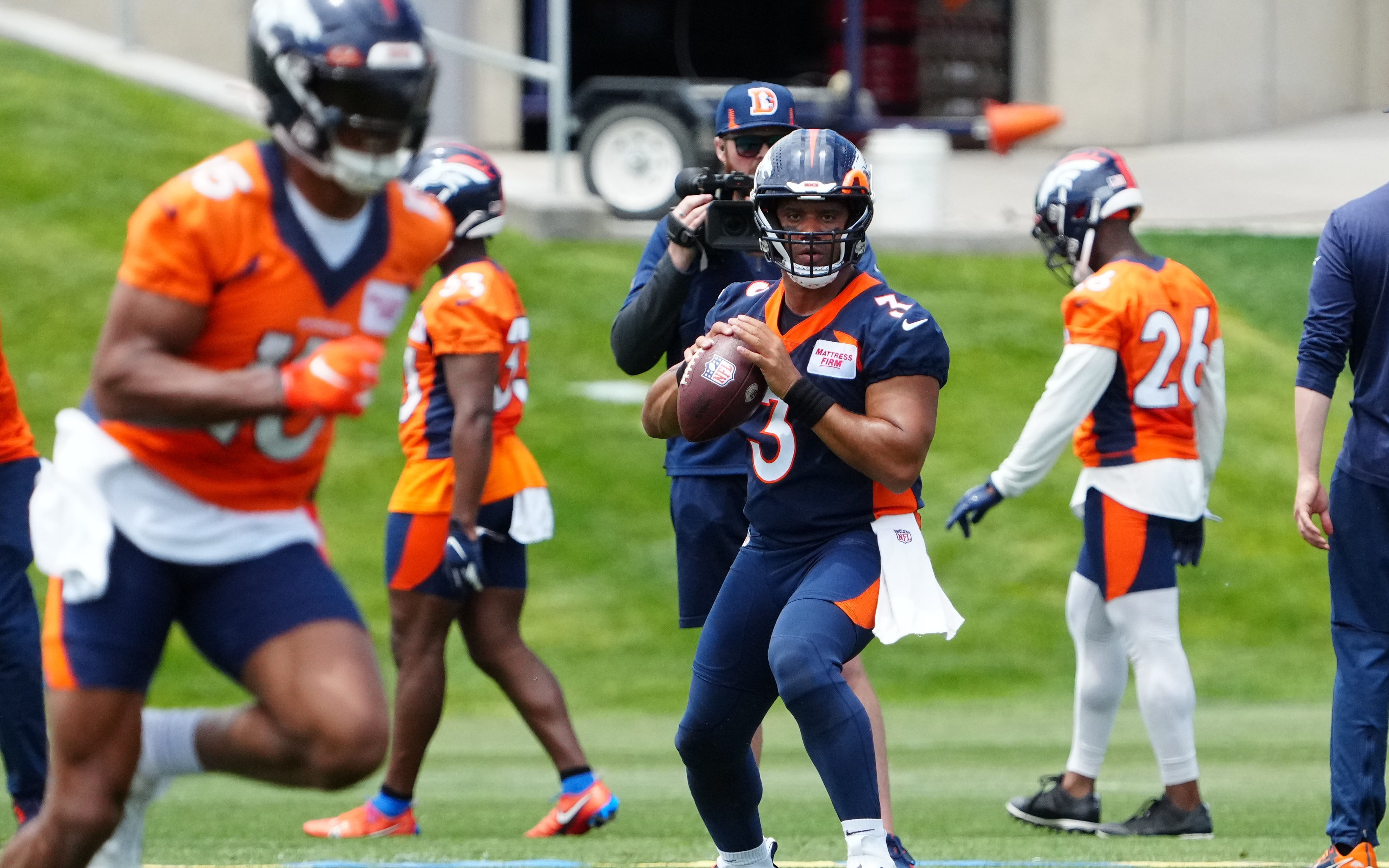 Denver Broncos training camp will officially kick off on Wednesday, with fans in attendance, as they begin to whittle down their roster to 53 players.
What will that final 53-man roster look like? Who will be a surprise cut? What undrafted free agent stands the best shot of making the final roster? Let's take a look at the answers to all those questions, and much more.
Denver Broncos Offense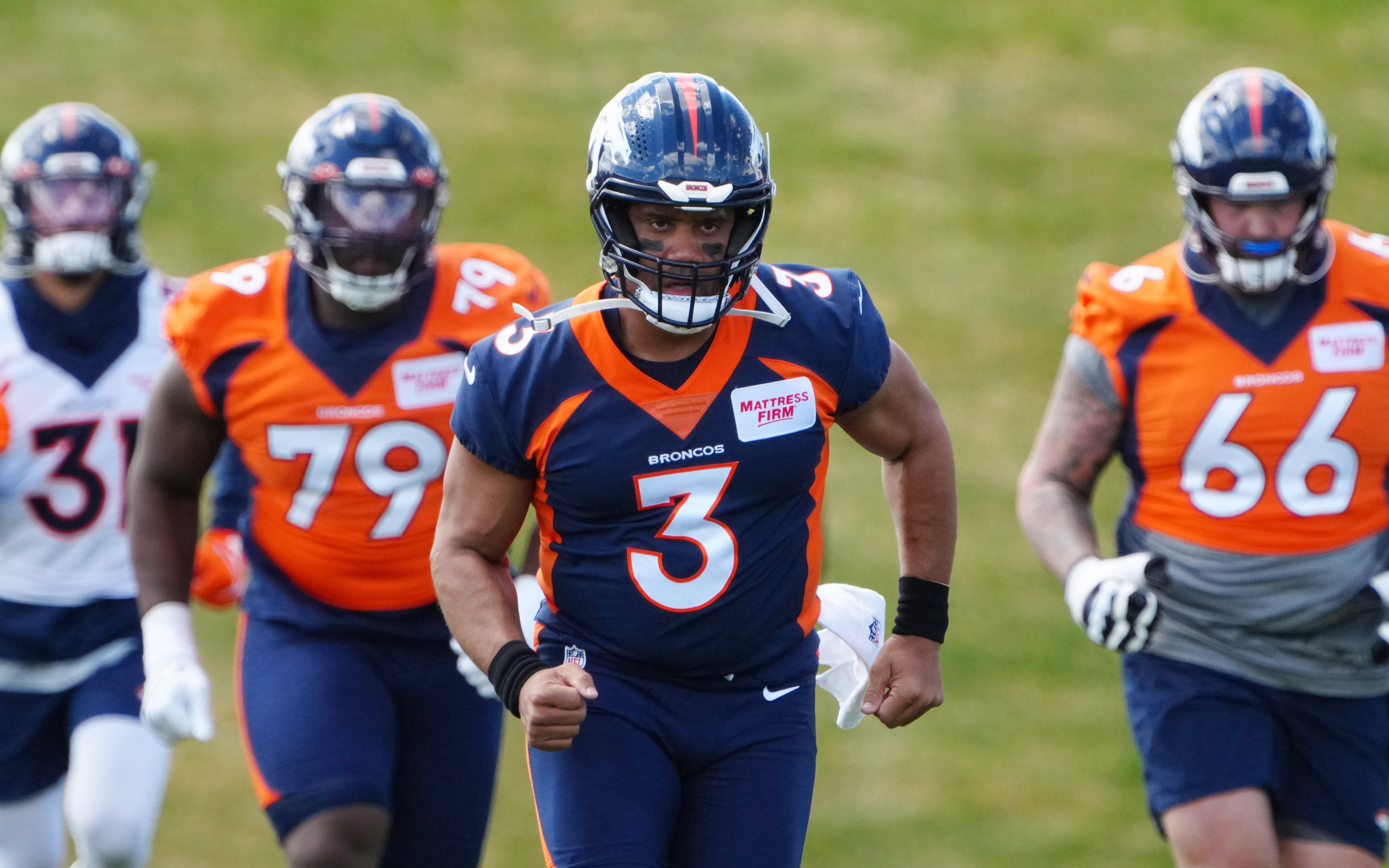 Quarterback (2)
Making it: Russell Wilson, Josh Johnson
Missing the cut: Brett Rypien
For the first time in a long time, there is absolutely zero controversy surrounding the quarterback for the Denver Broncos. Russell Wilson will obviously be the starter, and Josh Johnson was clearly brought on to be the backup. There's an outside chance Brett Rypien pushes Johnson for that role, but that feels pretty unlikely, making it another year on the practice squad for Rypien.
Running Back (3)
Making it: Javonte Williams, Melvin Gordon, Mike Boone
Missing the cut: Tyreik McAllister, Damarea Crockett
The running back room has a pretty clear stack to it now, with Javonte Williams emerging as a star, Melvin Gordon nearing the end of his career but still being a valuable weapon, and Mike Boone as a special teams ace and reliable depth piece.
Tyreik McAllister has an outside chance to make some noise in this room, given his high-end burst — which none of Denver's other backs can match — paired with quality vision skills. Those are two traits that are heavily desired in the outside-zone scheme Nathaniel Hackett looks to install.
Fullback (1)
Making it: Andrew Beck
This is the only position on the roster outside the specialists where the Denver Broncos only have one player. With that in mind, Beck should be a lock for this roster spot, as Hackett will use a fullback, and Beck's the only one he's got.
Tight End (3)*
Making it: Albert Okwuegbunam, Greg Dulcich, Eric Saubert, Andrew Beck*
Missing the cut: Eric Tomlinson, Dylan Parham, Rodney Williams
Albert Okwuegbunam and Greg Dulcich are locks for the final roster that should battle it out for the top tight end spot, though it might be a one-sided battle considering the increased value of NFL experience at the tight end position.
Eric Saubert and Eric Tomlinson should be locked into a fascinating battle for the final tight end spot, but ultimately, it makes sense to give the job to the more versatile, better inline option in Saubert. Dylan Parham and Rodney Williams are distant longshots.
Wide Receiver (7)
Making it: Courtland Sutton, Jerry Jeudy, Tim Patrick, K.J. Hamler, Kendall Hinton, Montrell Washington, Tyrie Cleveland
Missing the cut: Travis Fulgham, Seth Williams, Brandon Johnson, Kaden Davis, Trey Quinn, Jalen Virgil
No one will be surprised by the first four wide receivers to make the roster, as it would be a stunning development for any of those four to be left off. After that, however, things get interesting.
Montrell Washington is likely to make the roster as a returner, but he won't just be handed that job. Kendall Hinton is talented enough to be rostered, but the Broncos might feel he's redundant with Jeudy, Hamler and Washington already there. Tyrie Cleveland appears to be back to 2020 form and is the best special teams player remaining, so he gets the final spot.
Travis Fulgham, Seth Williams and Brandon Johnson are all names to watch, as they could make the final roster, even if we were forced to leave them off it.
Offensive Line (8)
Making it: Garett Bolles, Billy Turner, Graham Glasgow, Quinn Meinerz, Calvin Anderson, Tom Compton, Netane Muti, Lloyd Cushenberry III
Missing the cut: Dalton Risner, Quinn Bailey, Ben Braden, Luke Wattenberg, Michael Niese, Zack Johnson, Sebastian Guiterrez, Casey Tucker
You can put it in stone that Garett Bolles, Billy Turner, Quinn Meinerz and Calvin Anderson will be on this roster in 2022, barring horrific injury. Anderson's status in that club might surprise, but at worse, he's an elite depth piece at one of the league's most premium positions.
Graham Glasgow, Tom Compton, Netane Muti and Lloyd Cushenberry should also find themselves on the bubble, but should all make it. Glasgow and Cushenberry are the only two quality centers on the roster, and while it's possible one could be cut or traded, it seems more likely than not that both make it. At least one of those two certainly will. Meanwhile, Compton is a terrific depth piece at guard and center, and Muti has been raved out by coaches and well-sourced media members consistently.
Dalton Risner might be a surprise cut or trade, but he draws the short straw after disappointing the last two seasons, and now being with a coaching staff that has no investment in him. Ben Braden might also surprise, given his history with Hackett, but he didn't make the Packers roster in 2021, so he isn't a lock here either. Quinn Bailey and Luke Wattenberg are names to watch for the practice squad.
Defense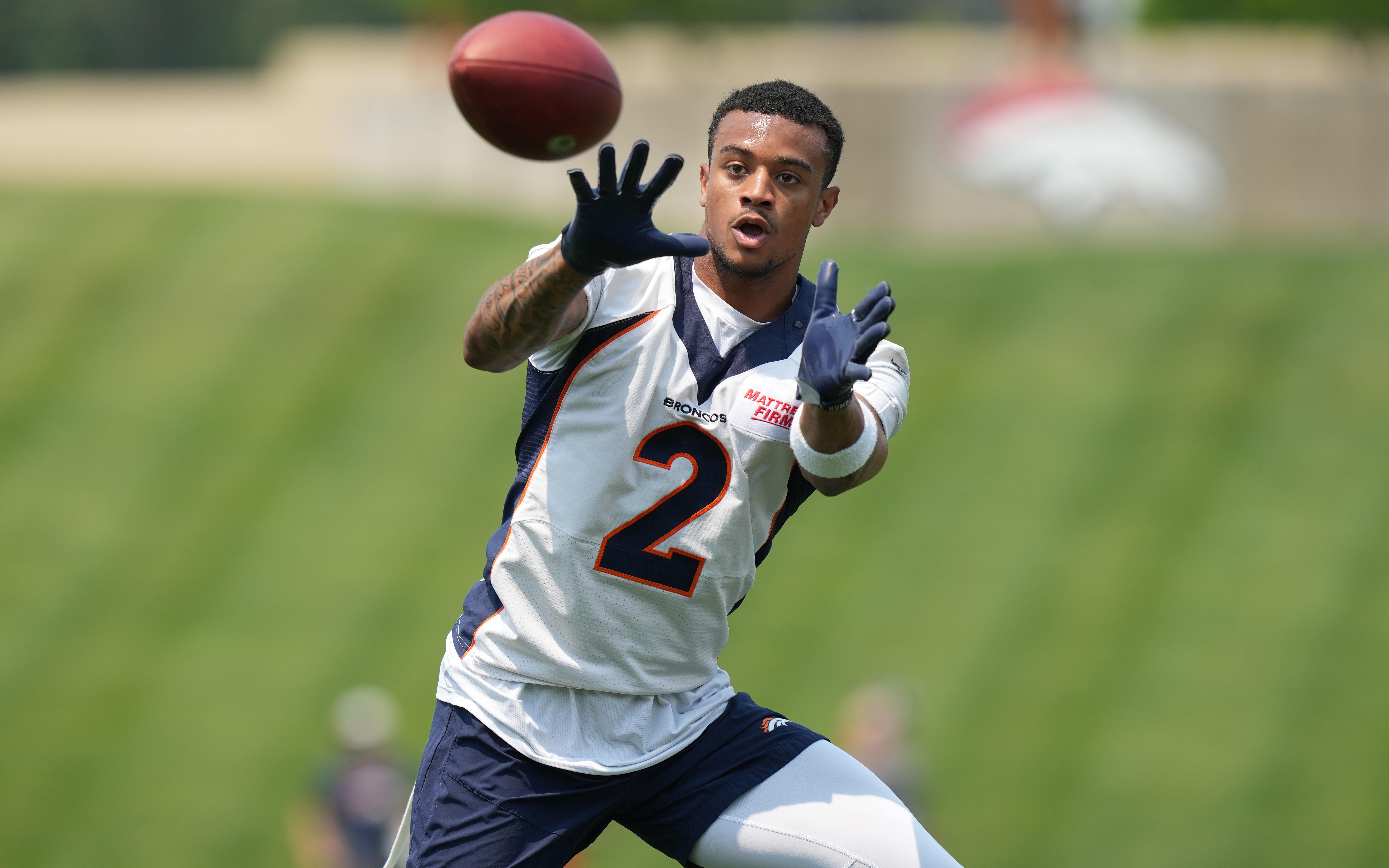 Defensive Line (6)
Making it: Dre'Mont Jones, D.J. Jones, DeShawn Williams, Mike Purcell, McTelvin Agim, Eyioma Uwazurike
Missing the cut: Matt Henningsen, Jonathan Harris, Jonathan Kongbo, Marquiss Spencer
The starting tandem of Dre'Mont and D.J. Jones should be elite, and DeShawn Williams and Mike Purcell are rock-solid depth pieces behind them. Considering the recent draft investment in him and his special versatility, Eyioma Uwazurike should be safe. McTelvin Agim will find himself on the bubble and could have Matt Henningsen steal his spot, but the flashes of Agim's ceiling are so remarkable that the Denver Broncos can't give up on him just yet.
It hurt to leave Henningsen off the final 53, and he was one of the last cuts made in this exercise, but it's hard to find room for him unless he upsets Purcell, Agim or Williams.
Edge Rusher (6)
Making it: Bradley Chubb, Randy Gregory, Jonathon Cooper, Baron Browning, Nik Bonitto, Christopher Allen
Missing the cut: Malik Reed, Aaron Patrick
The Broncos overhauled their edge-rushing room this past offseason, and as a result, Aaron Patrick will likely miss the roster.
Jonathon Cooper might also find himself on the bubble, but he's proven to be a valuable depth piece and considering Bradley Chubb and Randy Gregory's injury history, this unit is likely going to have to rely on its depth pieces at some point.
Christopher Allen is the name to watch, as a guy that could pressure Reed or Cooper, and one of the undrafted free agents with the best chance of making the roster. We'll have him squeak by Reed here, thanks to his untapped potential.
Inside Linebacker (3)
Making it: Josey Jewell, Jonas Griffith, Alex Singleton
Missing the cut: Justin Strnad, Barrington Wade, Kana'i Mauga, Kadofi Wright, 
Ultimately the Broncos likely carry four inside linebackers during the regular season, but this columnist believes that fourth inside linebacker currently isn't on the roster.
Justin Strnad is a draft pick that hasn't panned out, while Barrington Wade, Kana'i Mauga and Kadofi Wright are undrafted free agents that have shown nothing to provide Broncos Country with optimism. Look for them to sign an aging veteran or young depth piece shortly after roster cutdowns are made.
Plus, having Baron Browning and his positional versatility on the roster eases this need somewhat.
Cornerback (6)
Making it: Patrick Surtain II, Ronald Darby, K'Waun Williams, Michael Ojemudia, Blessaun Austin, Damarri Mathis
Missing the cut: Faion Hicks, Donnie Lewis Jr., Essang Bassey, Ja'Quan McMillian
Five of the six available cornerback spots have already been solidified, with Patrick Surtain II, Ronald Darby, K'Waun Williams, Michael Ojemudia and Damarri Mathis, leaving the five remaining corners to battle it out for one spot.
Essang Bassey impressed the last coaching staff but has no ties to this one, and Ja'Quan McMillian has failed to wow so far this offseason. The Broncos did invest a seventh in Faion Hicks, and he's likely to stick on the practice squad, but parting with a seventh is a pill they can easily swallow. Donnie Lewis Jr. had some flashy moments during OTAs but ultimately comes up short because Blessaun Austin has been head-and-shoulders about the rest of the competition.
Safety (5)
Making it: Justin Simmons, Caden Sterns, Kareem Jackson, P.J. Locke, Delarrin Turner-Yell
Missing the cut: J.R. Reed, Jamar Johnson
The Broncos might only end up carrying four safeties, but it's impossible to figure out which one they will choose to part with. The top three have cemented their place on the roster, but P.J. Locke has been a valuable backup and contributor on special teams for years, while the team just invested a quality draft pick in Turner-Yell.
That spells doom for Jamar Johnson, who couldn't get on the field in 2021 and was a late-round investment. J.R. Reed was signed this offseason, but his contract suggests the team will have no issue moving on from him during their roster cutdown.
Specialists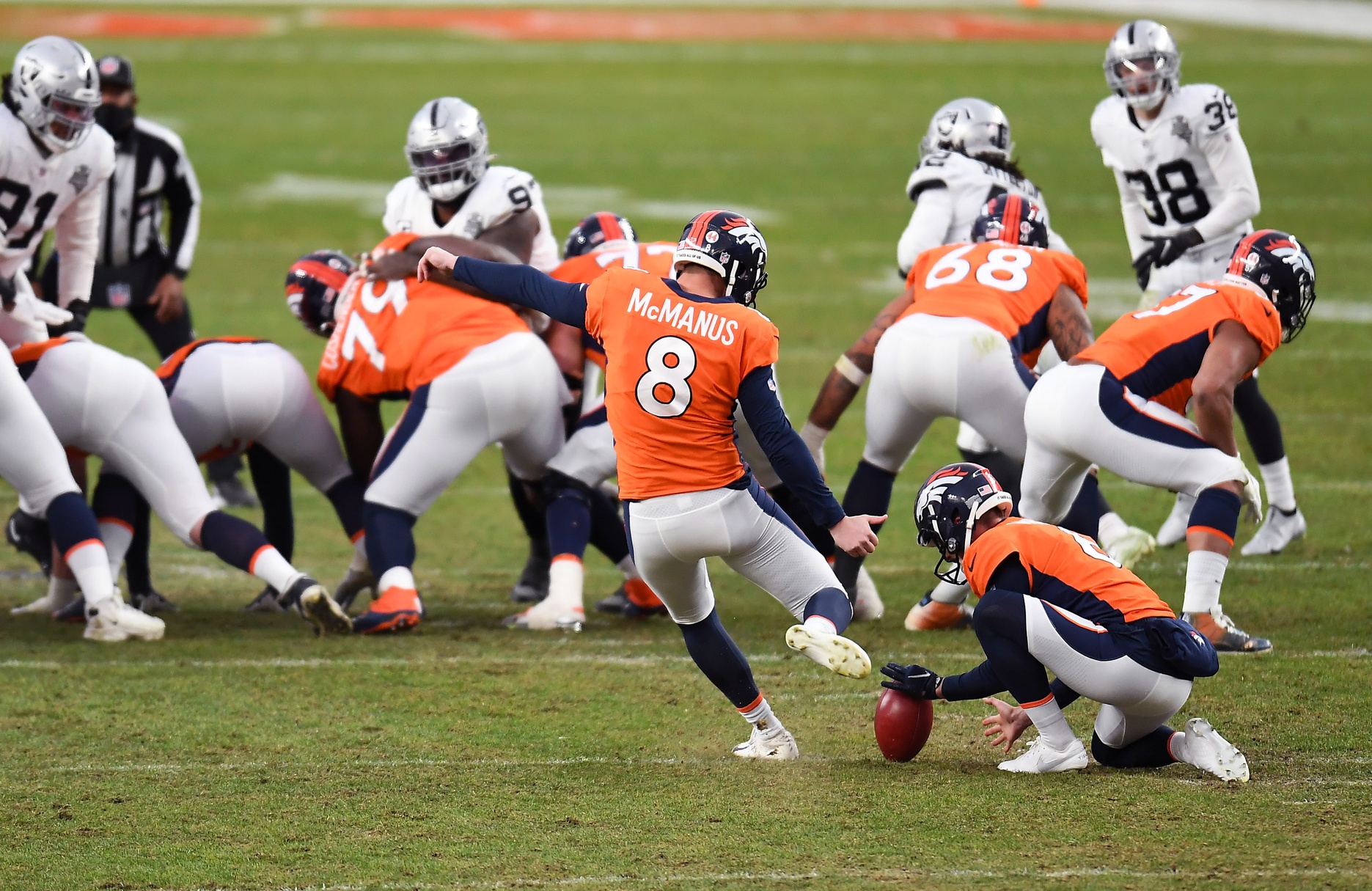 Kicker (1)
Making it: Brandon McManus
This is an absolute lock. There is no other kicker listed on the roster and that isn't going to change anytime soon.
Punter (1)
Making it: Sam Martin
Missing the cut: Corliss Waitman
Unfortunately for Corliss Waitman, he's likely nothing more than a camp leg. Sam Martin's been a solid punter and is under contract, so unless Waitman looks incredible, there's no need to rock the boat.
Long Snapper (1)
Making it: Jacob Bobenmoyer
Much like McManus, Jacob Bobenmoyer is the only player at his position on the roster, so he should be a lock for this roster spot.