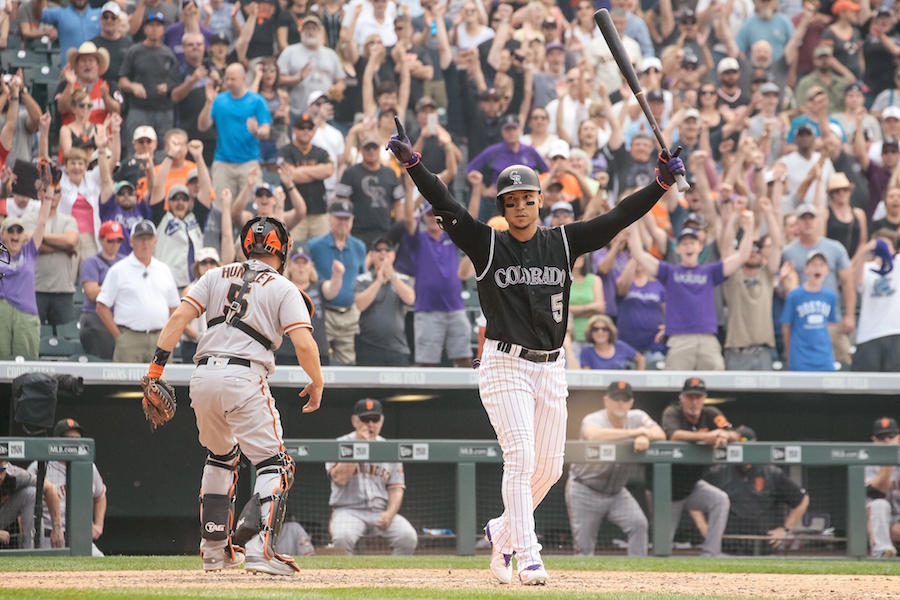 The Colorado Rockies march into 2018 attempting to do something they've never done in franchise history: make the playoffs in back-to-back years.
After finishing 87-75 in 2017, Nolan Arenado, Charlie Blackmon, Jon Gray and the boys on Blake Street are back for another run (OK, lots of runs) at Coors Field. Fitted with a brand new scoreboard, familiar friends returning to the roster — looking at you, 'CarGo' — and manager Bud Black pulling the trigger, Colorado looks to build on a strong 2017 and push for an even better 2018.
The Mile High Sports Radio AM 1340 | FM 104.7 and writing teams banded together to call their shots and predict the 2018 season for the boys in pinstripes.
Shawn Drotar – Host of "Mornings at 5280" on Mile High Sports Radio
87-75 — The same record as last season — and just missing out on a wild-card spot.
While the Rockies' offense might improve slightly with better health, the pitching should be noticeably better, especially in the bullpen. So why wouldn't they have a better record than last season? The well-heeled Giants are primed for a bounce-back year, the Padres are at least a little better than season, the Diamondbacks are still formidable, and the Dodgers fully expect to win the World Series.
The NL West is tough, and it's possible that free-agents to be Charlie Blackmon, D.J. LeMahieu and Carlos Gonzalez find themselves pressing, especially in the early going. Most importantly? The Rockies won't surprise anyone this year, and nobody's going to take them lightly anymore.
Casey Light – General Manager of Mile High Sports Radio and Magazine
89-73 — The Rockies will be improved from last season, but not to the degree everyone expects or hopes.
The starting rotation is still exceptionally young. One or two of them might take a step forward, but the same number will come back down to earth a bit to balance things out.
On paper, the bullpen appears to have been upgraded compared to 2017; however, last season also saw a historically good performance from Greg Holland (and others like Chris Rusin). It's unwise to expect that kind of history to repeat itself coming out of the 'pen at Coors Field.
Doug Ottewill – Managing editor at Mile High Sports Magazine
91-71 — This team is deep and it can pitch and the bullpen is considerably better than 2017. Problem is, 91 wins might not get it done in the N.L. West…second place and another wild card berth.
Ronnie K – Executive producer at Mile High Sports Radio, Rockies contributor
90-72 — The Rockies are the deepest they've ever been at pitching. While I'm more skeptical of the bullpen than others, it'll hold it's own for 2018. Natural progression in starting pitchers and an elite defense behind them, paired with a top-ten offense in the league will push Colorado to the 90 win echelon, making this the first time in Rockies history that the team reaches the postseason in back-to-back years.
Aniello Piro – Rockies beat writer for Mile High Sports
92-70 — For a few reasons; mainly because this team is a year more experienced and have had a taste of what postseason baseball is like.
In speaking with the players, they are extremely confident in their ability to follow up last years campaign and compete for a division title — maybe even the World Series crown. If the starting rotation holds, the Rockies will be in a strong position to take the next step this season.
Gil Whiteley – Host of "Anything's Possible" on Mile High Sports Radio
92-70 — The rotation matured and got older in a good way. Wade Davis and Bryan Shaw as set-up man and closer are a stronger duo. This everyday lineup will rival almost anyone for runs produced. Unfortunately, they will finish 10 games behind the Dodgers, but will secure the home field for the play-in Wild Card game.
Sean Walsh – Host of "Walsh and Notaro" on Mile High Sports Radio
73-89 — I'm concerned about how they limped their way to the finish line last year. Also, the NL will have a better book on Colorado's young starters after seeing them last year.
Renaud Notaro – Host of "Walsh and Notaro" on Mile High Sports Radio
96-66 — This is the Rockies' year. 'CarGo' will bounce back to All-Star numbers.
Les Shapiro – Host of "Afternoon Drive with Goodman and Shapiro" on Mile High Sports Radio
85-77 — I'm not sure if any of these talented, young starting pitchers is ready to take that next step — and one or two of them needs to take that step for the Rockies to contend. Despite the certain contributions of LeMahieu, Blackmon and Arenado, I'm uncertain about what 'CarGo', Ian Desmond and [Trevor] Story will contribute offensively. They'll be competitive, but lots of question marks remain.
Connor Cape – Host of the "Connor Cape Show" on Mile High Sports Radio
81-81 — Despite having an improved bullpen, the Rockies will finish .500 simply because the NL West is going to be a gauntlet. Everybody, maybe the Dodgers included, will be hovering between 80-90 wins, minus the Padres.
David Johnson – Host of "Sports Destiny Radio" on Mile High Sports Radio
90-72 — They will take second in the NL West and get a wild-card spot for the playoffs.
Joe Rico – Co-Host of "The Final Word" on Mile High Sports Radio
89-73 — Good for the second wild card. They'll win that wild-card game and lose in the divisional round.
Alex Ramirez – Co-Host of "The Final Word" on Mile High Sports Radio
90-72 — They've built a super bullpen in the offseason with the additions of Wade Davis and Bryan Shaw, and there's great depth in the outfield. The offense will rely on Nolan Arenado, as usual, but hope that young players like Trevor Story, David Dahl and Ryan McMahon have big seasons.
Darren Copeland – Host of "From the Pitch" on Mile High Sports Radio
92-70 — Thanks to improved pitching and big offense.
Alex Becker – TV Producer for "Afternoon Drive with Goodman and Shapiro"
86-76 — The starting pitching will be great in the first half, but will start to wear down in August and September.
I think Bryan Shaw won't be as good as expected because of the innings workload he has faced the last couple seasons in Cleveland. The top of the order will produce, but spots six through eight in the order will be a liability. I expect them to contend for a wild-card spot, but won't win the division because of the sheer talent in the NL West.
Geoff Girsh – Host of "Home Grown Sports" on Mile High Sports Radio
96-66 — The strong defense of the infield and proper end-game representation from the law office of Shaw and Davis will shut down the opposition and defend the home turf — leading the Rockies to their best home record ever.