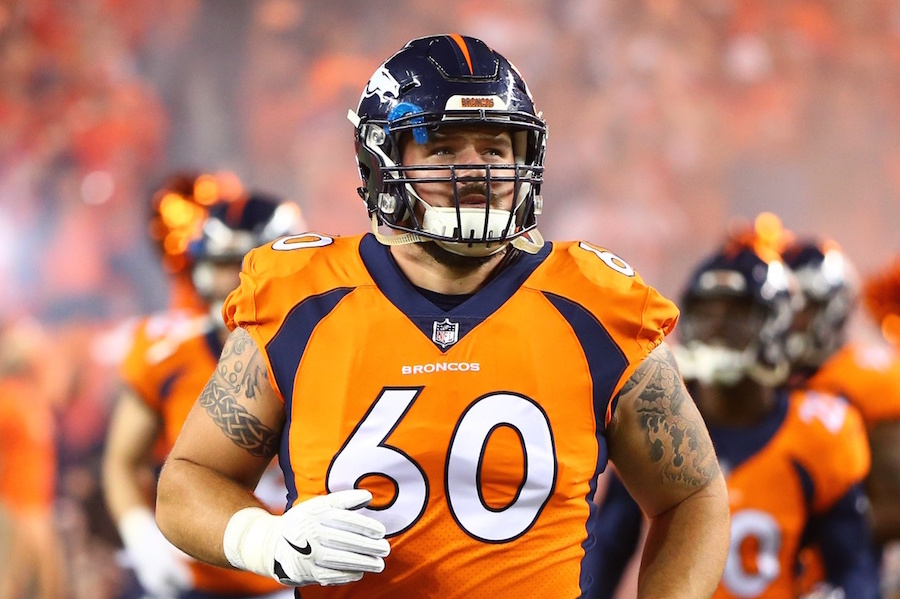 The Broncos offensive line has been a revolving door under John Elway's tenure; never able to find its footing. With the additions of elite offensive line coach Mike Munchak and right tackle Ja'wuan James, though, they're looking to change that.
However, the Broncos have had their fair share of departures along the offensive line, which will make improving difficult.
Matt Paradis, Denver's most talented lineman and one of the league's best centers since his emergence in 2015, will be suiting up for a different team next year in the Panthers. Guards Max Garcia and Billy Turner, and tackle Jared Veldheer who had started a combined 59 games for the Broncos over the past three seasons and 27 in 2018 alone, will also be elsewhere next season.
As it stands now, the starting line for the 2019 season will likely look like this:
There is some debate over whether or not McGovern will return to his original position at right guard in order to free up 2018 sixth-round pick Sam Jones to start at center. According to Mike Klis though, McGovern will likely stay at center where he filled in for Paradis at the end of last season.
Confirming reports Broncos say goodbye to center Matt Paradis, who got 3-year, $27 million deal with Carolina, per source. He gets $11.5 million in first year. Broncos offered one-year deal. Good for Matt. Broncos center is Connor McGovern. #9sports

— Mike Klis (@MikeKlis) March 12, 2019
McGovern is appearing to be a great find for the Broncos, but the move to center will disappoint some. During his eight games at right guard, McGovern earned an average grade of 65.9 from Pro Football Focus, and only had one game graded under a 50 (49.6 in Week 6 vs. the Chargers).
Following his move to center, he had an average grade of just 53.1, including a four-game stretch of grades under 46. During that abysmal stretch that lasted from Week 12 to Week 15, McGovern earned pass blocking grades of 5.5, 0.2, 36.9, and 24.1. Those are some atrociously bad numbers.
McGovern is a steep drop-off from Paradis, who over the course of his three and a half years starting at center, earned an average grade of 79.9 and had just two games with a pass blocking grade under 40, both of which came in his first year starting. Hopefully, Munchak can work his magic to round McGovern into form.
At right guard, Elijah Wilkinson will help replace the void left by Turner and Garcia where he filled in last year for seven games after McGovern moved to center. Wilkinson struggled in his first year moving inside, after originally being a tackle for his 2017 rookie campaign. Wilkinson earned a respectable grade of 61.2 overall and 63.9 in the run game, but also trudged through pass protection, earning a grade of 48.3.
Wilkinson also had a similar stretch of poor games that McGovern did, though his lasted from Week 12 to Week 14. During this stretch, Wilkinson averaged a pass blocking grade of just 30.8, including a season-low of 17.6, and a run blocking grade of 59.0.
Ja'Wuan James is the only new lineman that's better in the pass game than he is in the run game, though he's pretty solid in both. Over the course of his last three seasons in South Beach, Pro Football Focus gave James an average overall grade of 71.9, pass blocking grade of 71.6, and run blocking grade of 69.9.
This is a huge improvement on the tackles Denver has seen revolve through the turnstiles the past three seasons. During his short stint in Denver, Jared Veldheer was given an overall grade of 62.4 from Pro Football Focus, as Menelik Watson earned a grade of 47.4, and Donald Stephenson got an even worse grade of 46.9.
Although Denver's right tackle woes may be solved, they should strongly consider investing in help for the interior of the offensive line in the first few rounds of the draft. While it's very possible a coach of Munchak's caliber will be able to whip McGovern and Wilkinson into shape in the passing game, another piece at center or guard couldn't hurt.
Especially when you consider that Joe Flacco is coming off a hip injury that wound up giving the starting job to Lamar Jackson. Flacco was never the most mobile quarterback, but he's grown even more sluggish with age. Putting him behind an interior line that features two of the weaker pass blocking lineman in the league is just asking for disaster.
If Munchak can turn this offensive line around, it will be his most impressive job to date. And, without a stout o-line, the Broncos hopes of making the playoffs are basically nonexistent.