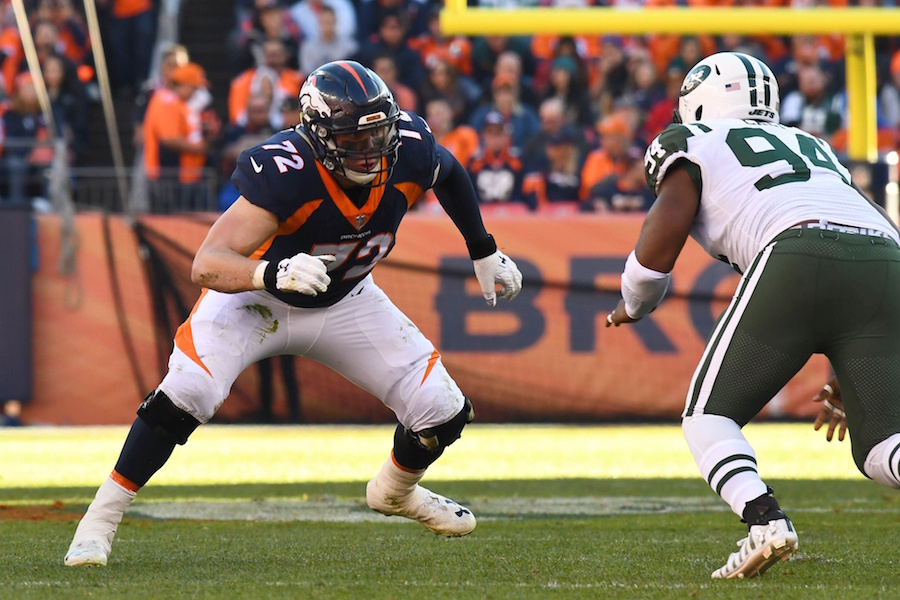 The Denver Broncos offensive line was tinkered with this offseason after acquiring new faces and moving familiar faces around.
Ronald Leary returns to the left guard position, the same position that he solidified while with the Dallas Cowboys. His presence next to second-year left tackle Garett Bolles is expected to be the strength for the Broncos offensive line.
The right side is going through changes, with newcomer Jared Veldheer expected as the starting right-tackle, while a potential rotating door situation may play itself out at right guard between Connor McGovern and Menelik Watson.
According to ProFootballFocus.Com, the Broncos have a projected starting offensive line that ranks No. 19 in the NFL, up four spots from their No. 23 rank in 2017 with Ronald Leary ranking out at 81.2 as their best offensive lineman.
Dishing on the latest surrounding the Broncos offensive line is Broncos Blitz podcast host Ronnie Kohrt, who chats about the projected line for 2018, how the Broncos will solve their right-guard position and more.
Click here to listen to the full Broncos Blitz podcast with Ronnie Kohrt, including what he had to say about the Broncos depth at the offensive line, a rookie who may make an impact on the season and more, or listen to the podcast below.
Click here to listen to past episodes of the Broncos Blitz podcast and access the Broncos Blitz archived vault.