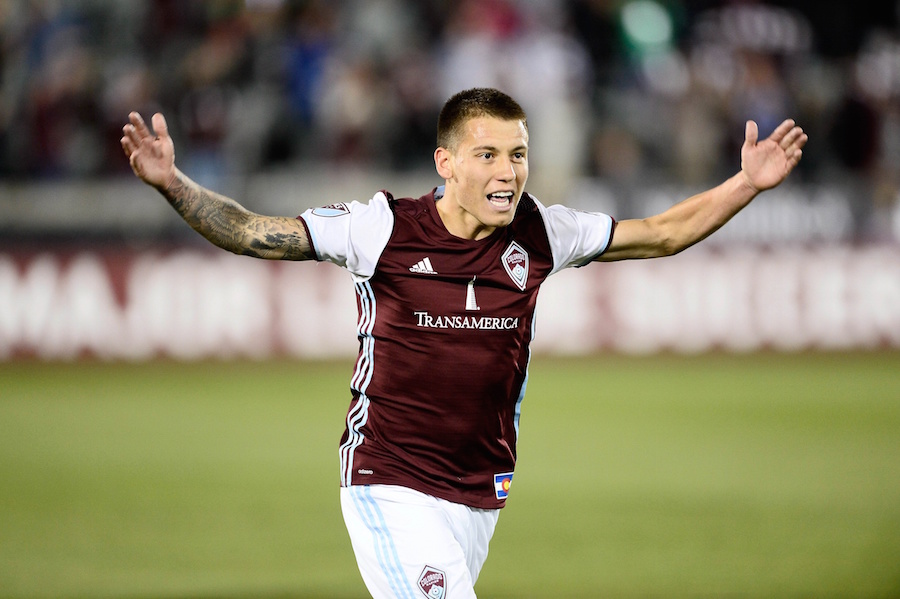 This story originally appeared in Mile High Sports Magazine. Read the full digital edition.
The Rapids Academy is a soccer program for Colorado's youth; its goal is to develop local players through advanced technical training with high-level coaches and matches featuring some of the best youth clubs in the nation. Founded as a charter member of the U.S. Soccer Development Academy in 2007, the Rapids iteration provides Colorado's best young soccer players an opportunity to be selected to the U.S. National Team in their respective age group – U18, U16, U14, U13 or U12.
There are plenty of elite soccer clubs in Colorado that compete for the best players around, but the thing that sets apart the Rapids Academy is the path it can provide to Major League Soccer.
Product of the Academy: Dillon Serna
Dillon Serna has been one of the Colorado Rapids' brightest young stars for several years now. In his first full season, 2014, the midfielder started 18 games, scored three goals and tallied four assists. He followed up his impressive first year with three goals and an assist in 2015. He was even called upon to represent the United States on the international level for a friendly against Panama. Then, after a promising start to 2016, he suffered a season-ending injury when he tore his ACL and lateral meniscus.
"The toughest part for me was the beginning stages of the injury. I wasn't able to do much, I was just on the treatment table and not able to do anything outside with the guys," Serna said. "Just getting past those first couple of months was the most difficult part of this whole process."
Not only did he miss the camaraderie of being on the field with his teammates, he also missed the second half of one of the best seasons in club history. While he's disappointed that he couldn't be on the field to experience the playoff run, he feels nothing but happiness for his teammates.
"Seeing the success that they had last year was definitely difficult watching from the stands and not being able to be a part of it," he said. "But I'm super happy for the year that we had, and I'm looking to get back to being 100 percent and hopefully do the same thing we did last year this year."
Returning from a serious injury is difficult for any athlete. Not only is the rehabilitation process grueling, but they also need to regain confidence and trust in their body. To be fully recovered, the athlete must be healthy both physically and mentally. Serna has thought about that, but he welcomes the challenge.
"Honestly, I don't think it will take that long," he said. "I think the biggest thing for me is getting my fitness back and getting my confidence back. Once I'm able to completely and fully train at 100 percent and get past that mindset of trusting my knee and making sure that everything is good, once all that's done, the technique, the skill, the attitude and the work ethic stays the same. So, once I'm able to get cleared by the doctors and get training again I think everything will take care of itself."
Product of the Academy: Richi Perez
It's long been Ricardo "Richi" Perez's dream to play professional soccer. To play for the hometown Colorado Rapids is just the cherry on top. The 21-year-old midfielder's passion for the game began in Mexico at the ripe age of 4 when his dad convinced the coaches at Chivas Guadalajara to let his son play with the 6-year-olds. Two years their junior, Perez still made an impression.
"My dad pretty much had to convince the coach to give me chance to go out there," Perez said. "When he did give me a chance he talked to my dad and said, 'Yea, we'd like to keep him.'"
When Perez was eight, his family made the move to the United States. Then in 2008, he found his way to the Rapids Development Academy – a discovery that would help set the stage for his next move. His play with the Academy drew attention from Creighton University; after a campus visit, he was sold.
"When I visited they were playing Old Dominion at home, and I think the crowd was almost, if not, 7,000 – 7,000 at a college game! Sitting in the stands watching the team that was playing before me, I got motivated, I got inspired, and just having that crowd and having the student section be loud and supporting the school, I had never seen anything like that," he remembers.
Awards piled up for Perez while at Creighton. In his junior season he had six goals and two assists and was named to the 2015 Big East All-Tournament Team and NSCAA All-Great Lakes Region. He followed that up with four goals and five assists in his senior year and was named the Big East Midfielder of the Year. While the competition in the Big East is stiff, Perez has realized that the MLS is an entirely different animal.
"The biggest thing is the speed of play," he said during preseason. "Transitioning from attacking the defense is faster. You always have to plan ahead before you get the ball. In college, I'd say you could maybe get away with not thinking ahead before you got the ball, and if you'd thought ahead maybe you could showcase your best, but at this level that's the thing – you always have to plan ahead before you get the ball."
While it may be overwhelming for some young players who play professionally for the first time, Perez says that it will be nothing but elation when he steps onto the field.
"There's going to be a lot of joy, there's going to be excitement. After all, we're out there playing a game."
Product of the Academy: Kortne Ford
Defender Kortne Ford has been a central figure in the Colorado soccer scene since 2012 when he first joined the Rapids Development Academy. He came to the Development Academy from the Colorado Storm North Soccer Club and was soon named to the 2012-13 U.S. Soccer Academy Starting XI for the Central Conference where the team advanced to the United States Development Academy Finals. A year later, he joined the Rapids Reserves squad.
"It was a huge bump up from just normal club soccer, so I thought that it pushed me in the right way," Ford said. "Especially once we got into the playoffs and nationals we played really good teams that I thought gave us the chance to develop."
Ford was on the national radar throughout his younger years. He was recruited by some of the best soccer and academic colleges in the nation including Duke, Stanford and Princeton. Ultimately, he chose the University of Denver for their academics and location, with an added incentive to help bring the Pioneer program to national prominence.
"At that point DU was ranked like 90th to 100th in the country, and I said that I wanted to go in and change a program," Ford said. "We got to change a program and I got to stay home and keep that relationship with the Rapids."
Ford made an immediate impact for the Pioneers. The team improved from 11-8-1 in his true freshman year, during which he started all 19 games, to 20-1-3 in his junior and final season. They made it to the national semifinals in his junior year where they suffered their first loss of the season in double-overtime against Wake Forest, who would go on to lose the national championship to the defending champion Stanford Cardinal. Ford started all 62 games he appeared in while in college. He played so well, in fact, that there were some rumblings about him turning pro after his sophomore year.
"There were talks of me coming out after my sophomore season," he said. "But at that point, I looked internally and thought I could use another year of development. So, it was a mutual agreement at that point that I was going to come in and sign after my junior year."
The 21-year-old Ford looks to bolster one of the best defensive units in the MLS in the 2017 season.
Keep a Close Eye On: Alan Salgado
Look out soccer world; Alan Salgado is coming. The 12-year-old Colorado Rapids Youth Soccer Club midfielder is tearing up his league and has more goals than games played. While he's had much success, he credited the CRYSC coaches and his father Oscar for his continued development.
"My coaches help me become a better player by seeing the smallest thing I need to work on so I can work on it with my dad," Salgado said.
He also praised his mother Elsa for helping him maintain his hectic soccer and school schedule. While Salgado certainly has time for development, he's exactly what the Rapids hope for in their development system – a local player who demonstrates a love for the game that can benefit from the organization's infrastructure. Should Salgado continue his feverish pace, one might assume he could be the next Dillon Serna or Richi Perez. And that would suit him just fine. In fact, that's what he hopes his future holds.
"I would play with the Colorado Rapids," said Salgado, looking ahead a few years, "and if I have the level, I want to play with the U.S. National Team."