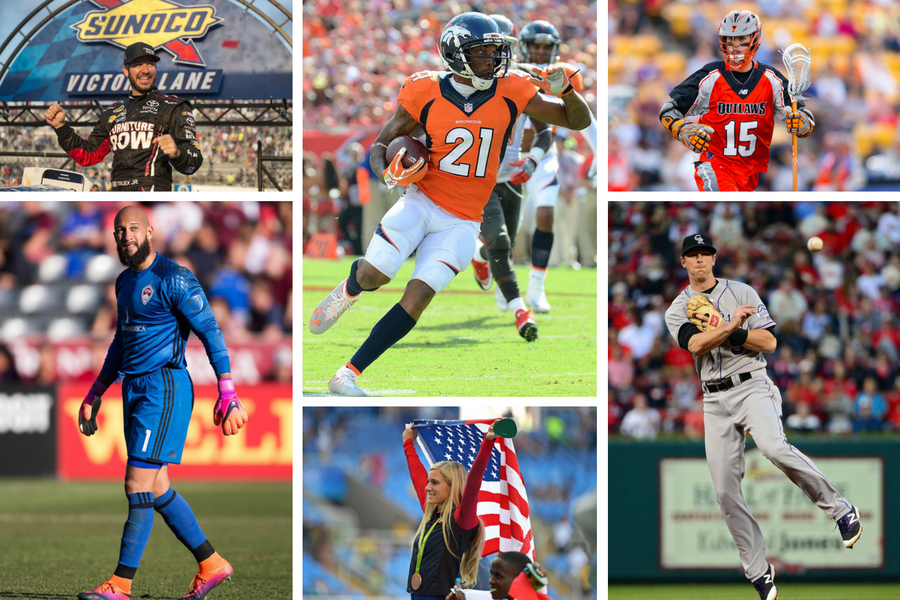 This story originally appeared in Mile High Sports Magazine. Read the full digital edition.
Becoming only the second player ever to win four Gold Glove awards in his first four seasons, Rockies third baseman Nolan Arenado is our Professional Athlete of the Year. Read the full story here.
But 2016 was a banner year in Colorado sports for other reasons. These finalists for our Professional Athlete of the Year award helped make it so.
Emma Coburn and Jenny Simpson
Track and Field
It's difficult to laud one without lauding the other, as the University of Colorado alums raced practically arm-in-arm into history at the Rio Olympics. Both runners won bronze as their first Olympic medals while becoming the first American women to medal in their respective events – Coburn in the 3,000-meter steeplechase, Simpson in the 1,500-meter run. Both trained in Boulder under the watchful tutelage of CU track and cross country coach Mark Wetmore and assistant Heather Burroughs. Coburn's time of 9:07.63 broke her own American record by three seconds, and the duo became the fifth and sixth CU athletes to earn Olympic medals.
Tim Howard
Colorado Rapids
A mainstay of the U.S. National Team, the veteran goalkeeper brought star power to Commerce City in a memorable summer for the Colorado Rapids. Acquired from the Premiere League's Everton as the Rapids' designated player in March, Howard posted a Fourth of July shutout in his Rapids debut against defending champion Portland, and his final saves percentage of 73.6 is the fourth-best single-season mark in franchise history. Howard came up with two critical saves in a penalty-kick shootout victory against the Los Angeles Galaxy in the first round of the playoffs, but a season-ending injury suffered a week later while playing for the national team dimmed the Rapids' postseason hopes.
Eric Law
Denver Outlaws
After a knee injury limited his 2015 season, the Arapahoe High and DU Pioneers alum rebounded this past summer to share the scoring lead for the Denver Outlaws with 47 points (28 goals, 19 assists). More importantly, Law was named the Major League Lacrosse championship game MVP after recording five goals, including the winner with 13 seconds remaining, and three assists in the Outlaws' title-clinching win against Ohio.
D.J. LeMahieu
Colorado Rockies
The Rockies' superb second baseman became the eighth player in franchise history to win the National League batting crown, finishing with a .348 average that led the entire majors. LeMahieu posted career-highs in almost every significant offensive category, including on-base percentage (.416), OPS (.911), runs scored (104), doubles (32), home runs (11), and RBI (66). LeMahieu's average was the best by a Rockies player since Todd Helton hit .358 in 2003.
Aqib Talib
Denver Broncos
One of the leaders of the Broncos' ferocious Super Bowl-winning defense, Talib was named to his third consecutive Pro Bowl following the 2015 season after recording three interceptions – two of which he returned for touchdowns. Talib wasted little time showing he was ready for more in 2016, posting a 46-yard touchdown on an interception of Indianapolis' Andrew Luck in a Week 2 win and adding two interceptions two weeks later in a road win against Tampa Bay, his former team. Talib recorded five tackles and was credited with two passes defended in the Broncos' Super Bowl win against Carolina.
Martin Truex Jr.
Furniture Row Racing
Truex continued to build the national profile of Denver-based Furniture Row Racing with a dominant spring-to-fall run. Truex posted a record-breaking win at the Coca-Cola 600 in May and added a victory at the Southern 500 on Labor Day weekend. In October he won the Citizen's Soldier 400 at Dover International Speedway, but his most memorable race might have been his runner-up finish at the Daytona 500 – where Danny Hamlin's win over Truex by 0.01 of a second counted as the closest finish in the race's long history.