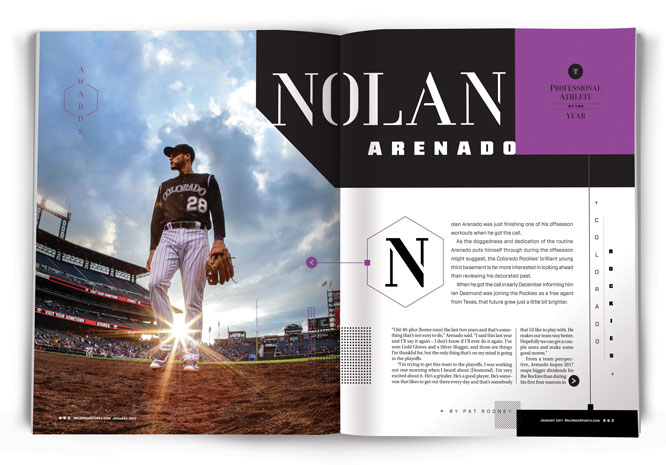 This story originally appeared in Mile High Sports Magazine. Read the full digital edition.
Nolan Arenado was just finishing one of his offseason workouts when he got the call.
As the doggedness and dedication of the routine Arenado puts himself through during the offseason might suggest, the Colorado Rockies' brilliant young third basement is far more interested in looking ahead than reviewing his decorated past.
When he got the call in early December informing him Ian Desmond was joining the Rockies as a free agent from Texas, that future grew just a little bit brighter.
"I hit 40-plus [home runs] the last two years and that's something that's not easy to do," Arenado said. "I said this last year and I'll say it again – I don't know if I'll ever do it again. I've won Gold Gloves and a Silver Slugger, and those are things I'm thankful for. But the only thing that's on my mind is going to the playoffs.
"I'm trying to get this team to the playoffs. I was working out one morning when I heard about [Desmond]. I'm very excited about it. He's a grinder. He's a good player. He's someone that likes to get out there every day and that's somebody that I'd like to play with. He makes our team way better. Hopefully we can get a couple arms and make some good moves."
From a team perspective, Arenado hopes 2017 reaps bigger dividends for the Rockies than during his first four seasons in the majors. Nevertheless, his 2016 season was one for the ages, and one that has earned Arenado the Mile High Sports Professional Athlete of the Year award.
While Arenado once again put up gaudy offensive numbers – we'll get to those soon enough – he once again proved why he is the best defensive third baseman of his generation. And why his name already is being tossed around among the greatest glove men at the hot corner in the game's long and rich history.
For the fourth time in his four seasons in the majors, Arenado captured the Rawlings Gold Glove Award. He is the first third baseman in baseball history, and the first National League player at any position, to win Gold Gloves in each of his first four seasons. In Rockies history, only Larry Walker's five Gold Gloves tops the four won by Arenado and former first baseman Todd Helton. Arenado led all National League third basemen with 20 defensive runs saved.
Turning in one highlight-reel defensive play after another night after night has become a far bigger source of pride for Arenado than his powerful bat.
"I feel like I've always had pretty good hands growing up," Arenado said. "I think I had a period where my feet weren't moving very well. I didn't have good feet. Now that I've worked really hard, taking a lot of ground balls through the minor leagues, I believe I've gotten better every year at fielding.
"Obviously you get to the big league level and the fields are nicer, and there's a little bit more energy to make plays and help the team win. I take a lot of pride in ground balls. I work as hard on that as I work on anything. I'm just very thankful I've been able to prove a lot of people wrong, because a lot of people didn't think I could field the way I do now. I've proved a lot of people wrong, and I've proved to myself that I can do something special."
While Arenado's stellar defense has been a Rockies staple since he joined the club in 2013, 2016 saw him continue his rise as one of the most dangerous hitters in all of baseball.
Arenado topped the 40-homer mark for the second consecutive season, finishing in a tie for first in the National League with 41 to go with a career-high 133 RBI that led all of baseball.
By doubling his walk total while achieving a slightly lowered strikeout rate, Arenado was able to post career highs in hits (182), batting average (.294), on-base percentage (.362), OPS (.932) and WAR (6.5).
Arenado earned his second consecutive All-Star berth and finished fifth in the National League Most Valuable Player voting. Rockies fans should be encouraged that Arenado still believes there is much more room for improvement.
"I'm getting better every year and I still want to keep doing that," Arenado said. "Having good at-bats, walking more. I want to get better at everything. I have an opportunity to keep getting better and I'm going to. I want to find ways to keep learning and growing. I'm definitely not going to get complacent."
Of course, a postseason appearance is the one glaring absence from an impressive MLB resume that still is only four years old. Among the accomplishments Arenado cites as something he is most proud of is the endurance he has displayed the past two seasons. After playing in 157 games in 2015, Arenado played in a career-most 160 games last summer.
If the Rockies hope to end their postseason drought during Arenado's prime, making certain the 25-year-old third baseman remains on the field as frequently as possible will be a continued requirement.
"The Gold Gloves and the homers are great, because they help the team win," Arenado said. "But to me the big thing was the consistency. I stayed consistent throughout the year. I drove the ball well. I had my ups-and-downs like any season, but I think I stayed a little more level-headed than in the past. For the most part I feel like I competed at a high level.
"I went out there every day. I played in 160 games. Obviously 162 would be amazing, but 160 is something I'm really, really happy about."