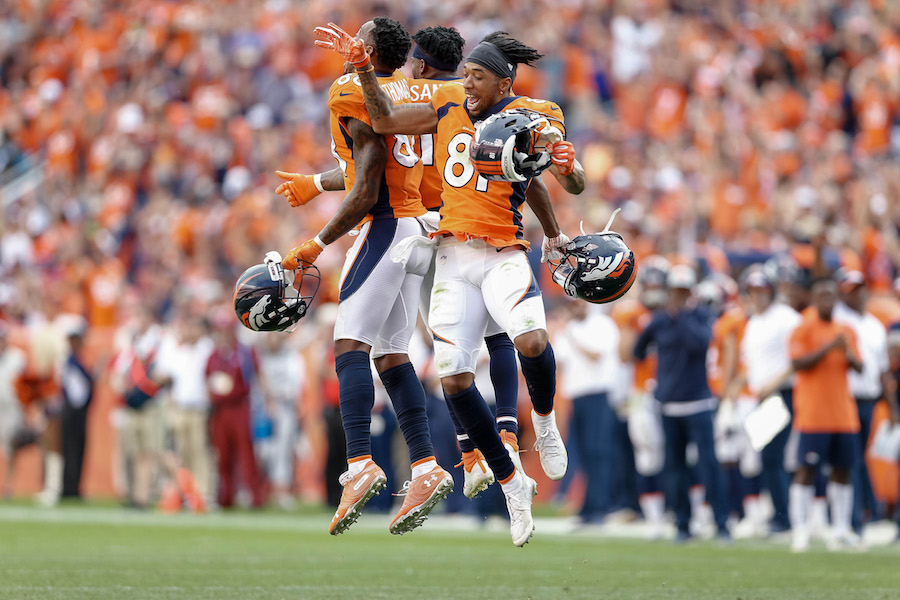 One game in the books.
Yes, the Broncos picked up a big win – a great way to begin any season, especially one that arrived with so many questions and concerns.
No, it wasn't perfect, nor was it against a great opponent.
Hey, not a bad way to spend a Sunday, right? There should be no complaints – at least no serious gripes – in Denver, Colorado on Monday morning.
But what does this win mean? What can one glean from 1-0?
In no particular order, here's what:
Case Keenum is a major upgrade. Yes, major. No, he's not Russell Wilson. But the "then versus now" for Denver's quarterback situation did not go unnoticed. Simply put, behind Keenum, the Broncos offense is actually a threat. It wasn't perfect. It wasn't always pretty. But Keenum can make throws and put pressure on a defense. Specifically, he can make throws downfield. Forget (at least for now), the three interceptions and the fact that he's almost half way to his entire 2017 INT total (7). Call it nerves, blame a new offense, new targets, whatever – Keenum will be just fine in that department. The guy who knew how to protect the ball in Minnesota will protect it in Denver. Most importantly, Keenum tossed for 329 yards and three touchdowns. Only once last year did a Broncos quarterback cross the 300-passing-yard mark, and only once did one throw for three or more. Only once did the Broncos score more than 27 points. One game in, and all those things have already been accomplished. That's Keenum, plain and simple.
Von Miller will be the 2018 NFL Defensive Player of the Year. Why not call the shot now? Everyone suspected that Denver's defensive line and pass rush would be excellent. Well, everyone was right. But for Miller, who had three sacks and two forced fumbles, the stats we didn't see last season will appear in spades this year. Denver's line and "other" pass rushers are so good, that no team will be able to focus on Miller solely. Thus, we'll see the Von Miller we knew and loved when he played opposite of Demarcus Ware.
The offensive line is much improved. One sack? Two backs with 71 rushing yards apiece? Heck, any NFL team will take that in Week One. Is it a great offensive line? Probably not. But admit it: Never once did you say, "He's running for his life out there today." Now, compare that to last season, when that was a weekly, built-in excuse for those who still believed in Siemian.
The Broncos will – and can – run the damn ball this year. Last season, when the Broncos ran more than they passed, they won. That's right, 5-0 when rushing attempts outnumbered passing attempts. When they passed more? Oh, 0-12. Can a more telling statistic present itself? Yesterday, the play calling in Doug Musgrave's new offense was pretty darn balanced. Keenum was 25-39, while the running backs rushed for 146 yards on 32 carries. Better yet is the fact that the yards per rushing attempt average was 4.6 (4.7 if one eliminates Devonte Booker's two carries for four yards). Last season, the Broncos limped to a 4.1 yards per rushing attempt average. Royce Freeman and Phillip Lindsay were a formidable one-two punch, and the aforementioned offensive line was solid in the run game.
Thank goodness for Adam Jones. Seriously, that was a critical signing. The Broncos secondary did not look great on Sunday (as we expected), but Adam Jones was one of the highlights. Give the New Fly Zone a few games and here's betting they'll be "decent" – not great, but serviceable.
The Broncos still aren't well coached. Immediately following a nice win in Week 1 is no time to call for Vance Joseph's head (that would be just downright mean), but it is fair to ask why the Broncos took three timeouts into halftime or why they still seem to make a lot of dumb and costly penalties. Those types of things get swept under the rug following a win, but will be hot topics of discussion after a loss. At some point, those types of mistakes – which generally falls on "coaching" – will cost the Broncos a game. During the game broadcast, Dick Stockton said Vance Joseph had a look of "consternation." Great word, Dick. If timeouts remain in Joseph's pocket and the Broncos commit seven penalties for 60 yards, let's just say that John Elway will have a "look of consternation" with regard to his head coach.
And a few for the road…
Marquette King was a smart signing. He'll win 'em at least one game this season.
Phillip Lindsay – whether he's from Aurora or Lithuania, from CU or UNC, or if he stands at 5-foot-9 or 6-foot-2 – belongs. Period.
Fans, meet Demaryius Thomas; he might drop one from time to time but he's also the best receiver in Broncos history and probably the best one on this team (still). This is who he is; be glad you have him.
The verdict is still out on the tight end position. Yesterday, Jake Butt and Jeff Heuerman combined for three catches for 44 yards. Not bad, but not Kyle Rudolph 2017, either. Stay tuned.
One-n-Oh. Out of the gates, the Broncos look like they might have a decent from foundation from which to build upon. No need to pre-book that February flight to Atlanta just yet, but hey, it sure beats 0-1.