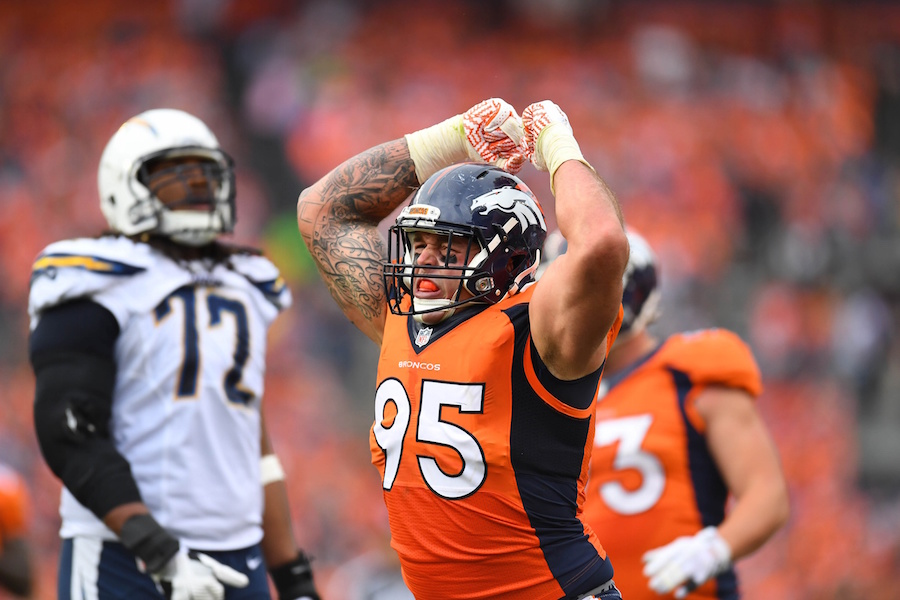 For all of the changes coming in 2017 for the Denver Broncos, one of the most notable will be the ones made to their defensive front. Yes, Gary Kubiak and Wade Phillips are gone. DeMarcus Ware has retired, and for the second year in a row the offensive line is being rebuilt. However, following a season that saw the vaunted Orange Crush defense take a step backward, especially in the run-stopping department, John Elway went to work on the defensive line as well.
The Broncos got pushed around at times in the run game last season. That will be a tougher task for Denver's opponents in 2017.
In 2016 the Denver defense still played at a very high level, considering some of the losses they had to overcome. Following their Super Bowl 50 victory, Malik Jackson, Danny Trevathan and safety David Bruton all left for greener financial pastures. As a result, the Broncos defense became a little thinner, allowing over 130 rushing yards per game. Those yards became very costly down the stretch, as the Broncos surrendered some big rushing efforts and won just two of their final six games.
Elway's offseason moves this year indicate that he believes the problems with the rush defense began at the point of attack. There is no question that the inside linebackers must be more consistent, but there was also a significant letdown by the interior defensive line in 2016. While Sylvester Williams, Derek Wolfe, and Jared Crick all posted career highs in tackles, the unit suffered from a major lack of depth. Jackson was gone, as was veteran defensive lineman Antonio Smith. Vance Walker was lost in training camp to a season-ending injury, and Darius Kilgo was cut during the season to make room for long snapper Thomas Gafford.
That area of weakness could turn into a strength in 2017, though. Yes, former first-round pick Sylvester Williams did leave for Tennessee via free agency, but Elway has assembled a deeper group in the defensive trenches this offseason. First, he selected Florida State defensive end DeMarcus Walker in the second round of the draft. Walker is a pass-rushing specialist that racked up 25 sacks in his final two collegiate seasons. The Broncos also have a few other young players that could be ready to start contributing a few more snaps each week. Kyle Peko is a second-year player who was signed as an college free agent last season. He spent most of 2016 on the practice squad, but he will be looking to get on the field in 2017. The Broncos drafted Adam Gotsis last year in the second round, and while he did get on the field and make a few plays, more will be expected of the big Australian this season. Denver also signed defensive end Kasim Edebali in free agency. Edebali was a special teams ace in New Orleans, but he could spell a starter for a few plays to give the Broncos a little more depth.
Of course, the biggest moves the Broncos made to fortify this defensive line were the signings of free agents Domata Peko and Zach Kerr. Peko spent his first 11 seasons with the Cincinnati Bengals, and he has a reputation for being a durable nose tackle. A change of scenery will be very good for Peko, as will playing with and mentoring his aforementioned cousin, Kyle. Domata averages 47 tackles and nearly two sacks per season while playing inside, and he should benefit from playing on this talented defense. Kerr, meanwhile, is a talented player that could blossom in Denver. He played three seasons with the Indianapolis Colts, and he has proven to have the versatility that Elway covets from his defensive front seven. He is a solid pass-rusher that is still improving, and he is also a capable run stuffer in the mold of someone like Derek Wolfe.
Speaking of Wolfe, he has added 20 pounds of muscle and says that he would like to be a more vocal leader in the upcoming season.
"I didn't speak up enough. When I saw things, I didn't speak up and I didn't say things when I should have. I'm not letting that (stuff) slide this year," Wolfe said at a press conference earlier this week.
With his intensity and drive, that kind of leadership should only help the defensive line play bigger. And bigger is exactly what you will notice the most from this rebuilt unit.
Last season with Sylvester Williams, Derek Wolfe and Jared Crick, the Broncos average weight per player was about 294 pounds. Now, with Peko, Crick, Kerr and a beefed-up Wolfe, the Broncos average size jumps to nearly 314 pounds per lineman.
Domata Peko spoke to the importance of depth on this line on Tuesday, saying, "With the d-line, being a big guy, being 300 pounds, you have to have a good rotation. With the guys that we have, it feels like we'll have a good rotation, but you can't see that right now. It's so early in the year. Once we get to OTAs and minicamps and then training camp, then you'll start to see the chemistry built and how much we're going to be rolling and stuff like that. It's good to have all these good competitors because we're competing with each other trying to make each other better. It's been great so far."