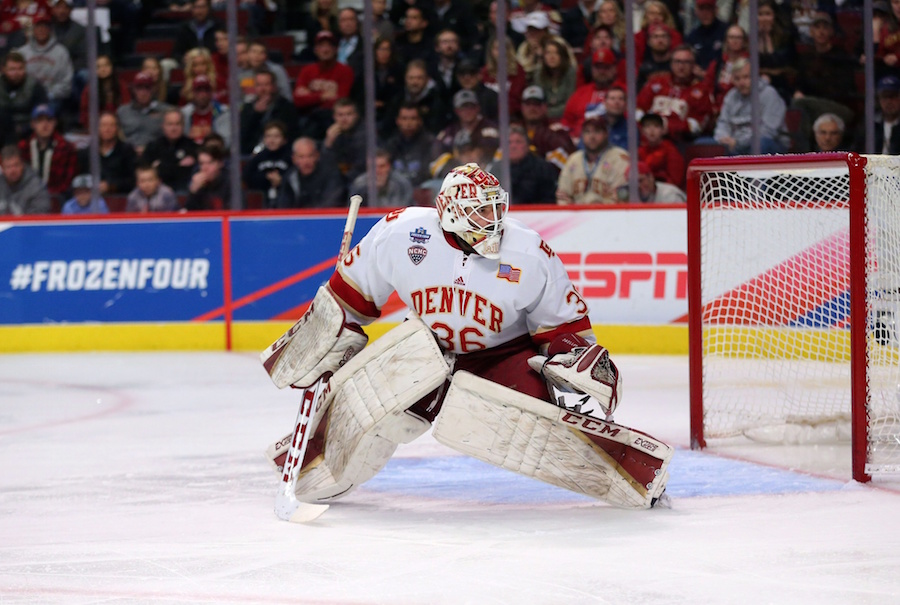 This story originally appeared in Mile High Sports Magazine. Read the full digital edition.
Doug Ottewill sat down with Pioneers goaltender and Mike Richter Award winner Tanner Jaillet to preview the 2017-18 season and look back on DU's run to a national title.
Doug Ottewill: Go back to the National Championship game. You had a season-high 38 saves and had to face the onslaught of an extra skater late in the game. Looking back, were you simply in the zone? Do you think it's one of the best games you've ever played?
Tanner Jaillet: I mean a lot of it is just a blur to be honest, but I just remember it was exciting. The barn was rocking, high intensity. They were just throwing the kitchen sink at us, basically trying to tie it up, but our guys did a good job of making plays, blocking shots and then for me, I was just trying to make the save and just control the rebound.
Athletes talk about being "in the zone." Is that where you were? Was that a first?
I've been in it before. I think every athlete will experience it at times. The good athletes are the ones that can find that consistently. But yeah, I was pretty dialed in there to be honest. It was good; it was just exciting.
You were asked during the postgame interview about your team's performance, at which point you coolly – and now famously – answered, "We stuck to our game plan, we made plays, and we fuckin' won." Amidst all the chaos, did you even realize you'd said that? Were you surprised at how popular the video of that interview became?
 It does actually. After the game I got more texts, and Snapchats, and messages about the interview than I [received] congratulations on winning. But yeah, it was just the heat of the moment. I apologize if I offended anyone; that wasn't my intention. I was just happy for our team and what we accomplished. It was just in the heat of the moment. My mom wasn't too impressed with that. I think her quote was, "I wish you wouldn't say that." So, I had to apologize to my mom after that one.
Surely some t-shirts with that quote would sell well on campus. Do you mind if we print those up?
You can make some t-shirts. I'm gonna try to stay away from that – keep my public image good.
Compare this most recent Frozen Four to the 2016 tournament. What made this team better? What got you over the hump?
Well, I think my past two seasons we lost to the eventual champion, and honestly I felt like in all those years we had good teams that definitely had a chance to win national championships – especially [in 2016] in Tampa. Being able to finally go to the Frozen Four and get that experience, know what the atmosphere is going to be like, know what your daily schedule is going to be like. Everything just prepared us for last year and, basically, we were just a confident team. I mean we get our confidence from the way we prepare all week in practice and throughout the season. We played some really good hockey teams that we were able to beat or at least have close games with. That ultimately prepared us for what we were going to face in the tournament in all four games. So, we're just a confident group and we knew what we wanted to accomplish and we went out there and just basically imposed our will on other teams.
Jim Montgomery won an NCAA title as a player. What did he say to your team as your coach heading into that game?
He definitely had some speeches for us but the ultimate message was, "We're the best team in the league." We felt like we were the best team in the league and it was ours to lose. If we go out there and play our game we're going to be hard to beat, and I think that's what we saw. We played a really good team in Duluth and, honestly, I think they deserved to be there as much as us. Basically, it was just a great hockey game and fortunately we were able to come out on top.
You took home the Mike Richter Award last season. What kind of pressure does that put on you heading into this season?
I just put a lot of pressure on myself just to perform in any game, let alone the whole season, so I think pressure is what you make it. If you like it, then it's good for you. Some people fold under it, but for me I always have pressure on myself to perform in practice. So, pressure is nothing new to me. I just enjoy it and I'll take it as it comes. Obviously, we have high expectations again for this year, but I think that's what every team should have. Every team's goal should be to win a national championship, whether it's back-to-back or it's for the first time. I think that's got to be the ultimate goal – always.
You've seen what a national championship team looks like now. Can this year's squad go back-to-back?
I think it starts in practice and preparation like we talked about. I think in Denver we expect a lot through our preparation and practice. It's high intensity. Our practices are like games. I was actually having this conversation last night. Since we did win last year, even the so-called "worst" teams in the league will get up to play you. Everybody wants to knock you off, so we can't take any nights off. We can't have any half-ass efforts. We've got to be ready to go every game, night in and night out and I think that starts in practice at the beginning of the season. Setting that tone for those younger guys and knowing, "Hey, I'm at the rink; it's time to work and get better." We play in – in my opinion – the best conference in college hockey. There's a lot of good teams there and that is just preparing us for playoffs. I mean that's ultimately where you play the game you want to play and the games that matter. So, we're fortunate that we get to play a lot of good competition throughout the year which prepares us for playoffs.
Will anything less than a national championship this year at DU do?
I think whether we won or not, anything else is a failure in my opinion. At Denver, we have high expectations – obviously – but definitely if you come up short, I think everybody would consider that a failure.