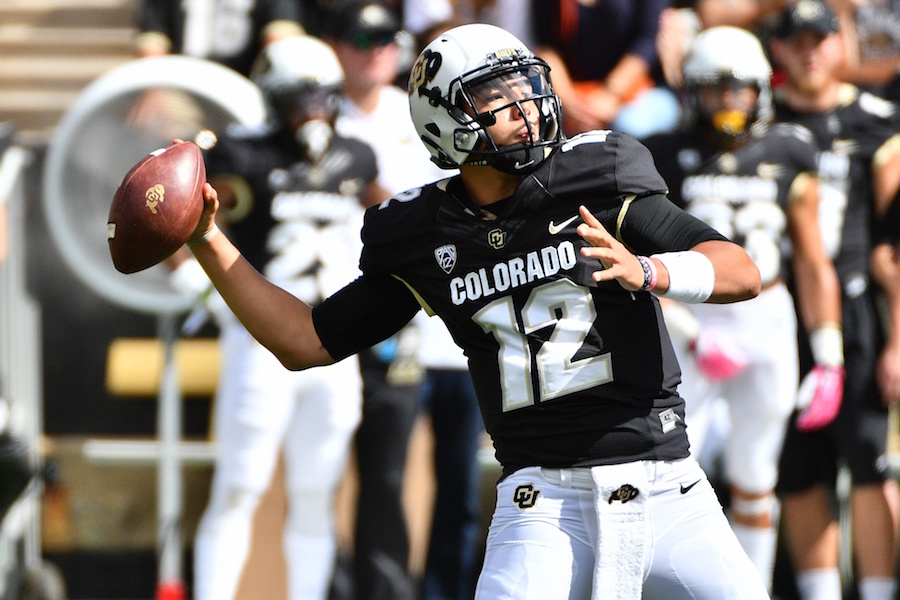 Well everyone, we're that much closer to football season.
Fans got their first in-person look at the reigning Pac-12 South Champion University of Colorado football team since they reported back and got started for the 2017 college football season. The Buffaloes opened their doors in Boulder to media and fans in their first scrimmage on Saturday morning.
The open practice started with an hour of stretching and designated drills.
#CUBuffs QB Steven Montez getting some early reps in before Buffs have their open practice. (Open to public) pic.twitter.com/DJs1l8M3LU

— Duvalier Johnson (@DuvalierJohnson) August 5, 2017
After, it was what everyone came to see: The scrimmage – which had its fair share of big plays.
One of the biggest storylines this year will be at the QB position and the transition from the Sefo Liufau era into the Steven Montez era.
Despite a early INT, it looked to be a good start as Montez showcased his big arm, size and versatility with a few big scrambles.
"I've seen the growth on him," Head Coach MacIntyre said afterwards. "Although he made a bad throw on the first drive, he bounced back. The good thing about Steven is it didn't faze him. He learned from it and he came back slinging it; you don't want him to be hesitant. He's had a good camp."
Although it's Montez that has taken over the reins, the player that stood out most in the scrimmage was backup QB Sam Noyer who threw three TDs, one was a 48-yard hookup with Kabion Ento.
"Anytime he makes plays, it gives him another notch of confidence," MacIntyre said. "So it's good to see him come out here and make some plays."
The defense lost 15 lettermen from last year but has a strong bunch returning. While it was difficult to say how strong they'll be with the main players being limited in Saturday's scrimmage, there were signs of life including an interception and a few sacks. In losing Jordan Carrell, and defensive backs Tedric Thompson, Ahkello Witherspoon and Chidobe Awuzie to the NFL, it's going to be interesting to see how the defense steps up to defend their spot at the top of the Pac-12 South.
Some of the important dates to remember for the rest of Buffs camp are listed below:
Saturday, Aug. 12 – Team Scrimmage (Closed)
Friday, Aug. 18 – Photo Day / Team Scrimmage (Closed)
Tuesday, Aug. 22 – Football / Olympic Sports Media Day
Thursday, Aug. 24 – Welcome CU Frosh Event (Folsom Field)
Friday, Aug. 25 – BC Kickoff Luncheon
Saturday, Aug 26 – Practice open to CU Students
Tuesday, Aug 28. – First Day of Classes
Wednesday, Aug 29. – Mike MacIntyre Media Luncheon
Friday, Sept. 1-Colorado Buffaloes Rocky Mountain Showdown vs. Colorado State