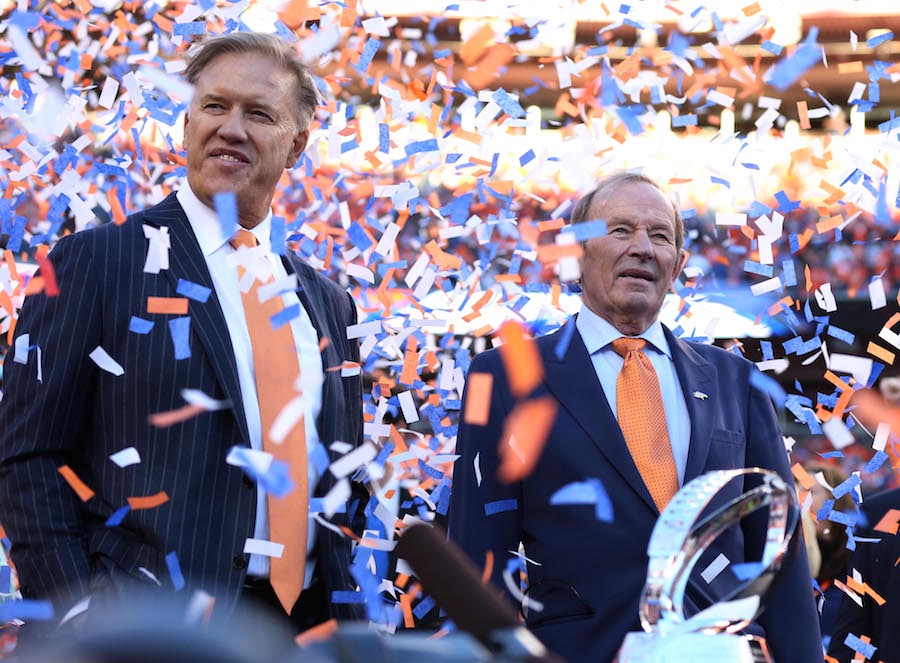 As it stands, Pat Bowlen is unquestionably the greatest owner in Colorado sports history, and that's what makes this conversation so difficult. Even as he battles Alzheimer's disease, which has forced Mr. B to give up day-to-day operations of the franchise, the city of Denver still looks towards him as a symbol of stability and greatness.
But it's about time we start asking, "What happens when he's gone?"
And it's an all-important question. If there's one thing that can drag a franchise down like a titan-sized anchor, it's bad ownership.
From what has been made clear to the public, Mr. B has placed the team within a trust, and Broncos president and CEO Joe Ellis has been tasked with running it.
"[I]t is . . . Mr. Bowlen's hope," Ellis said, via Pro Football Talk, "that a child will come along, earn the right to sit in his seat and run the team. And that child, having spoken with the kids, understands that they will never fill his shoes. But hopefully they will earn the right to sit in the chair someday."
If there's one thing to take from that statement, it's "earn the right." What does that mean? Who decides? And what happens if they never do?
Conventional wisdom would assume that the team would be passed on to the child that had taken the largest, most-productive role with the Denver Broncos franchise, proving that they are capable and willing to run the team long term. According to a report from The Denver Post's Nicki Jhabvala, though, the number of Mr. B's seven children who may come to fit that description is quickly diminishing, as the team announced that three of his children are no longer working with the Denver Broncos.
Brittany Bowlen (26) and Jane Elizabeth "Beth" Bowlen Wallace (45) have both stepped away from the team to pursue a master's degree and a law degree, respectively, and John Michael Bowlen (30) has stepped away from the team to pursue "other opportunities" after being arrested on domestic violence charges last year.
Now, only Patrick Bowlen III (32) is left working for the Denver Broncos. He is serving as a facilities coordinator with the team's stadium management company, according to Jhabvala.
Could this mean that Pat Bowlen III is in line to succeed his father? Or is it a sign that we should start looking elsewhere for ownership?
First, though, let me make this clear: If none of Mr. B's children "earn the right to sit in his seat," it's not because they're incompetent or incapable; in nearly every instance, it's likely because they've chosen to take their own path, one that doesn't revolve entirely around the Denver Broncos, and that's perfectly fine.
With that said, I believe Broncos Country and Mr. B would hope that the next owner of the franchise would put just as much time, effort and passion into the team as he did.
Aside from his children, the two obvious successors are Ellis, who Mr. B trusted enough to run his trust, and John Elway, who Mr. B trusted enough to run his team.
While there isn't a clear line of succession, Broncos Country should feel comfortable that they are in good hands. Whether it's one of Mr. B's children, Ellis, Elway or someone else, the next owner of the Denver Broncos will most certainly have "earned the right" to sit in Mr. B's chair.