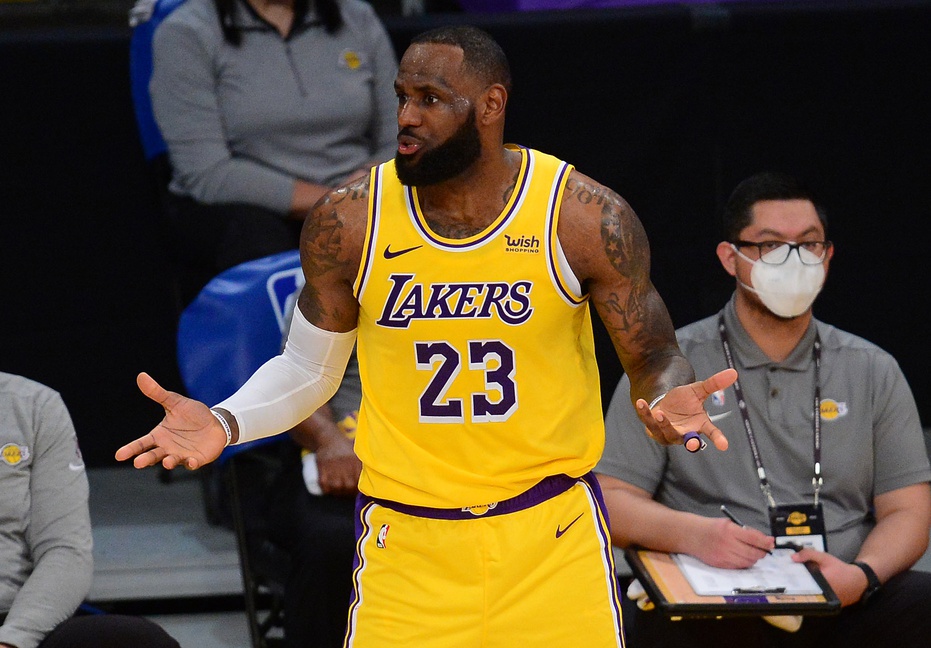 Tonight, the L.A. Lakers and Golden State Warriors will square off in the NBA's "play-in" round. The Lakers are currently seeded No. 7 in the West, with Golden State occupying the 8th spot. The winner of the game will secure the 7-seed in the "real" playoff bracket, while the loser will be subjected to another play-in game, facing the winner of the 9-10 game (either Memphis or San Antonio).
While LeBron James openly whined and criticized the new play-in format – an idea that he once supported, ironically – there's certainly some intrigue in tonight's matchup. Come to think of it, this one sure feels like, oh, I don't know, the NBA Finals from 2015 to 2018.  It's Steph versus LeBron, and almost as good as seeing which megastar emerges, is discovering which one has to squirm.
Here's hoping it's LeBron.
There's no doubt that LeBron James has been, and still could be, the greatest basketball player on the planet. There's no doubt that the seven NBA championships and six MVPs that James and Curry combine for are well-deserved.
On the flip side, both have been the beneficiaries of some fine supporting casts. Neither one has won a title on his own; both have been part of multiple, star-studded rosters. If the entire championship team wasn't loaded, each Batman certainly had his Robin. To be fair, both James and Curry are largely responsible for the great players that surround them. Not only does each make his teammates better, but good free agents want to go play alongside them.
Still, if you're LeBron James, there's little reason to gripe, certainly no reason to gripe about play-in games. There's also no reason to campaign for (or against) another player in terms of the MVP. LeBron James is entitled to his opinion on both; he's also allowed to share that opinion out loud – even when he isn't asked, as he did when he openly campaigned for Steph Curry – and by default not Nikola Jokic – to be the league MVP.
As much as I want to like James, he simply makes it hard. Whether I like him or not is of little importance, but I'm guessing I'm not alone. And this isn't about not voicing praise for my guy, Jokic, either.
As great as James is, he should be celebrated. It feels, however, that he's not – or at least, not enough.  It's almost as if he can't get out of his own way. Michael Jordan never pleaded for his own "damn respect." He didn't have to. And neither does James, so why did he after winning last year's NBA title and Finals MVP? "Put some respect on my name" has become modern lexicon, but really, it was a silly request. Look no further than LeBron's accomplishments – that should be plenty.
Respect is different than like. I respect LeBron James – how can I not? But I'm not sure I like him. I don't like the way he is largely responsible for the "Big Three" Era. I don't like his demands or actions when he's a free agent. I don't like that he gets superstar calls, or that the Lakers complained to the league office when didn't against Denver last year in the Western Conference Finals.
I don't like that he suddenly doesn't like the new playoff format when he's the "victim" of it. After all, whose fault is it that the Lakers aren't a higher seed? Personally, I like the fact that I get to watch the Lakers and Warriors play a very meaningful game – one step toward elimination, in fact – instead of the Rockies or Netflix. I like it even more that I'm rooting against LeBron James (let's be honest, I don't even care much about the other games).
I don't care that James doesn't believe Nikola Jokic should be MVP (apparently he might be the only one at this point). Heck, these things are entirely subjective. There's no doubt that Steph Curry is the greatest shooter who's ever lived. But what Jokic does in multiple phases of the game is arguably more important. LeBron doesn't want to include team records. Why not? James says the Warriors would be nothing without Curry, but what would the Nuggets be without Jokic, who's been a rock all season – most of which has been spent without Aaron Gordon and recently Jamal Murray? The Joker has carried the Nuggets, there's little to debate about that. I don't care for LeBron's  insinuation that something else is at play or that everyone else is dumb if Curry doesn't win it.
"Obviously, I don't think Steph is going to get it because – that's another conversation in my eyes," he said.
You want respect, King James? Go out and earn it. It's not that you don't already have it, it's just that I want to see it and not hear about it. There's nothing better than watching a great player be great on the greatest stage. There's nothing worse than hearing a player blessed with so much complain about so little.
Tonight, I'll be cheering for LeBron's MVP, Steph Curry. If he can beat LeBron and the Lakers, for just one night, I'll agree with James.
But after that, the award belongs to Nikola Jokic, who doesn't ask for respect or complain about much of anything.
Tonight, all I want to see is two great players playing.
So, King James, shhhhh.