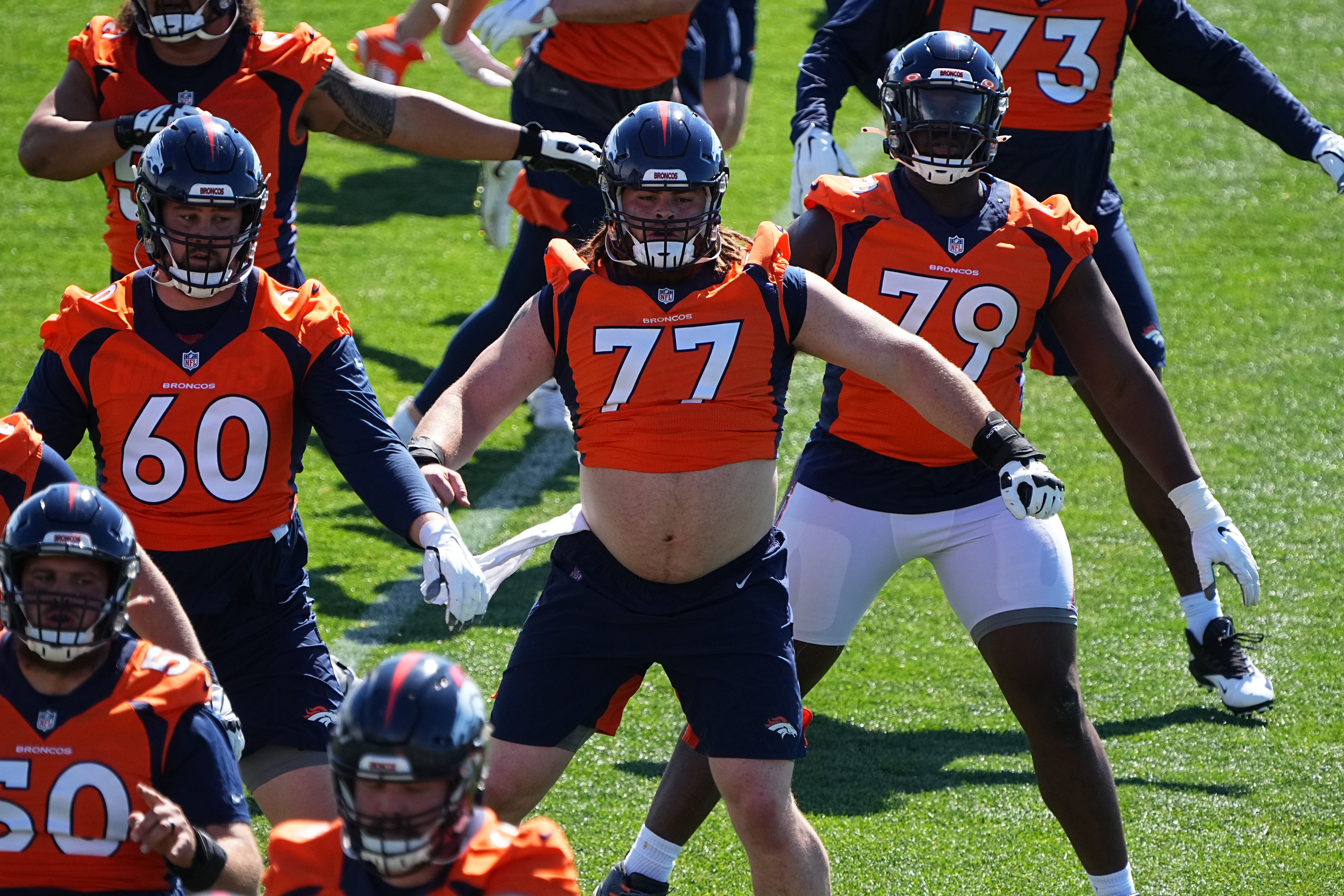 Quinn Meinerz is entering his second season with newfound confidence and is prepared to battle for a starting role. Last summer, Cushenberry and Meinerz fought for the starting center position, with Cushenberry coming out on top. While the then-rookie won the fan vote with his on-the-field attire, it was ultimately Cushenberry who proved to be the superior player. 
Broncos rookie O-lineman Quinn Meinerz says he likes to "let the belly breathe."

Legend. pic.twitter.com/EaTVbucloS

— B/R Gridiron (@brgridiron) May 17, 2021
In fact, Meinerz began his rookie season on the sidelines in the first two games after a less than stellar preseason performance. He managed to turn it around and finished the season starting at right guard for the last eight games after Graham Glasgow went down with an ankle injury. Glasgow is officially healthy again and was able to join his teammates at the Broncos' recent OTAs.
In his latest press conference appearance, Meinerz was coy on where he sees himself playing this season, saying, "There's really a lot still to happen between who's being named what at that point. Right now, my main focus is trying to be the best player every single day and take the coaching I'm receiving and apply it."
Quinn Meinerz "I'm not going out everyday competing against anyone, I'm competing against myself. Everyday is a fight."

Says there are some differences in the offense from last year. More running than ball, running off the ball and being faster. pic.twitter.com/qOVX2tw7zi

— Jake Shapiro (@Shapalicious) May 19, 2022
With an entire season under his belt, Meinerz now has veteran experience. The competition will be stiffer, though, as Cushenberry showed significant improvement in his play. Pro Football Focus named him the Broncos' most improved player between 2020 and 2021. 
In preparation, Meinerz spent the offseason getting more robust and trimmed down from 330 pounds to 320.
When asked about his weight loss, he said, "I kind of had a sense that this offense was going to be predicated on speed, and I wasn't happy with some of the positions I was in last year with some of the things that I was doing wrong. I took it upon myself to lose some weight, I'd say around 10 pounds. I'm trying to stay around 320 or a couple of pounds under. That's where I'm feeling the best right now."
No matter where he ends up playing, having the opportunity to block for an elite quarterback like Russell Wilson is something Meinerz is relishing.
"We have to block until the ball is gone, and whatever that requires and whatever you have to do is what we have to do. Especially with some of the special abilities that 'Russ' has to evade the pocket and move things, there's no other option. You have to keep blocking until the ball is gone. That's the overall mentality there."
Meinerz knows he'll need to step up his play this season, especially with his pass protection. "I need more consistency," he said. "There was a lack of consistency, more so in my pass protection game, and I think I'm taking the right steps to improve that. I've really watched the film, I'm taking the coaching, I'm listening to the veterans in the room."
The Broncos' OTAs will continue to run through the end of May and into mid-June. Mandatory minicamp will begin June 13th, and training camp will presumably start in late July. Meinerz will have plenty of opportunities to earn that spot.