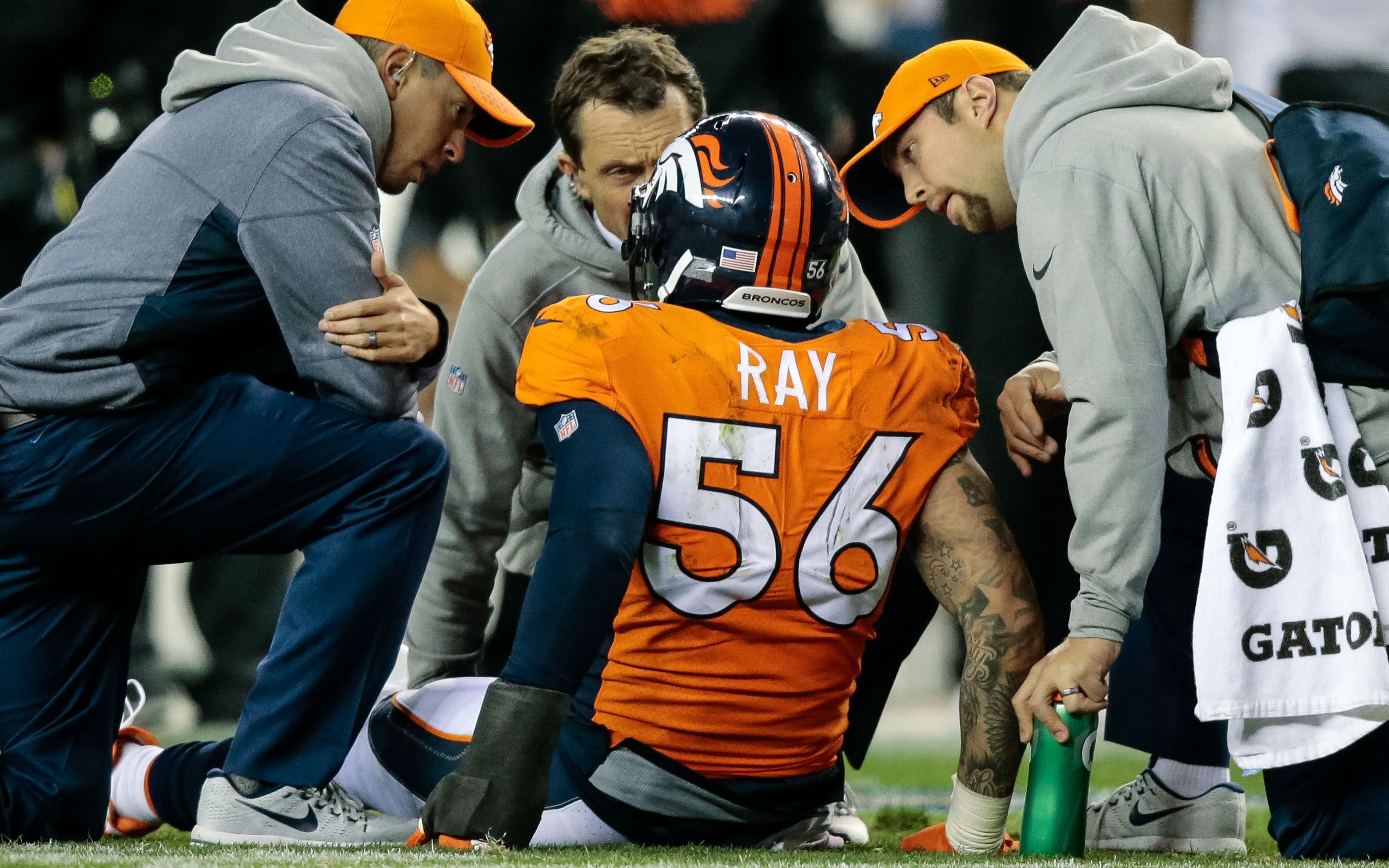 Shane Ray is entering a crucial season for his career, and yet, he's coming into it injured.
Ray is currently sitting out of the Broncos OTAs due to the wrist which he injured last year and had surgery on. Dr. Lisa Goodman of Washington Park Chriropractic joined Mile High Sports radio today, and discussed the extent of Ray's wrist injury.
Speaking to David Hurlbut of Mile High Sports AM 1340 | FM 104.7, Goodman says it's not a good sign that Ray is still experiencing issues with his wrist.
"I would say that it's slightly concerning that he's still having problems at this point," said Goodman. "Because it has been about a year since the original injury. It's really hard to say exactly what the problem still remains."
Ray, an outside linebacker, spent most of last season on the shelf, after tearing a ligament in his wrist the first week of Training Camp. That same wrist has been giving him problems during Broncos OTAs. The Broncos might be smart to sit Ray until training camp commences in July, to give his wrist some time off, because this is an injury that can linger into the season, if not taken care of properly.
"I think his problem right now seems to be pain," Goodman continued. "My guess is what's limiting him in playing is probably pain. If the wrist is unstable, or loose; if the ligaments can't hold the wrist in the proper position, it's going to make playing really difficult."
NFL players typically play through pain, but a time comes when that pain needs to be addressed.
"Pain is almost always an indicator that something is wrong," said Goodman. "It's a delicate area, and it's a hard area to heal due to lack of blood supply."
When asked if Ray would be ready for the season, Goodman gave an interesting response.
"I'm super skeptical given the timeframe of this, and that it's something that wasn't able to be resolved over the offseason," Goodman continued. "I don't know."
Another surgery could be the nail in the coffin for Ray's time in Denver, but a bone fusion could keep him healthy for the season.
"Once the ligaments can't be held in-tact anymore they'll fuse some of the bones," said Goodman. "Which would create no-range of motion in the wrist whatsoever, but he could potentially continue to play with that."
Click here to listen to the full interview with Dr. Lisa Goodman, including what she had to say about the different supplements that Ray could be taking to insure a smooth healing process.
Catch The Morning Huddle every weekday from 6a-7a on Mile High Sports AM 1340 | FM 104.7 or stream live any time for the best local coverage of Colorado sports from Denver's biggest sports talk lineup. Download the all-new free Mile High Sports Radio mobile app for Apple or Android.