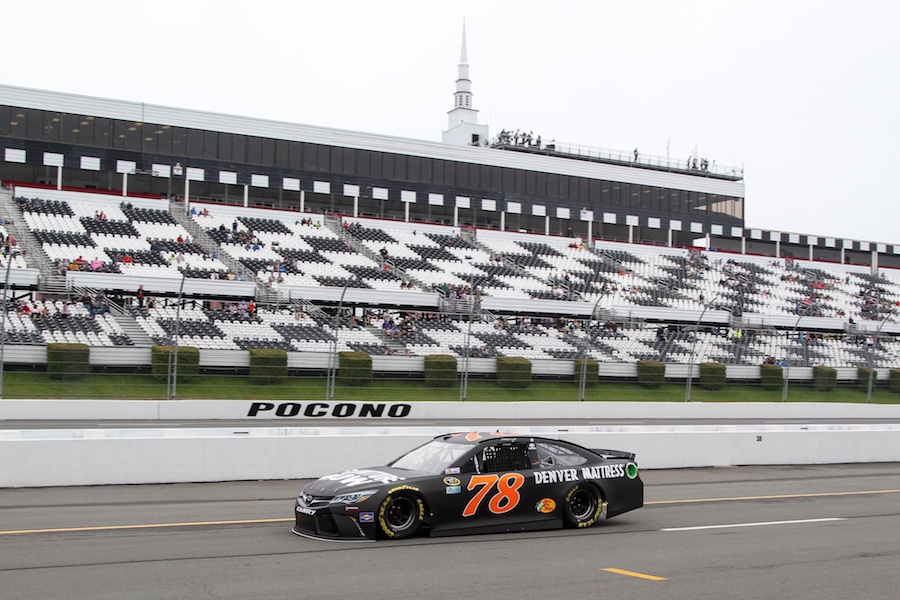 If Martin Truex Jr. hopes to win back-to-back races in 2016 and back-to-back Axalta 400s, he's going to have to do it from the middle of the pack.
An abbreviated practice session due to rain cut short Truex's performance Friday as the Furniture Row Racing driver qualified 17th for Sunday's Axalta 400 at Pocono Raceway.
After making only one lap in the morning practice, NASCAR canceled the scheduled 85-minute session due to wet weather at the 2.5-mile triangular track. Truex posted the 22nd fastest speed on his single practice lap.
Truex was in jeopardy of not making the top-24 in the first round of qualifying, but on his second attempt in the same session he jumped to ninth fastest with a time and speed of 50.198 seconds at 179.52- miles per hour. In the second round he slipped to 17th (50.346 at 178.763), missing the pole shootout session by five positions. He will start the 200-lap Sprint Cup Series race from inside of Row 9.
"The lack of practice time and making an extra run in the first qualifying session really hurt us," said Truex. "We were way off in that one practice lap and then made a lot changes and got most of the way there for the qualifying session. We needed a few more adjustments. However, I am confident that our Furniture Row/Denver Mattress Toyota will be fast on Sunday. We did a tire test here last month and things went really well."
The 78 car has been one of the fastest on the track all season, including in his dominating win last week, so Truex is confident crew chief Cole Pearn will have them ready to again challenge for a checkered flag.
"We'll figure it out tomorrow and be good to go for the race."
–@MartinTruex_Jr#Axalta400 #FurnitureRow

— Furniture Row Racing (@FR78Racing) June 3, 2016
The pole winner was Brad Keselowski (49.525 at 181.726). Rounding out the top-12 in order were: Joey Logano, Matt Kenseth, Kevin Harvick, Carl Edwards, Tony Stewart, Jimmie Johnson, Dale Earnhardt Jr., Kurt Busch, Denny Hamlin, Kasey Kahne and Kyle Busch.
Sunday's race will be televised on Fox Sports 1, starting at 11 a.m. MT (1 p.m. ET).