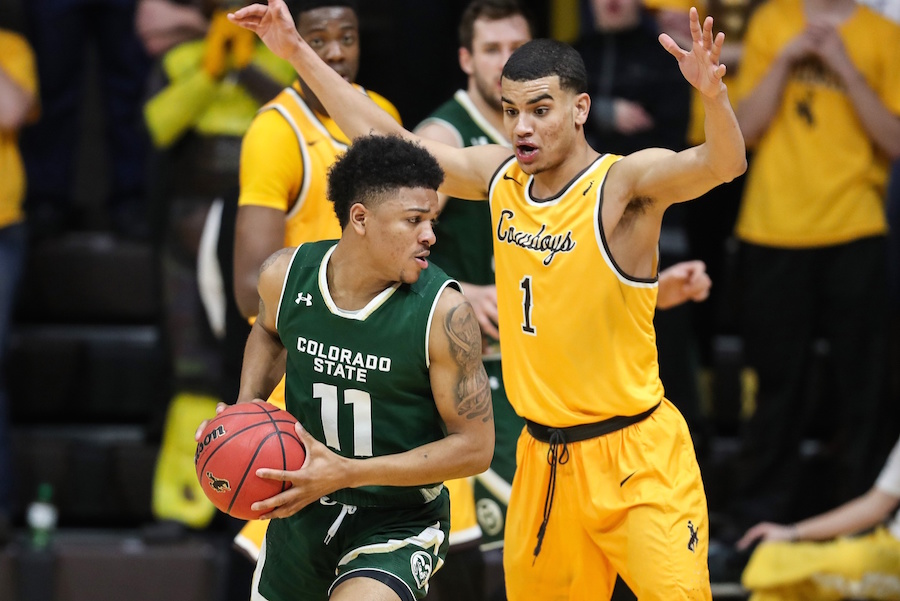 Read this story at CSURams.com
The Mountain West has announced the 2017-18 men's basketball conference schedule for all teams, with Colorado State opening the slate on Wed., Dec. 27 at Boise State. The 18-game schedule includes eight home-and-home series with two opponents played just once during the year.
The Rams will play two games on the road to start conference action, following up the Boise State contest with a game at San Jose State Sat., Dec. 30. CSU will start the new year with a home game against San Diego State Wed., Jan. 3. During the season, the single-game opponents will be Utah State (road, Wed., Jan. 10) and UNLV (home, Sat., Jan. 20). The Rams will then conclude the regular season by hosting New Mexico for Senior Day on Wed., Feb. 28, as CSU will have a bye on the final Saturday of the year on March 3.
The annual MW Men's Basketball Championship will open on March 7 with three games at the Thomas & Mack Center in Las Vegas, Nev., with the title game for the league's automatic NCAA Tournament berth played on Saturday, March 10 at 3 p.m. PT on CBS.
This schedule is subject to change based on the selection of games by the Mountain West national television partners. CBS Sports Network and ESPN will initiate a selection procedure which will include the shifting of select Wednesday games to Tuesday and Saturday games to Sunday. The national television selections are expected to be completed by the middle of August. Regional partner AT&T SportsNet/ROOT Sports – Northwest Region and Mountain West Network on STADIUM will begin their picks after the national television lineup has been announced.
Individual MW institutions will release non-conference schedules in the coming weeks. Game times will be set once all broadcast networks finalize their selections.
2017-18 CSU Men's Basketball Mountain West Schedule
Dec. 27 – at Boise State
Dec. 30 – at San Jose State
Jan. 3 – SAN DIEGO STATE
Jan. 6 – FRESNO STATE
Jan. 10 – at Utah State
Jan. 13 – at Wyoming
Jan. 17 – AIR FORCE
Jan. 20 – UNLV
Jan. 24 – at San Diego State
Jan. 27 – at New Mexico
Jan. 31 – WYOMING
Feb. 3 – NEVADA
Feb. 7 – at Air Force
Feb. 10 – SAN JOSE STATE
Feb. 17 – at Fresno State
Feb. 21 – BOISE STATE
Feb. 25 – at Nevada
Feb. 28 – NEW MEXICO