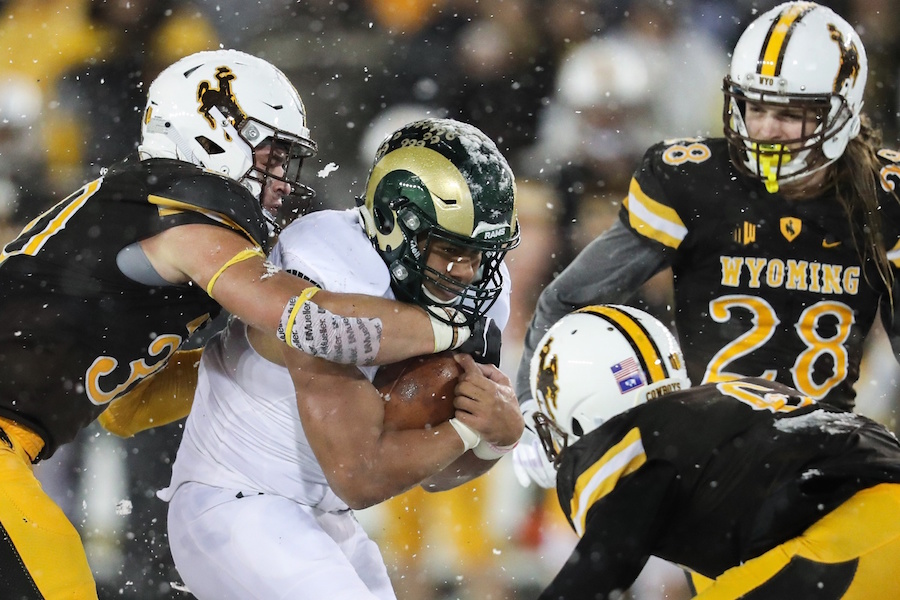 Read this story at CSURams.com
The Colorado State Rams fell to 6-4 (4-2 Mountain West) with a heartbreaking 16-13 loss to Wyoming (6-3, 4-1 MW) on Saturday night in Laramie, Wyo. The loss drops the Rams to 58-46-5 all-time against the Cowboys with Wyoming having won two consecutive games in the series.
In a game marked by a torrential rainstorm that quickly became a second-half blizzard, the Rams attempted just 14 passes and threw for a season-low 110 yards, but controlled the clock and played stout defense to hold a 10-9 lead entering the fourth quarter. Running back Dalyn Dawkins carried the Rams' offense, rushing for 154 yards on a career-high 29 carries. Junior running back Izzy Matthews scored CSU's lone touchdown, extending his streak of consecutive conference games with a touchdown to 13.
Linebacker Josh Watson led the Rams with 11 tackles, 10 of which were solo. Cornerback Shun Johnson forced a fourth-quarter fumble, the game's only turnover, which was recovered by Max McDonald. True freshman Ellison Hubbard logged his second career sack and Evan Colorito, Darnell Thompson and Richard King tallied tackles for loss.
The Rams, who had extended their lead to 13-9 on Wyatt Bryan's 27-yard field goal with 10:39 remaining, did not trail in the game until Wyoming's go-ahead touchdown that came with 4:21 remaining in the fourth quarter. The 3-yard scoring run capped a 69-yard drive that was Wyoming's longest of the night. CSU was unable to answer, punting back to the Cowboys following a quick three-and-out. Wyoming picked up the needed first down and was able to kneel out the remaining time on the clock.
IN THEIR WORDS…
"I'm disappointed for our football team. They played their guts out. The (Wyoming) quarterback (Josh Allen) was the difference – their quarterback run game, being able to get an extra hat in the box. And then offensively, for us, not being able to finish drives. We controlled the clock, the game was playing in our hands how we wanted and we just couldn't finish on either side of the ball."
"We've lost two in a row to two of our rivals. It hurts. I like the fight of the team today. They played their tails off, we just didn't make enough plays."
–Head Coach Mike Bobo
UP NEXT…
Colorado State returns home next week to take on the Boise State Broncos (7-2, 5-0 Mountain West) at 8:30 p.m. MT. Limited tickets remain at CSURams.com/tickets or by calling the Rams Sales Team at 800-491-RAMS. The Rams will debut their brand new State Pride uniforms and seek their first victory over Boise State in program history.